Designed for the new wave of "adventure bikes" so not strictly a MTB event, but hopefully this write-up will still be of interest to our members. It's no longer road vs. MTB, the lines are blurring and that's exciting.  
A true challenge, according to the event T-shirt, is "one where a finish isn't a certainty". Though with a difficult period at work meaning just one flat 100km Audax and three 80km-ish very-flat rides on a semi-recumbent tandem were my main "practice" for the Dirty Reiver off-road endurance event there was always going to be a very good chance of me not-finishing.
The Dirty Reiver is the UKs first attempt at importing the gravel-grinder race format that's popular in the US. They chose Kielder Forest as the location, up on the Scotland/England border. An absolutely vast area of forest and moorland which easily provided a 200km route of gravel, rock, gravel, mud, gravel, slate, gravel and a little bit of tarmac – you can see why they rally cars up here and why it's been home to MTB enduro events in the past. If you like epic MTB rides, you'd be quite at home here.

I really am not built for hills, though having lost a bit of weight since Christmas (the one bit of my preparation that vaguely went to plan), they are noticeably easier. This was a "good thing" as the route had an estimated 4000m of "up". Looking at the elevation profile in event HQ, it looked like the last 20km was the only flat bit, when someone told me that it wasn't, it just looked like that compared to the early hills.
The other thing that didn't look right was the number of people at the 7am start, appearing to be somewhat less than the 450 registered riders. Will be interesting to find out how many didn't start, and also how many didn't finish, as I expect both will be quite high.
The staggered start was, like the entire event, well managed by the organisers and I soon settled into my usual steady pace which soon turned into really enjoying it, when I noticed a pain in my hip which is unusual. Looked down and my saddle was crooked. No idea where, but at some point I'd broken the bond between the seat post and the saddle clamp, allowing the saddle to rotate under force. Goes to show how important bike fit is because hadn't taken long before the slight skew had caused problems which continued to niggle all day.
With a straightened saddle I carried on (for the moment, this straightening would have to be repeated numerous times during the day), the sun had broken through and I was loving it, the hills were plentiful as were stunning views and big, fast descents. Only having 32mm tyres meant things were somewhat twitchy and vulnerable on the downs so it was important to remember I wasn't on a MTB and to keep the speed from creeping up, but still loads of fun.
A long steep rocky and muddy ascent early on, with axle deep puddles, had a lot of people walking. Add in the vast numbers of people at the side of the tracks fixing punctures and you were well reminded that this wasn't meant to be an easy event.
Already, the riders, a very diverse bunch on a very diverse range of bikes, were pretty spread out; at times it felt like I was a post-apocalyptic survivor with no people, animals, cars, buildings etc. in sight. Then someone would catch me up, or on rare occasions I'd catch someone up, and I'd realise there were still other crazy people about. Mostly good people, but of course you always get a few idiots – the worst were the ones that squeezed through without a word, but then hit the loose gravel in the centre of the track and nearly lost it – as technically inept as they were impolite.
The sun mostly remained, though when shaded by the huge conifers you were brutally reminded the ambient temperature wasn't much above freezing and there were short bursts of sleet, hail or snow whilst a bitter, blowy northerly wind stung the face. But the smile continued. This was a different sort of riding. This was exciting.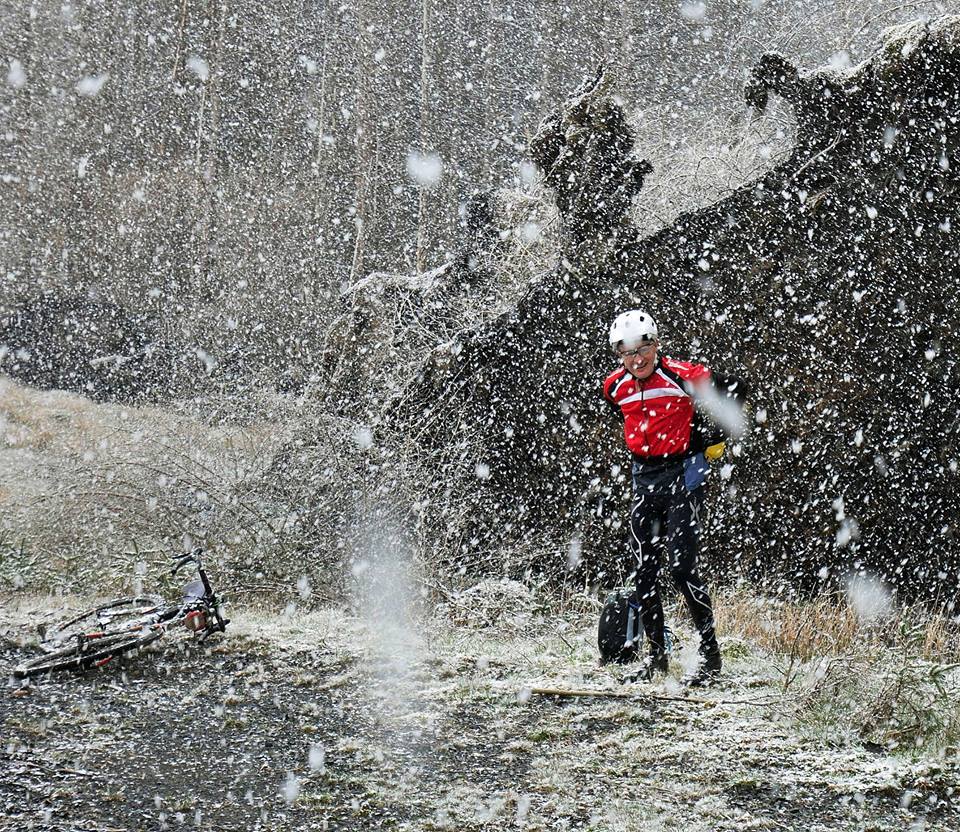 A short river crossing at 70km seemed to divide opinion and strategy. Some took off their shoes and socks, waded across and redressed. Some just walked across. Some sought advice or watched for a moment before deciding on the best line. Some just went for it. Everyone got cold wet feet, one chap fell in completely (and therefore had no option but to retire). Me specifically? I waited a bit, sought advice and had a go. Turns out it was utterly terrible advice and my feet were off the pedals about 2/3 across. Obviously I turned round and had another go, which was successful! In hindsight I think the best option, and one that all the ladies I saw chose thus proving they are clearly more intelligent, was the taking shoes and socks off – took more time, but almost certainly paid dividends in the long run for all but the fastest riders.
At the 90km mark I overheard one of the marshal's radios announce that the sweepers were about 2 hours behind me which was great news – I wasn't fast, but I wasn't too close to the wire either.  As I ate and tried to warm my totally sodden and very frozen feet by the Alpkit-provided firepit, my head told me I was getting tired and needed to crack on rather than listen to my heart which wanted to slump into the huge Alpkit bean bag that had just been vacated.
What felt like the longest and most boring climb ever (turns out it was 8km, so definitely long) got me to the 110km marshal point and their estimate was I had just under 2 hours in hand – not sure if the difference was because I was getting slower or just down to the fact marshals were guesstimating – but they also advised we were only 10km from the start at this point should I want to bail rather than do the remaining 90km. I really didn't know if I could make the full distance but was certain it wouldn't have been enjoyable and the weather would definitely turn in that time, so decided to take the option and finish a very happy man rather than a cold wet miserable broken one. Still really pleased with my 120km and 2200m of ascent, on this terrain, in those temperatures, with very little riding this year and zero relevant practice.
Turns out I got to the finish around the same time as the first full-distance person got back. That's a staggering achievement (on their behalf, not mine!) and I am in awe. Bet he didn't enjoy it as much as me though 😉 Again, we'll have to wait for the actual numbers but there were a lot of riders around already meaning I was far from the first to have taken the shortcut back.
Interestingly I realised that the fast guys can travel with less kit which makes them quicker, and slower guys like me need more kit, which makes them slower. Confirming that life can be cruel. One bloke went past me and said "you look like you've enough kit to climb Everest". Didn't catch the inflexion in his voice to know if he was making a cheery gesture or being an arse, but I knew if I went full-distance I'd also be full-value (as they say in Audax circles) and wanting those extra layers as the sun set.
Overall an absolutely superb experience and one I'd like to repeat, but it's not an event you can just turn up and wing, especially if the weather wasn't as kind as it was to us this year. The organisation and marshals were all first-class which must have taken some real effort given it was their first year.
Garmin stats are here.
Rafe
p.s. Even the more serious people hurt:  http://road.cc/content/blog/186674-dirty-reiver-200-lesson-hurt-blog-gravel-race