MB Swindon AGM
The Sun Inn, Swindon
23 February 2014
Chairman's welcome
Phil welcomed 26 attendees (23 members) and the 4 other committee members in attendance:
Tom – Club & Media Secretary
Chris – Social Events Officer
Kat – Membership Secretary
Sharon – Women's Officer
Apologies were received from Rafe (Treasurer & Webmaster).
1. Staff elections
Chair – Phil re-standing for position, seconded by Tom Scott. No other candidates standing. Phil re-elected as Chair.
Treasurer – Jason Rodger standing for the position, seconded by Gary Yeates and Chris Hopkinsons. Rafe is not re-standing as would like to focus his time on longer distance charity events he has been involved in, in the past. Jason elected as Treasurer.
Social Events Secretary – Chris re-standing for position, seconded by Richard Ford and Jason Rodger. No other candidates standing. Chris re-elected as Social Events Secretary.
Membership Secretary – Kat re-standing for position, seconded by Sharon Yeates and Sharon Bassindale. No other candidates standing. Kat re-elected as Membership Secretary.
Women's Officer – Sharon re-standing for position, seconded by Sharon Yeates. No other candidates standing. Sharon re-elected as Women's Officer.
Events Secretary (previously Club & Media Secretary) – Richard Ford standing for position, seconded by Chris Banjo Vincent and Phil Allum. Tom is not re-standing as would like to focus more on his own interests. Richard elected as Events Secretary.
2. Review of accounts
In Rafe's absence Kat gave an overview of the accounts.
Q: The accounts are showing £5,000 in the bank, what will it be spent on?
A: This past year there has been a reduction in trail building/maintenance partly due to the tree felling taking place on site and partly due to the surface standing up well to use. The following year will see some changes to the design of the trail, with more woodwork and other features. There was also a requirement to have a float to cover the costs of events and trips, which has been covered by Committee members personal funds in the past.
Q: The accounts do not show the cost of insurance fees for the club.
A: It appears to have been missed off, as we do have British Cycling affiliation and insurance through the CTC.
3. Review of the year
a. Stats overview
Tom presented his usual stats overview informing us that in the 12 build days from the past year, 60 tonnes of material had been moved (aka 15,000 shovel fulls). This amount surfaces 600m of trail, or 12% of the total trail.
Below are an overview of the online membership stats presented as part of Tom's review.
 
2014
2013
2014/2013
Members
343
269
+27%
Facebook
1096
805
+36%
Subscribers
793
612
+30%
Club offers
56
36
+55%
Twitter
819
308
X 2.7
Web visits*
62,148
61,101
+2%
Web unique
37,878
(103 per day)
33,857
(92 per day)
+12%
*15th Feb 2013- 15th Feb 2014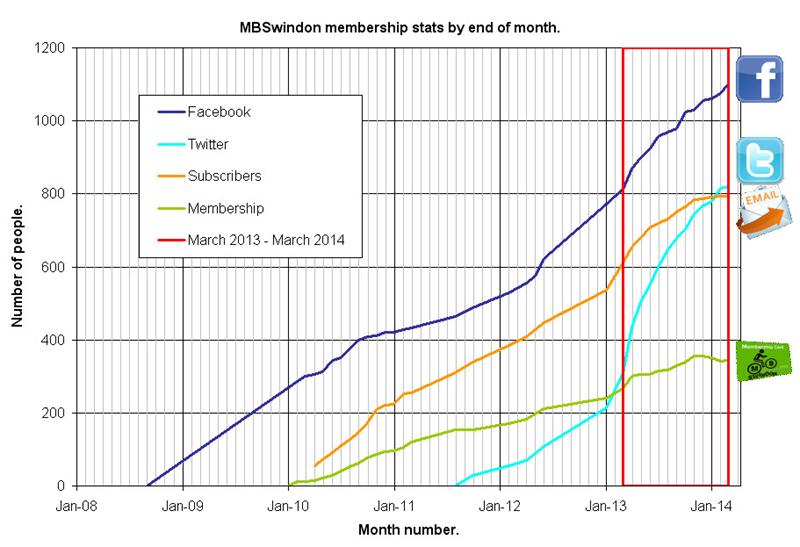 The club now has 36 volunteers organising events and helping with administration versus approximately 15 this time last year. Approximate summary of activity from March 2013 – March 2014.
208 events (1 every other day)
191 MBSwindon events (1 every 2.5 days)
125 local events (66 away)
11 build days
12 Women's events
3 uplift days
10 skills courses
2 first aid courses
7 race events
b. Ride stats/membership
Kat presented an overview of the membership statistics for the year, building on Tom's general stats overview. Highlights include:
Jan 2013 total membership = 274 (49 women 17.9%)
Dec 2013 total membership = 365 (58 women 15.9%)
Analysis of ride attendance showed that:

|  2013 | #of rides | # analysed | Ride leaders | # of riders | Unique riders | Member with highest attendance |
| --- | --- | --- | --- | --- | --- | --- |
| Jan – Mar | 23 | 7 | 10 | 133 | 87 |  Paul Allum |
| Apr – Jun | 16 | 5 | 5 | 88 | 64 |  Kristian Price |
| Jul – Sep | 20 | 11 | 6 | 142 | 88 |  Graham Burgess |
| Oct – Dec | 25 | 15 | 4 | 167 | 65 |  Graham Burgess |

in the first 3 quarters of the year, there were 4 try-before-you-buy attendees
c. Ladies review
Sharon informed all that there has been an increase in female attendance on rides and at events, with more attending the regular rides alongside the ladies only rides. A key mention is the ladies team at Bikefest achieving a podium finish, the hope is more ladies will enter events like this in the future.
d. Race teams review
James gave a quick overview of the newly formed team, which has been a great success even though the core of the club activities do not focus on downhill (DH). In 2013 the newly created Enduro 1 series consisted of 4 rounds with members of the team achieving 2nd place, 2nd place, 1st place and 1st place positions in each round. Over the whole series they won the team category. Looking forward the team will have 5 members and will cover downhill and 4x.
2014 team members are:
James Scott (Captain)
Mike Brazier
Pete Gowland
Phil Allum
Simon Nash
John gave a quick overview of the newly formed team, which has been a great success. In 2013 the team was a mixed team (3 male, 1 female) and attended in the region of 20-25 events across the season between them. Within the Southern XC competition Lee came 2nd within his category, having only attended 3 of the 4 races and had he been able to attend all 4 they believe he would have come 1st. In the local events the mixed team came 2nd in Bikefest and 3rd at the 24 hour race at Mountain Mayhem. Looking forward the team will have 4 members and are aiming for more podium finishes and to attend more of the national events.
2014 team members are:
Lee Morgan (Captain)
John Speed
Malcolm Toop-Rose
Stuart Selwood
4. Looking forward/Long term plans
The club will continue to deliver club rides, trips and events. Looking forward to the new routes and variety the increased number of ride leaders will bring.
To continue with trail building, further developing the land available at Croft to make the trail the best it can be with the resources available. This will include completion of the woodwork in the triangle section and additional features still in the pipeline.
The recent changes to the format for the Friday night rides, to bring a more social element to the evening seems to have been a success and will continue throughout the year. From 7pm there is a fire and seating area set up (with tarpaulin as necessary) to allow people to sit around and chat about all things biking, with people choosing how many and pace of laps to suit them.
Alongside the sponsored race teams, the club would like to increase the number of members partaking in race events, such as Bikefest and Erlestoke. These events are not taken seriously and gives members the opportunity to ride in a team and experience the thrill of competing in a non-competitive way. They are always a good fun social event and you don't event have to compete to attend, supporters are always welcome.
The instructors (Rafe, Chris and Pete) will continue to deliver skills training courses for those members (and non-members) who wish to brush-up and improve their skills.
After the success of the first aid courses in 2013, more dates will be arranged to ensure all ride leaders and members have the opportunity to partake in the training.
5. Q&A
Is there any scope in creating a more prominent trail information board at Croft?

The current board was put in it's location after previous boards were vandalised. Any other boards are at risk of being stolen or vandalised.

Is the club still involved with the Prospect ride this year?

Yes. The club is providing the route, marking it out, sweeping, marshalling and clearing.

Will the club be taking on its own event in the future?

No scope for 2014, but maybe in the future. Still happy to support the local charity events as required.

What's the current situation with dog walkers at the trail?

The number of meetings with the Council on the matter has reduced and there's been fewer emails through to the club directly.

Has the format of club trail centre rides changed, if so how?

Yes, there was a recent change. There is no real need to 'lead' at a trail centre as it is way marked, so these events will be more about splitting off in to small, similar skilled groups and then the chance to socialise between laps etc.