One of our members, Tim Norris, went back to his homeland & revisited the trail that got him hooked: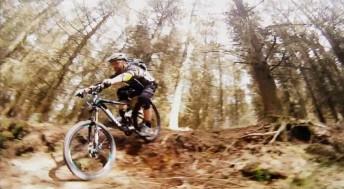 "I rode in Wales with an old school friend of mine recently. It's his fault and the fault of Mynydd Machen that I have a full suss MTB as around 16 months ago I told him I had bought a mountain bike and he said for me to come out with him and friend.  Me and my Giant hard tail with mechanical disc brakes didn't know what hit us but I was hooked.
This time, we set off at about 2pm and rode approx 4 miles from Bassaleg (nr Junction 28, M4) and climbed the 350 meters to the mast at the top of Mynydd Machen. You can park a lot closer but you have to drive up some steep single track roads with mountain bikers on! This is a long climb with little chance for a breather and the final ascent to the mast is steep and a fairly loose under the tyres in places. It is possible to make it all the way up –  the locals manage it occasionally – but once your tyres lose grip on the rubble its hard to get on the bike again. Find a firm bit of track, jump on, hunker down and start pedalling again! I rode a lot of the climb but not without having to stop a few times.
Once at the top catch your breath and take in the spectacular views. Turn around and look at the climb, then look further and you will see Newport and beyond to the River Severn and the Severn Bridge. It was a clear day so the views were pretty amazing. Face North and across the valley you can see the top of Cwmcarn – as the crow flies its only about a 1.5 miles away.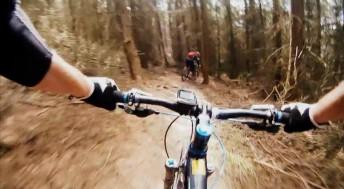 Now for the fun. Looking West is a tree line – we followed the fast narrow single track down to the trees (quite a few ruts!) and then headed into the woods.  Fans of the rooty black runs in Morzine and Les Gets will love this spot.
Once inside the tree line there are a few runs to choose from; this hill side is steep, riddled with roots and has some great natural features to test your nerve and technical ability. To the right there are two steep runs with a few tight turns and some root drops that will keep you placed firmly over the back wheel. To the left its a little quicker where the drops turn to jumps and a few that are worth stopping for and hitting again. We went down 3 different runs each dropping about 70m and each offering different technical features including some nice drops onto the fire road.  These are short runs and yes you have to push back to to do them again, but I can't tell you how much I enjoyed riding them.
On the third run we descended 250m down one of the best technical mountain biking descents I could imagine riding – it really did take me back to Morzine. We picked up some speed as the trail got quicker, pushing your concentration to the limits! It's especially hard when you don't clearly hear instructions shouted at you like "watch out for the bomb hole! Stay to the left". Yes that could have hurt if it wasn't for a last minute adjustment!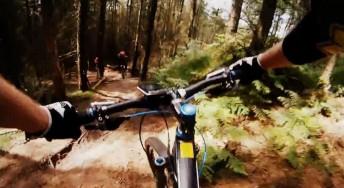 Another climb and two more descents with some jumps and more roots and we were heading back home after around 3 hours on the hill and the best session I have had on my bike other than my recent long weekend in the Alps.
My main reason for going to Machen on Saturday was to prove to myself that my riding had improved since I first did this mountain a year ago; and that after Morzine I my confidence in tackling bigger drops and obstacles was on a higher level.
I would thoroughly recommend Machen to anyone who fancies a technical DH challenge but just make sure you ride it slow the first time. You won't find any berms, doubles or table tops, just lots of trees and some well used trails that are full of surprises."
Some videos of Tim's fun day out: