Words and photos by Gary Yeates
I set off from home to the arranged start point at the Ellendune Centre in Wroughton with a mixture of anticipation and slight apprehension, as this was my first time to lead a ride.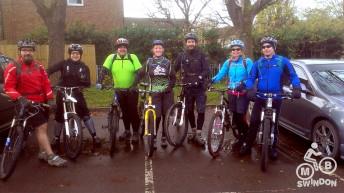 It wasn't too technical a route, but was designed to link together some of my favourite bits around the local trails.
Sharon and I arrived at the car park to find Dean, Hazel and Mark getting themselves sorted. We were shortly joined by Graham, Jerome and Jon – eight in all.
Our route took us through the old part of Wroughton village, past some of the lovely thatched cottages (much admired by Jerome) and continued up our first steep climb of the day up Overton hill. That shook out the cobwebs! As a different way of getting to the Ridgeway, we followed farm tracks and a bridleway, which some hadn't ridden before, across to meet the Old Ridgeway route below Barbury. 
We turned right and followed the Ridgeway (navigating around lots of rather large puddles!) over Hackpen and along to the turn to Totterdown Woods where we stopped for a quick drink and snack – and to regroup, as Sharon had decided to have an unscheduled lie-down, almost taking out poor Dean in the process!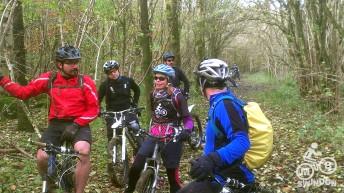 The next section was extremely squelchy and slippery and some of us had to walk parts of it, particularly through the woods, which are renowned for being muddy at the best of times! We cycled down to Rockley, some of the group enjoying the little bit of single track and drop-off, and through the village to the turn for Four Mile Clump. We then followed the tarmac climb and descended into Ogbourne Maizey where we picked up the Chiseldon Railway path. At this point, Sharon and Dean, who was suffering with a leg injury, decided to ease off and stay on the Railway path back to Swindon. The remainder of the group rode to Ogbourne St.George where we rode across Smeathe's Ridge. This was the point where Mark was feeling every ounce of his heavier bike!
Smeathe's Ridge over, we descended the grassy banks from Barbury and rode along the tracks to rejoin the Chiseldon Railway Path. Sharon and Dean were waiting for us at our scheduled and much needed coffee stop at the Three Trees Cafe at Chiseldon, already having sampled the delicious chocolate brownies, leaving NONE for the rest of us. However, all was not lost, as there was still a good selection of other yummy cakes to choose from.
As we had to sit outside, once the coffee and cakes had done their job, we decided to get moving as it was pretty cold. We concluded the ride by cycling from Chiseldon, back along a short section of the Ridgeway, across the fields towards Hodson, and down the tarmac road through Overton, back the way we had come through Wroughton village to the car park.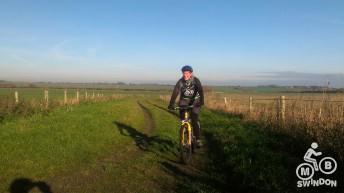 Everyone seemed to have enjoyed the ride, which was about 25 miles and took us 3.5 hours riding time. Even Sharon and Dean clocked 23 miles despite ducking out for an early coffee. The weather gods were good to us with a nice bright, sunny day, although a bit chilly. And the 'going the extra mile (or 10)' award goes to Jon Proudman for cycling from Royal Wootton Bassett across Hackpen to meet us, and then back again!