Words and photos by Gary Palmer
After doing this event in 2014 from Llanwrtyd Wells I was quite looking forward to it; time is a great healer! I don't know whether I had my own personal cloud last year but it rained on me from start to finish, took me just over eight hours to complete (I did take a few wrong turns) and to top it off, just before the finish I dumped myself into the sloppiest, deepest peaty bog in Wales. I was quite a sight.
This year it couldn't be half as bad.
Ollie and I decided to go down on the Saturday, thinking that we could take it easy on the way there, nip down to the coast, have a pie and a pint, etc, etc, and we'd be nice and rested in the morning. While drinking the aforementioned pint, I got a text from Gary Lee asking us if we wanted to join him for some pasta and another pint. Obviously, it would have been impolite to turn down such an offer, so we had a great Italian meal and a few more beers (I stuck to the soft drinks). Finally, it was back to the hotel, but I could not believe it… somebody had left the hotel bar open. D'oh!
The morning soon came around, and I nervously looked out the window. Well, it looked a bit damp but not too bad. Downstairs we went, to take part in consuming as large a breakfast as we could to fuel us through to the food station. I don't know what happened from leaving the bedroom to getting into the breakfast room but bloody hell!… the trees in the garden were horizontal. This could be my last breakfast.
We arrived at Nant-yr-Arian to find the car park full. Well I think it was – I couldn't see the top of the road. We signed on, geared up and off we went up the hill. The staggered start idea was brilliant, not the normal rush of bikes trying to get through a four foot gate.
We'd never ridden in this area before so didn't have a clue what to expect. Not long after being zapped for timing at the start, we were straight into some trail centre single track. I loved it, it's just what I like, but it wasn't long before we were out on to a fire road for the first climb. I could not believe it – the wind was that strong it was blowing me up the hill. I was grinning from ear to ear. Those that know me know how much I love going uphill.
We were warned at the start that one of the rivers was swollen and it was advisable to use the bridge and not the ford. Well, that bit of advice was spot on, although we still got wet feet on the other side of the bridge. That set the scene for the rest of the ride, and we did have a laugh.
Just before we reached the spot where the cameraman was positioned, Ollie rode through an average-looking puddle only to disappear under water that was above the top tube! And it's a big ol' bike that one, too. I pulled him out and off we went. We climbed over a couple of fallen trees, trudged through some shin-deep mud and then into a tasty decent with a good flow of water on: white water mountain biking is quite fun!
I've got to take my hat off to the cameraman – that was some right awful weather to be stuck out in. Good on ya mate.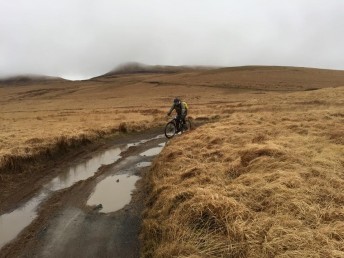 More wind assisted climbing, brilliant. Ollie noticed his tyre was a bit flat so we pulled over to put some air in to it, hoping it wasn't a puncture, then off we went again. This is where Gary L, Richard and Pawel caught us up; good to see MB Swindoners out on the trail. Going up this trail is where my love affair with the wind suddenly ended; it was like being hit by a train. Good job I unclipped quickly, else I would have been on my arse. A bit further on, Ollie's tyre gave up the ghost and had a full on puncture. As we pulled over to get busy, two more friendly faces turned up – Paul & Ania. After a brief chat, off they went into the distance and we had our puncture repaired.
By this time Ollie and myself seemed to be out there by ourselves, so we just chilled into having a great day out on the bikes. We crossed a few more puddles and then we got to the river crossing. Now I don't know why, but we thought 'Let's cross the river at the narrowest point.' Seems a pretty cool suggestion? The only trouble with this is, the same amount of water that is in the wide bit is trying and succeeding to get through the narrow bit! In I went with the bike, and… I can only guess that this is what it's like to be in a washing machine! I dragged Ollie out and we just admired how clean we looked.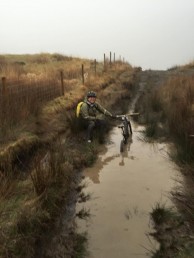 I made a mistake at this point – I thought about my breakfast, and how long ago that was. Never mind, the feed station would surely be around the corner… except that I didn't see a corner for miles! Ollie must have been able to pick up the scent of the feed station, as he took off up the hill. I could see the van but wasn't sure if it was a mirage. Thankfully, the van was still there when I got to the top of the hill, and I could soon feel the energy surging back into me. Drovers rest feed stations are brilliant but I hold them responsible for our late arrival back: potatoes, sausage rolls (with something called 'vegetables' in them), welsh cakes, cakes of all descriptions and then round again; bloody marvellous. I had a decision to make after the feed: go up another wind battered hill, or sneak off and miss that 5k loop out. I sneaked off without doing the 5k loop and left Ollie there getting some more cake into him (fair play).
The weather was starting to improve a bit now and we were starting to see the wonderful scenery we were in. The man at the feed station said there was only about 20k to go before the finish. 'Easy,' I thought, 'no longer than a Tuesday night ride.'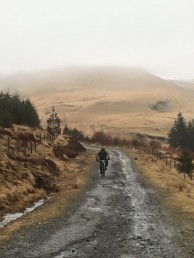 But on we went. All that riding in the winter had definitely helped; I wasn't quick but I still felt good and was enjoying the riding. I actually caught up with a couple of guys. One of them lived nearby and said, "If we go up here, we're only about four miles from the centre." We declined his kind offer, convinced him to follow us and carried on. I bet he was miffed: on the next downhill section we left him and never saw him again! After a few more ups, and a testing downhill with some bike-sized ruts in it, we came to a junction where we met another rider who was unsure which way to go. We were just about to set off when we saw a quad bike coming up the track. I guessed that this was the guy looking out for stray mountain bikers and we asked him if we were going the right way and how far it was. His answer was, "Just ride up here, join the Mark of Zorro and then you've got a bit of a climb back to the centre." This guy made my day, so off we went. This next decent was proper gnarly with washed out ruts crossing the track. My only thoughts were 'How the hell did he ride that quad bike up here?' Full respect to him for that one.
We started to pick trail centre signs up. Great news – it couldn't be far now. We caught up with another couple of guys who were slightly confused by the route, so we told them what we had been told and off we went down the Mark of Zorro. What a trail this is – it just keeps going. It's got to be one of the longest trail centre descents I've ever done; brilliant stuff. We eventually got chucked out onto the fire road at the bottom where we decided to have a bite to eat. Remembering what the guy on the quad bike had told us, we thought we might need some energy as there was a bit of a climb back to the centre.
Looking up, this was more than 'a bit of a climb'… it kept going up and up and up. I had a flashback to the local guy who said, "Shall we go up here? It's only four miles back to the centre." The track started to flatten out… brilliant! We'd made it! Then we went round the corner and bang… straight up another hill! My poor little legs! At last we climbed to the top and we could see the trail centre at the bottom. There is nothing better than seeing the finish when you've had a tough one like that. Nice downhill too, right back to the car park where we picked up our times of 'bloody hell that long and 46 minutes.'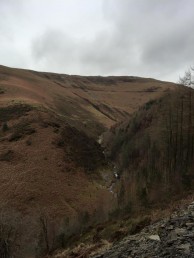 For me this was a proper tough ride but I always enjoy them.
A big thanks goes to:
Ollie for sticking with me (he's more than capable of shooting off and putting in a respectable time). We did have a laugh.
Neil and the Red Kite team for putting on another brilliant event.
Peter and the Drovers Rest team for feeding this hungry boy and having smiley faces on a grey day.
And all the MB Swindon guys and gals for saying 'Hi' and taking part.
Till the next time on the 20th of September, Adios Amigos!