Word and photo by Andrew Weaver
This was to be Tom Scott's ride, but something cropped up and he asked me to lead it. I was happy to help, but had little time beforehand to prepare a route. Still, no matter; I know the area pretty well and thought others would lend a hand.
The ride started with 'Where shall we go?' and we decided on the medium Prospect route – albeit starting from Coate Water instead. We headed out of Coate Water over the curly wurly bridge and up to Chiseldon and then down the railway line to the Earthline climb.
The weather was most odd this day – it was getting warm and several riders stripped outer layers off. This all changed at the top of the Earthline climb, where I looked back towards Barbury to see thick black clouds rolling in. In no time it was hailing and the temperature dropped sharply.
We almost had one of our lady riders drop out, but with a bit of persuasion she carried on with us. We then carried on through the woods – that bit is always good fun – around the field and through some more woods. I'm told there was quite an amusing off in the woods, but as I was in front I missed it. Oh well, better luck next time!
At the top of the Rickety Bridge descent we stopped for a snack. Well, when I say snack, Paul Allum retrieved an enormous picnic box from his rucksack and started tucking in. The descent down Rickety Bridge was interesting. In the summer when it's dry, this descent is a hoot; in the wet it can be very interesting. The rider in front of me (sorry, didn't catch his name), almost lost it, but managed to hang on.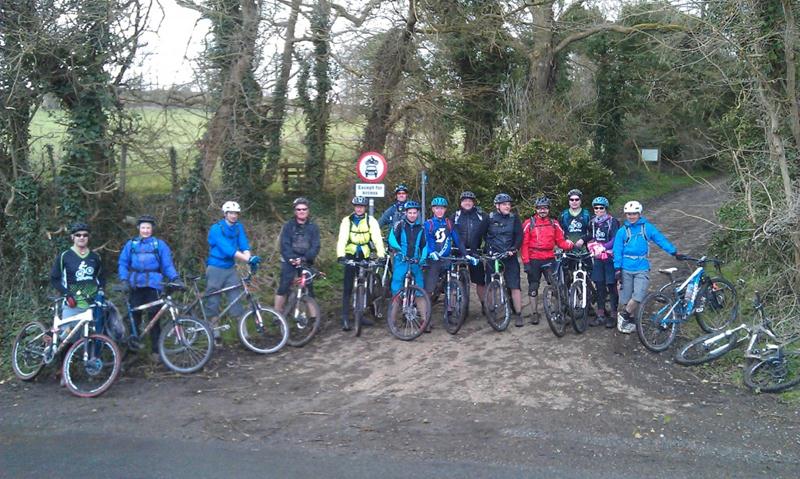 Then we had the small matter of climbing back up Smeathe's Ridge. This climb always feels like a bit of a slog, and in the hail (which had started again) it was even more of a test. Then we headed down the motocross hill and joined up with the railway line.
Tom hadn't planned in a coffee and cake stop, which we all thought was very remiss of him. So to make amends we called into the Three Trees Farm Shop & Café. It was well worth a visit, though getting underway again afterwards is always hard.
On the way back to Coate Water, Jerome had our second puncture. We were so close to the end we did think about invoking the Top Gear 'Always leave a man behind' rule, but decided to stay and provide moral support. Once fixed, we all joined back up and headed back to the car park.
In the end, everyone looked suitably happy – big smiles, muddy bikes and some tired looking faces. Plus, everybody earned Velominati Rule #9. I couldn't hang around for long as I had the small matter of needing to ride back home. So I said my goodbyes and hurried on my way.