Words and photos by Phil Allum
After the appalling weather for my last MB Swindon ride, the big chap upstairs must have felt a bit guilty, and served up some classic winter conditions for the day: beautiful blue sky and rock hard frosty ground, with the promise of highs of 6'c for the day. Perfect.
Eleven other people obviously found the forecast appealing too, as there they all were, happily tinkering in the sunshine when I pulled up at Barbury Castle.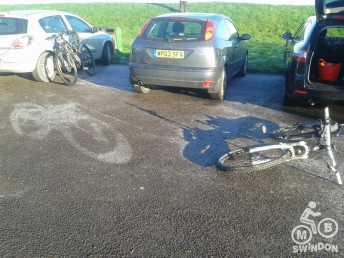 The idea for the route came about a year or so ago. Tom Stickland and I were out on a recce for ideas for the Prospect Hospice Big Bike ride and he introduced me to 2 new bridleways. One is to the south of Aldbourne, which goes to Hilldrop and the other borders Thicket Copse near Mildenhall. Ever since then, I knew one day I'd come up with a route to link them both together.
The day started off with frozen ground but it soon thawed out, giving everyone a good splattering of mud.  We took in plenty of climbs, including a few that rarely get used, like Liddington & Sugar Hill. A series of punctures after the climb up Sugar Hill meant that we all had a rest for a good hour whilst taking in the views from the top.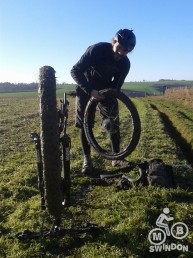 The new bridleways went down well with everyone, literally. The one to Hilldrop is just that. It's pretty steep in the middle – nothing serious, just really good fun.
The final descent of the day was the Ridgeway descent to Hallam, which coincidentally set us up nicely to continue along the Ridgeway and up the old favourite, Smeathe's Ridge.  By this point, the sun had ducked down the other side of the ridge and the temperature had plummeted. I think everyone was happy to see Barbury Castle rising in the distance!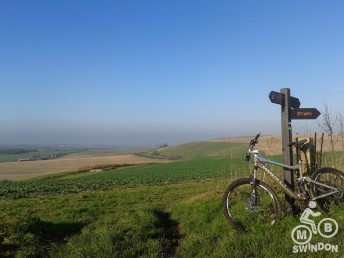 A great ride, proper XC with plenty on mud. Big thanks to all for joining me, some familiar faces and made some new friends as well. Bonus!