Words by Chris Hopkinson
Late October 2014.
I've just come back from my first properly wet and muddy ride of the autumn/winter. Although still rideable, my favourite local trails won't be ridden with any 'type-1 fun' for some time and I'm daydreaming about blasting my way down dry and dusty singletrack with the sun on my back.
Showered and hugging a big mug of tea, I start tickling the laptop's keyboard for some inspiration and when I see that Ty Nant, a fantastic, traditional Welsh longhouse near Dollgellau is available for my birthday weekend, a plan starts forming. Permission requested and granted from the MBSwindon powers that be and a couple of weeks later an MBSwindon weekend was announced to the masses. With all 10 beds at Ty Nant being booked up within an hour of the event being announced, Glyn yr Aur, the sister accommodation, was hastily booked to give another 5 the opportunity to join us.
Fast forward 6(ish) months…
Thursday
I'd loaded most of my stuff in the car the previous night so this morning all I had to do was drop the kids at school, strap the bike on and set off. By 9am I was on the road, as was Tom's big blue bus containing the 5 who'd be staying at Glyn yr Aur. Russell, who now lives in Peterborough, had also set off. Russell and I had previously arranged to meet up at Llandegla for a pre weekend warm up ride. We'd estimated that travelling time was about the same from Swindon as it was from Peterborough and as we arrived within a couple of minutes of each other that estimation turned out to be spot on. A couple of hours of swoopy red/black graded mountain biking fun and the purchase of 2 teas and 1 tyre later we were back on our way.
The big blue bus team had opted to drive straight up to their accommodation and get stuck into the trails at Coed y Brenin. Now, they do things a little differently up North. The smooth, flowing trails of places like Afan and Brechfa is swopped for more rocky, technically entertaining stuff which can be a bit of a shock. There was mention of at least a couple of OTB moments. Meanwhile, Russell and I had arrived. After a quick chat and a brew with the others we took ourselves off to a local hostelry for sustenance and were soon joined by Paul. After returning to our accommodation we were soon joined by Sean and, a little later, Hazel and Kaye. Plans were made for the following day and we all settled down for the night.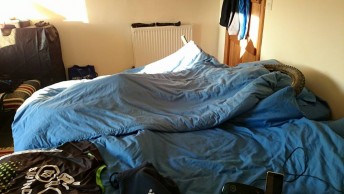 Friday
Most of the group were taking the opportunity to put a tick in the "been up and down Mt Snowdon on my bike" box and a plan had been hatched to meet at Llanberis at 8am. I'd ridden Snowdon on a previous visit and I'll do it again one day. However, I'd decided that it wasn't to be this weekend and opted to have a lie in and wait for the rest of the group to arrive. Turns out that a lie in is not easily achieved when you're sharing a house with several other folk who are up and preparing for a big day of riding at 6am!!!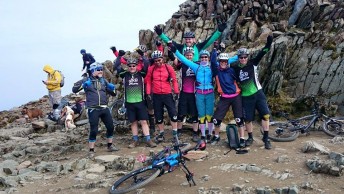 My morning consisted of some bike fettling and sofa based snoozing. A message came through that Gary Y had some bike issues: his Canyon had developed a permanent freewheel (been there, done that!) A few messages and a couple of phone calls later the issue was rectified, and once again Gary L saved the day by picking up a Gary Y's spare bike from home as he hadn't left Swindon yet; but Snowdon would have to wait until another time for Gary Y.
Just after lunch Ben, John and Paul arrived and the 4 of us decided to ride the MBR trail. A pinch flat for Paul could have ended the day on a sour note but as we were only feet from the end it wasn't as much of a disaster as it might have been, and big grins were firmly fixed on faces. We bumped into a few of the others in the car park, who'd opted for a short, post Snowdon trail centre spin and they set about telling us various stories of elation, desperation and some scariness from the morning's attack on Snowdon. Amongst all this, one newly converted tubeless set up had left it's mark on the Snowdonia countryside. Riding done for the day, we all retired to our respective accommodation. Food was eaten, beer was drunk and stories were told. When Gary L turned up that evening the group was complete.
Saturday
We'd earmarked Saturday as our trail centre day with all of us taking on The Beast, Coed y Brenin's longest and gnarliest trail. Glyn yr Aur is situated several hundred metres vertical of the Coed y Brenin visitor centre and 5 minutes of riding from the door puts you straight into the trails. We'd decided that the group from Ty Nant would drive up to Glyn yr Aur and we'd set off from there with a full compliment of riders. As it's about halfway around the trail this gave us the option of using the visitor centre as our halfway point but also meant we'd finish the ride with the steep climb up from the famous en-route tea garden.
Off we went and before long we were wooping and a hollering our way down some of The Beast's sweet singletrack. Russell had come to a stop on the bend at the exit of our 1st section which caused me to have a comedy spd moment; not really Russell's fault as I shouldn't have been following so closely. No sooner had I got myself upright than the unmistakable sound of a human body making contact with welsh rock was heard as Rich made a slight misjudgement and had taken a technical lie down.
Sometime later the inevitable had happened and 2 riders had become separated from the group. Phone calls were tried but as is the case in most of the best UK mountain biking destinations, mobile signal was poor. They're both competent riders who are more than capable of following the waymarked signage of a trail centre so the decision was made to crack on and meet up with them again later. As with all trail centres, up followed down followed by more up and more down until we reached the visitor centre and various drink/cake/butty combinations were consumed.
After dropping the chain far too many times so far, I succumbed to the old mountain biking adage of "if at first you don't succeed, chuck a shed load of money at it". Oh well, you can never have too many Hope components on a bike I say! It turned out that there was a trail running event on in the forest on the same day so after watching the runners set off and giving them some time to get out of our way, we continued on around the trail.
As I've already said, the trail centres of North Wales tend to be a little more technical than their southern cousins and I have to admit a couple of sections got the better of me and I opted out of a couple of features. Particularly frustrating as they're sections that I've ridden with no problems previously; I must be getting soft in my old age.
At some point later, a discussion was needed to determine the correct way to continue. It seems that the signs for The Beast make a great souvenir of a visit to Coed y Brenin and as a result several had gone missing. A decision was made that not everyone agreed with, but it turned out to be the right decision and on we went.
The emotion and exertion of the previous day's riding was starting to catch up and a few of the group decided to take a bail out option up the road while the rest of us carried on, hoping to rendezvous later at the tea garden. There's been a lot of rumour and speculation about the tea garden of late: the original owners had sold up and there were rumours that the new owners were a little ad-hoc with their opening hours… if they were open at all! We'd driven past on several occasions and the signs weren't good. However, as we made our way up the climb from our last singletrack section for the day, the sight of a few bikes racked up lightened our hearts. I can confirm that if you're riding Coed y Brenin at the weekend, and the current owner isn't on holiday, the tea garden will be open.
More often than not, Saturday night on an MBSwindon weekend is BBQ night and tonight was no exception. A kitty was raised, supplies bought and the BBQ lit along with the chiminea at Ty Nant which kept the evening chill at bay. More beer and wine was consumed, as were char grilled pieces of various animals along with home made potato salad, coleslaw and what I'm told was some very tasty stir fried noodles, courtesy of Gary L. It must be true, as it had all gone by the time I got to the table (boo hoo!) We were entertained by a suitably refreshed Tom Scott's dirty jokes and all went to bed happy.
Sunday
Unfortunately Russell and Sean had to leave us on Sunday morning and, feeling the pace of the weekend, Tom had decided on a gentle road based pootle [50km, Tom would like to point out!] to meet up with us at the beach later on.
After waving them goodbye we set off on the short drive to Tal y Bont for our final ride of the weekend and, for me, the ride I'd been looking forward to most: The Pont Scethin loop. Not for the faint hearted this one. Roughly 13 miles of proper old school mountain biking on natural trails, with 2 big, tough climbs and 2 descents. The climbs have all-but-the-fittest of world class riders shouldering the bike for at least part of the way but every inch of hike-a-bike is worth it for the descents.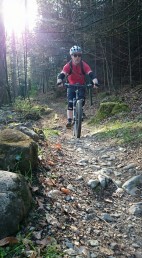 Somebody once told me that you should do something that scares you every day; by the terrified look on Kaye's face as she came down the first rocky, rutted mountain's edge descent, I think she'd been told the same! Skill, determination and courage got her – and the rest of us – down, and we set off on the day's second big climb.
The final descent is a mix of steep and technical rocky path, wide open grassland and fun wooded single track, and gives riders the option of descending all the way from the highest point right down to the sea, something I urge every mountain biker to do at least once in their lives as it's a great feeling. If you're ever in the area try and find the time to ride Pont Scethin. It's one of the best natural routes I've ever done with fantastic views, challenging climbs and grin-from-ear-to-ear descents that seem to go on forever.
At the beach Graham, Kaye and Hazel stripped off and jumped into the sea. The glorious weather we'd enjoyed for the weekend so far had turned a little and the chill in the coastal air meant the rest of us wussed out.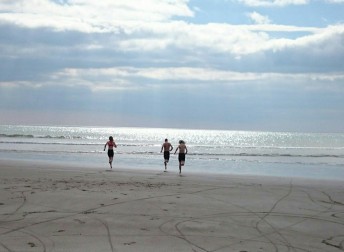 A brief stop at the longhouse for showers and a quick tidy up and the trip was over. Goodbyes were said and we all headed home both tired and elated with heads full of fantastic memories from the weekends events.
Quite an emotional trip for me this one. I'm not from North Wales but Merseyside isn't far away and as a result I spent large chunks of my youth in the area on various holidays, school trips and days out. Any trip to the area feels a bit like going home. Also, this was to be the last MBSwindon trip I'll be taking lead duties on for the foreseeable future. Over the last 5 years or so I've had the most amazing time, I've got fantastic memories of all the rides, trips and events I've either led or taken part in and have met so many great people who have become good friends. MBSwindon is a great club and long may it continue to be so but now is the time for someone else to make those memories and help move the club forward.
Thanks for the ride!