Tony led another novice friendly ride from Coate Water and here's what he had to say about it: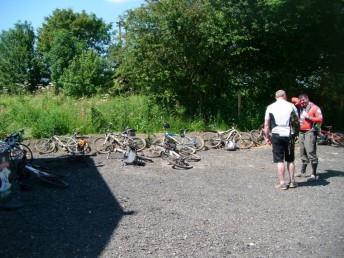 The weather had brought what seemed to be most of the population of Swindon out to Coate Water Country Park on Sunday morning – the car park was pretty much full already by the time 16 of us had gathered by the tea shop. We set out past the miniature railway and along the cycle path at the eastern side of the park towards Chiseldon and the Downs.
The plan was to cover the same route as on January's ride but with fewer layers on – following National Cycle Route 45 over the motorway, up through Chiseldon and on to the old railway line, branching off at the kennels along a bridleway and the back road to briefly join the Ridgeway at the bottom of Smeathes Ridge. Here, at the first gate, the route forked right on to a bridleway. While we were stopped here to regroup people began to notice the mud we'd have to go through – no avoiding it, the full width of the track and a good 50 meters or so. Well, maybe not just mud – there was a certain bovine element too.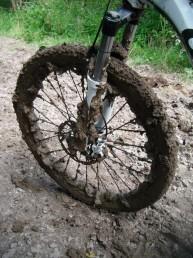 I'd got though it quite easily the previous Sunday as it was so wet that it was hardly worse than riding through axle deep water but a week of mostly dry weather had stiffened it up significantly. The consensus was to hit it fast and just keep going. That resulted in at least one shoe briefly lost, one busted chain and, I think, a record of about 20 yards covered before bailing. Eventually everyone made it it through in various fashions and the following bit was fast enough to knock the worst off.
Following this bridleway brought us out at the bottom of the hill near the shooting school and we skirted the edge of the field here to join the "Old Ridgeway" track back towards Chiseldon. It was quickly decided that refreshment would be a good idea so we stopped at Three Trees Farm Shop where, even in our grubby state, we were made most welcome.
As we were getting our selves sorted to head back to Coate Water the same way we came up opinions were voiced that it was a bit lame covering the same ground so I, not entirely joking, suggested we take a short road ride and go down Ladder Lane. No one objected. It's surprising what a cuppa can do.
Everyone made it down in one piece and we sneaked back to Coate Water through a bit more (mostly) mud.
A big thanks to all who came along on what was a very pleasant social ride in fantastic weather.