Words and photos by Debbie Davies
As I listened to the rain all night and awoke to even more, I had to question the wisdom of Winter rides. My bed seemed the more sensible proposition at this point.
Six of us met at the Lydiard Park Cafe. Two of our group had already cycled half the route to join us and in the process caught the last of the heavy rain, so arrived already wet and muddy .
We set off promptly at 10am in sunshine – how bizarre! – and made our way along the urban cycle routes to the old railway line, where  standing water and plenty of mud greeted us. Now we all looked soggy.
We went on to the Croft Trail for a short section of the blue trail which, considering the conditions, everyone managed really well. This took us on to the cycle path alongside the Broome Manor Golf course. The ground was so waterlogged that play was cancelled and the course was deserted, but the weather was still being very kind to us.
We entered Coate Water on the bridlepath and cycled on some very wet tracks that only last week had given hints of spring with blossom and dry trails. Oh well! It was at this point that one of our ladies left for home having completed her circuit.
Then it was on to the next Swindon park, where another lady peeled off and left our four-strong group to head homewards towards West Swindon and the relative dry of the River Ray trail. At Peatmoor Lake one more of our crew headed for home and we final three made our way back to the cafe in Lydiard Park. Various drinks and food consumed, we bade each other farewell and (I imagine) all went home to warm baths and dry clothes!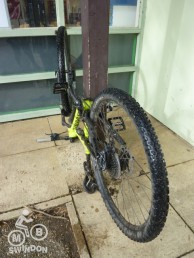 Considering the conditions the day before, we had been amazingly lucky to get away with a few light showers. Thanks to Nikki, Sarah, Sandra, Michelle and Penny for being very hardy and coming out to ride.