Words by Gary Palmer   Photos by Gary Palmer and Tim Norris
Nine of us gathered in the car park ready for the off. The weather forecast was looking worrying; we needed to get back by lunch time to be in with a chance of not getting soaked.
The two weeks previous to this ride we'd had dry weather so I was hoping for good conditions underfoot (or tyre).
The first section was looking good; loads of roots lying about which, if wet, would just love to slam you into the dirt. A quick briefing about the upcoming bomb hole and off we went. All of us got down the bomb hole attached to our bikes, although some of us were not in the conventional position!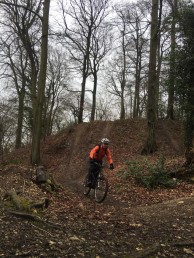 Off again through a nice bit of twisty single track which chucked us out on to the road at a village called Edge. If you ever come up here, there are loads of route options through these woods – take your pick but always be prepared for some good old fashioned climbing.
On the road over to Painswick you can see the Beacon and, lover of climbing as I am, it's quite a daunting sight. But as with most of these climbs, get your head down and you're up them before you know it. On the top of Painswick Beacon, someone had turned on the wind turbine. Strewth, glad we weren't riding into that! After a short break, we rode along the ridge of the beacon and attempted to ride down the steps on the end; not an easy thing to do on a calm day and the wind today was blowing us off course a bit.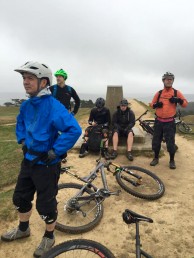 The next section of the ride I had only ridden at night so I was guessing that things would look totally different. And guess what… they did! It's a good job we had Simon with us who knows this route like the back of his hand. There is some great single track in here, some of it quite testing – a case of, let go of the brakes and hope for the best! After a couple of sessions of the trails here, we headed back towards the beacon. A few of the guys found a big old bomb hole to go down, which only means one thing… a bit more climbing.
We made our way over to Pope Woods (Phil was observant), got to the top, and the crazy gang had a go on all the dips and jumps (which was quite impressive, I might add). Then off we went again – more rooty single track and a steep old decent down on to Horse s—t Avenue. This has been a route for horses for years and what horses leave behind has built up over time. Only once have i seen it dry, and the only way to clear it is hit it hard. Paul managed it, but I came to a dead stop in the middle of it. Put a foot down and you gradually sink into you know what. Nice!
On our way back, we got back to Edge and rode back through the woods. I must admit, it felt like I had the wrong legs on at this point. The plan was to get to the top, ride down the road a bit and do a loop through Randwick woods. We could see what weather was coming our way, and when somebody mentioned having a pint, that was it – back to the cars. We just about got it right; got slightly damp getting changed, but what could have been a wet ride turned out just fine, which goes to show: never judge your rides on a weather forecast (unless you're in the mountains of course).