Words and pictures By Gary Palmer
On the way to the start point at Tetbury, I pulled over to take this picture. It looked like a promise of a nice day – a bit chilly though.
I'd had a look on Facebook and it didn't look like too many people would be turning up. A nice relaxing ride out, I thought. How wrong I was! It started to look like a car boot sale; loads of cars and vans with their back doors open and people dragging kit out.
We got on our bikes and started out on one of the flattest rides MB Swindon have ever done. (Well, that's what I told them.)
Half a mile into the ride we had our first stop. This was due to the ride leader not counting how many people had actually started; well done Sharon for reminding me about this.
Off we went again. This was where the guys and gals might have thought I had bent the truth a bit about it being flat – the hill was not particularly steep, but did make for a long, steady climb. A mile or so up the road we reached Chavenage House and started our first bit of off road – a nice wide track to start with, then a track with two ruts (or was it three?) then into a bit of single track where shouts of 'rocks!', 'roots!' and 'branches!' could be heard as the band of merry cyclists made their way down to the first gate.
The other side of this gate was another one of those flattish uphill bits. Everybody set off as I faffed about trying to take one of the few photos of the day.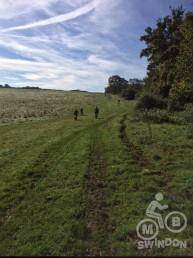 When I got to the top of this 'slight incline' everybody was there chatting and having a great old time of it, so I carried on, opened the gate and went to go on, only to find nobody wanted to follow me. Aha! The first puncture of the day, kindly supplied to us by Mr Phil Mayger. An expert lesson followed in how to mend a puncture.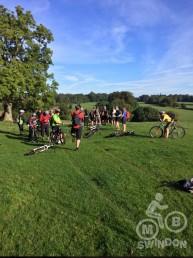 Puncture mended, off we went on a not-too-wet bridleway, dodging the puddles. Somehow, I had managed to get myself to the back of the pack again and as we drew closer to the end of the track I started to weave my way up to the front. All was going well until I tried to unclip out of my pedals and failed miserably, and proceeded to knock the club chairman off his bike. I'm sure Phil and Gary Lee can compare incidents now.
We set off again towards Westonbirt, across the main road (carefully missing a pub) and back on to the next bridleway, where someone had taken the effort to lay nice clean gravel down for us. At the end of this bridleway we turned left for Shipton Moyne, an old stomping ground of our illustrious leader, Tom. We just about managed to gain enough pace to get us past the Cat & Custard Pot, and right at the end of the village we joined a bridleway that would take us down to the Old Fosse, a cracking bridleway as long as you don't mind going straight.
A couple of miles in to this we had our 2nd puncture, again kindly supplied by the club chairman. I supplied some dodgy patches and after a couple of attempts (and a bit of bike pump comparison) we were off again.
I made a bit of a mistake here and got talking to Paul A about nothing in particular and before we knew it a group of us had opened up a fair gap to the rest of the group. Still, never mind – we all regrouped and made our way over towards Kemble. Whilst riding around the edge of the airfield a shout was heard, and yes, you guessed it – another puncture! Phil was getting good at this now! An autopsy was done on the tube and the problem was solved… the ride leader had given him 29" patches and Phil was running 26" wheels. A schoolboy error which will not be repeated.
Heading through a couple of gates and down one of the few downhill bits on the ride, we stopped at the old railway bridge and proceeded to do a class 2 climb to get our bikes up onto the old railway line. This was the bit of track I attempted to clear the day before. I did most of the 5 mile track… apart from the last 4 ½ miles! Much blood was spilt on the brambles, and legs and arms were warmed up by the stinging nettles.
We were soon back in Tetbury where we visited the bike shop that made coffee. Pete and his delightful assistant did a brilliant job there.
I certainly enjoyed leading this ride and the weather really made it.
A massive thanks goes out to Kristian for being the back marker – hope you enjoyed your birthday!
Cheers Guys and Gals.
See the route on Viewranger here.