Words and pictures by Gary Palmer
I thought I would get to Chalford early because it can be a bit of a place to find. I turned the corner to get on the road where we were meeting, and there they were, two of the keenest mountain bikers I've met – James and Martin. Fair play for getting there early.
Eight of us were ready to go (James, Martin, Mark, Pete, Ania, Paul, Rupert and myself). A quick briefing on what we could expect and off we went: a bit of road work to start, up to the village of Eastcombe. A quick warning of This road is steep, it will have gravel on it and some sharp bends, and off we went. I forgot to mention that it could also have cars coming up it. I don't know who was more surprised: I guess it was the guy in the car, especially after seven other riders went either side of him. Three of us got to the bottom of the hill where it turns into a track and waited… and waited… Oops, something's wrong! So we went back up. Here we found a hole in the wall and hedge, which Martin had used as a brake as he couldn't make it round the bend!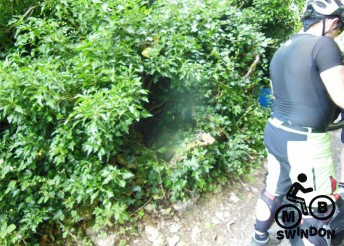 Still, not much damage done – Martin was fine and there was a combined effort to fix a small tear in his tyre and fix the puncture. Eh, what doesn't kill ya makes you stronger!
This time we had a steady descent down to the track where we would start our first off-road climb. The first part was not to bad but but the second part was full of loose rocks – a bit challenging, to say the least. We regrouped on the road at the top (good job they didn't know where they were going).
There was a bit more road riding before we got to our next off-road bit. To say it was a bit overgrown was a mild understatement, though I always think that stinging nettles and brambles remind you that you are alive! After going through the next gate, we stopped to compare bramble and stinging nettle rashes, then headed off for a short off road descent with a few rocks and branches thrown in to keep us on our toes.
I had mentioned that through the next gate there was a bit of a puddle. Well, since the last time I rode this route, the puddle had grown bigger and cows had been using it for what cows do best! (And this wasn't going to be the last time that Ania would come into contact with such stuff.)
The next descent started steeply on a road and then shot off to the right, down a steeper (in places) bridleway. It's a great descent but it takes a bit of care to get down it in one piece, as there are gullies washed out by the rain, etc. I've been down it four times now, and it's been different every time. We all safely arrived at the bottom with a good coating of wet mud. We were now at the bottom of Slad Valley, and those of you who know the area will know what's coming.
Up we went! It's a good job i can shout – leading from the back is a talent! This was the steepest hill of the day. It had two tight switchbacks in it to make it easier and it was on tarmac – what more can you ask for? We crossed the main road on to the next track which was slightly uphill again (the title of this ride was spot on!) I tell you, these guys were all well trained – they knew to wait at the top of the hills for me.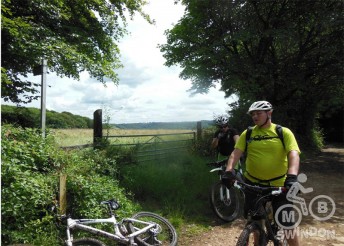 We turned right into the woods, down a wide rooty track. Not a bad bit of speed down here, but we had to watch out for the mud and roots! This track bought us out at Bulls Cross (I don't know why he was cross) which is at the top of Sheepscombe. As we headed down the hill, a kid on a road bike tried to get past James. What was he thinking… not a chance! Anyway, we turned right and let the road biker go on his way.
There is a great view of Painswick along this track but it does involve a fair bit of climbing. It pays to get in the right gear before getting the power down else you might break a chain.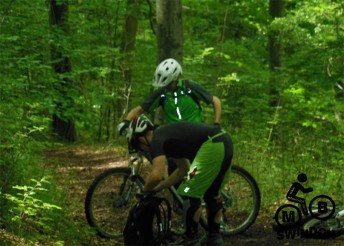 On through the woods we went, up and down until we came out in the village of Sheepscombe. One of the hardest parts of this ride was not stopping in the pub, but the dedicated bunch carried on riding. This road took us into National Trust woodland. For some reason I made a mistake in these woods and took a wrong turning (must have been the shock of not going in the pub!) but anyway, it bought us out in a clearing with a great view down to Sheepscombe, which had a logging shed on it that Rupert decided he was going to get planning permission on. I made my confession and we headed back, but instead of riding back to the start of the woods, I decided to take a short cut I didn't know. This was turning out to be a great move until we got to the bit where the foresters hadn't cleaned up behind themselves.
Finally, we were back on track! Through a couple of gates and we had a view of the pub i had planned to stop at. We started a small discussion as to whether we were going to stop or not… and before you know it we were having a drink! Drinks finished, we decided to set off. This is the point where Ania stepped in the same stuff she had earlier, only this time it was left by a dog. We kept our distance.
Pete decided to head off back by road at this point (shrewd move). We left the back of the pub car park to pick up another trail which took us into Miserden park. There were plenty of puddles through here, and another steady climb up and out of the woods, on to the road which would take us past Miserden village.
About half a mile past the village, we took a right down a track past Miserden cricket pitch (could be mistaken for a grass field). We picked up a nice little track down the side of a field – narrow ruts, loose rock and a nice little drop off half way down – through the gate and up one of the most testing climbs around here. In the winter this runs as quite a good stream so its full of loose rock, so fair play to Paul for making it up this climb. Mind you, it was pretty tough to walk – there are some right ankle twisters up there.
We followed a short section of road and back onto a track which took us over to Througham. There was a nice stony track coming up. I warned everyone that there would be a gate shut across the track and we'd probably meet a Land Rover. The gate was not shut and we didn't meet a Land Rover. Happy days! This track took us in to the village of Bisley, and it was all road now back to the cars, a couple of miles towards Oakridge and a right down to the village of Bourne's Green. The last climb of the day brought us back to the car park, where we were surprised to see Gary L and Jerome! They had arrived a bit late so we missed them. It sounded like they made a good route of their own, though, good on them!
Thanks everyone and sorry for the extra mile and a half due to navigating error. See you next time.