Words and pictures by Gary Palmer
I'd been looking forward to this one – a nice gentle amble through some nice Cotswold scenery. It did have a few issues; firstly, the funny people in lycra decided to start their Sportive at the same place that i had decided to start, and then Princess Anne goes and puts on a Horse event in Gatcombe Park without consulting me! Can you believe it?
Anyway… with the start changed (and a diversion around the Park decided on), Debbie, Sarah, Andy, Rich K, Rich F and I took off. There were a couple of miles of road riding to start with before we hit the bridleway at Chavenage – not a bad stony track this one – then through a couple of gates and on to a road. The concrete didn't last long, though, and we were back on to riding the rough stuff.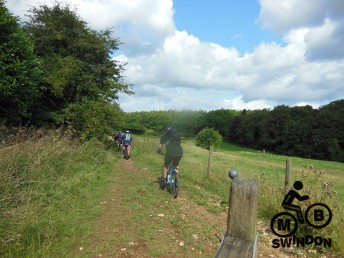 I got a bit carried away along the next bit so I pulled over to wait. Three turned up but two were missing, so off i went, back to see if there was a problem. It turned out that Rich & Sarah were trying to boost the amount of climbing they were doing on the ride so took a diversion. All back together!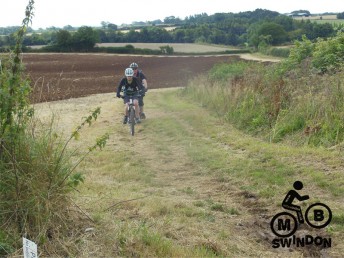 The rain I had ordered to dampen the dust down had got a bit carried away with itself along this next section, and had turned it into a mud bath. Three days before, you could hardly see yourself for dust; now, with a liberal coating of mud, we carried on.
Into the woods we went for a nice bit of single track. It was a little bit rooty and had a couple of short little bomb holes to catch you out, but we all made it out the other side, smiles all round.
I explained to everyone that the next section might be a little bit overgrown but there was a nice bit of downhill chucked into it. I might have underestimated the 'overgrown' bit, but we all made it down, just maybe with the odd scratch.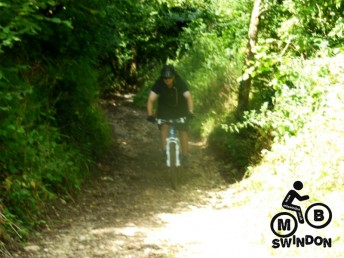 We were now in Avening and up we started to climb. I could hear the rattling of a bike in the wrong gear and then silence… poor old Rich K had broken his chain! Luckily, Andy had an 8-speed chain link in his kit and we were soon on our way again. This was where we had to divert around Gatcombe Park, and great faith was shown by all when I said, "Trust me, I know where I'm going." Up the road we went, past the car park in a field which was full of every type of Land Rover ever made.
A bit more road work brought us to the hamlet of Crackstone and we picked up another bridleway leading to a good decent with loads of mud at the bottom. We all got past the mud, went up the hill for a bit, and stopped for a well earned rest.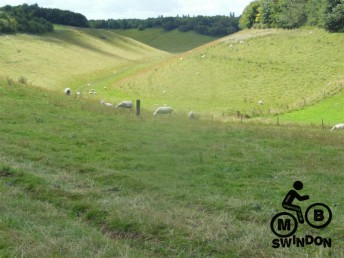 We were now riding around the perimeter of Ashton Down airfield. The next field we had to cross normally has cows in it, so I mentioned this just to see if anyone had a problem with cows. Sarah gave us some great advice: if their ears are pricked up, don't go anywhere near them (or was it their tails?) Luckily for us, there were no cows in the field today.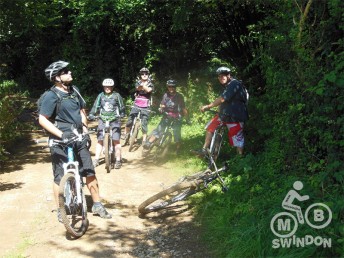 The next section was on a gated road which went through a farm yard. There were cows in this bit, but their tails were firmly down so no problem! We picked up another bridleway which would take us back towards Cherington. This track is slightly down hill so you can get a fair pace down here, although you do have to duck and weave past the brambles and low lying trees.
We were nearly home now. Crossing the main road, we got back on the cycle track back to Tetbury. We decided to hunt down a cafe in Tetbury, so we went up Gumstool Hill (of Wool Pack race fame). To say it's a bit steep is a slight understatement, but ice creams and coffees in hand, it was soon forgotten.
Cheers guys for another fun day out on the bikes.