Words and photos by Phil Allum
Forrest Gump once said "Life is like a box of chocolates, you never know what y'all gunna get".
The same is true for the weather. The last time we rode this route it was very wet and boggy, and with most of the route being on grass, it was hard going. By the end it felt like we had travelled twice the distance.
This time though, the weather was near on perfect; sub zero overnight temperatures and then clear blue skies meant it was a cold start, but a very pretty one. The temperature was forecast to climb very little, barely above freezing all day, so multiple layering was required. At the Silbury Hill start point, I was greeted by 9 hardy folk who had braved the freezing conditions in the expectation of a good bike ride. Best not let them down, then.
Not wanting anyone to get cold, we promptly set off on the climb up to the Wansdyke. There's not much of a warm up here; a 2 minute spin on tarmac, then its uphill on a byway, breaking the ice on the puddles as you go. It was within this first mile or so that we had our first mechanical. Phil Lawson's rear mech and wheel had a coming together with catastrophic consequences. No amount of bodgery was going to get that back in shape.
With Phil returning for an early bath, we continued on, picking up the Wansdyke and tracing a line eastwards. All along this section of the Wansdyke you are blessed with glorious views all around, Avebury to the north and the Vale of Pewsey to the south. If you've been there before, you know what a gem it is. But you should go again when it's all covered with a layer of frost, it's pretty special.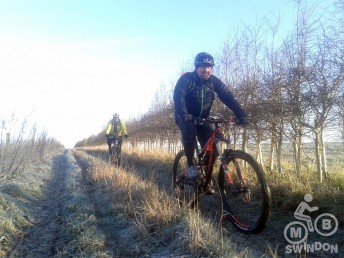 We dodged rabbit holes along the Wansdyke all the way to Milk Hill, where we turned off down a byway to climb what we now call 'Pointless Hill': there is a perfectly good bridleway that takes you around the side of the hill, but I had opted to take us up and over the hill instead. Someone mentioned that it seemed a bit, well, pointless. Hence the new name.
We carried along past Gopher woods. Knowing what a bogfest it is at the best of times, we decided to go around rather than cutting through the middle. From there it was a climb up and along to Martinsell fort, to have the mandatory sit down on the bench to admire the views.
A bit of 4X action on the grassy descent and then a short tarmac spin brought us to the southern edge of West woods. Here Gary Duller opted to cut the ride short. Nobody would blame him as he and his brother Mike rode to the start point from Swindon, so had done the thick end of 20 miles before the ride officially started and with nearly the same again to get him back home!
On to West woods, and sometimes a little local knowledge goes a long way. All the routes that I know through West woods are verging on the impassable in the winter for all but the most dedicated of bog snorkellers. The intended route through West woods today was going to stay on the hardpack track that skirts around the edge of the woods. But after a quick chat with local lad Ollie, who knows the place like the back of his hand, we were soon being shown some great all-weather singletrack which nobody else knew about. Nice one! Have to try and remember that one.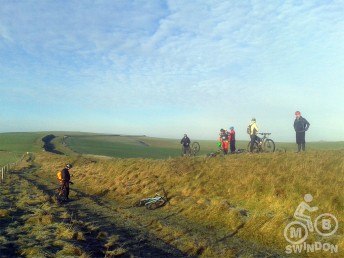 With legs getting tired and time getting on, it was decided to miss out on the loop through the Sarsen stones at Fyfield downs and instead we took a more direct route back along a mixture of bridleways and quiet country roads through Lockeridge back to Silbury hill. But it wasn't over just yet, there were still a couple of mechanicals to come; I snapped my chain and Clive ripped a hole in his rear tyre. Here we found out that a can of tyre repair sealant doesn't seal a rip, but instead will do its best snow-machine impression, much to our entertainment.
Big thanks to everyone who turned up for the Frozen Bronze age epic, I hope you thawed out quickly! We're looking to run this route again in the spring or summer, probably with a pub stop in the middle. Keep your eyes peeled for details coming soon.