Words by Phil Allum
With the Forest of Dean being one of our closest trail centres, we normally do one or two club trips there each year. If you have never been before, then take a look at www.fodmtb.com and www.pedalabikeaway.co.uk  for what to expect. Our meeting point is always the Pedalabikeaway centre at Cannop. With a Cafe, bike shop, workshop, toilets and the starting point of the trails, it's the obvious choice.
As we always do with trail centres with multiple trails, we just meet up, decide who wants to do what, assemble groups to suit and get out on the trails. Today's group of eleven decided that a lap of the Verderers would be a good warm up, so that was the first hour or so sorted. I hadn't been round the Verderers for a while so I was keen to see how it was faring. The final descent has had a lot of maintenance work carried out recently; some of the higher rollers have been levelled out and resurfaced. Personally, I preferred it how it was prior to the maintenance work: worn out, rocky in places with big holes developing. But for a blue graded trail with extremely high traffic, it needed to be done. The final descent is now fast and smooth and provides big grins all around.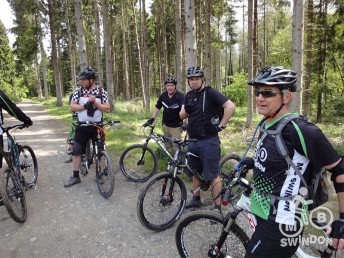 Stopping for coffee and cake at the Cafe afterwards, some wanted to do a second lap, some wanted to do some off-piste and others were just happy riding their bikes. We then split into two groups; a smaller group went for lap two of the Verderers, while the rest of us did a right old mish-mash of trails. We started off up the downhill push-up track, which everyone managed to ride, followed by going down the Launchpad.
Only Paul Broadrick had been down the Launchpad before, so it was good for the rest of us to try it for the first time. Fast, smooth and kind of like a pump track was how someone described it. Being designed for the four wheeled bikes of www.roughriderz.co.uk which have no means of propulsion, there is no real need to pedal on your way down. In fact, when it first opened there were plenty of accidents due to people going way too fast.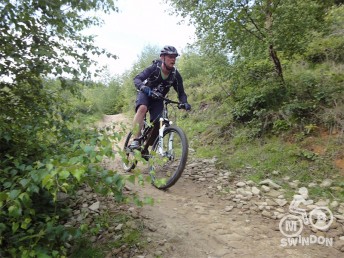 After that it was back up to the top, taking a track next to the Launchpad, then down a previous enduro race stage which brought us out near the end of the Freeminers trail. The steep, rooty singletrack certainly got our riders' adrenalin pumping. After a short discussion it was decided that more natural riding was in order, so Paul Broadrick very kindly offered to show us lots of technical off piste stuff. Some I recognised from previous races in the FoD, but a lot of it was new to me as well. It was a blooming great little loop we did and I hope I can remember it for future use! We finished off riding the last bit of the Freeminers, taking in the newly built boardwalk sections and rock gardens. Both of which have been brilliantly built.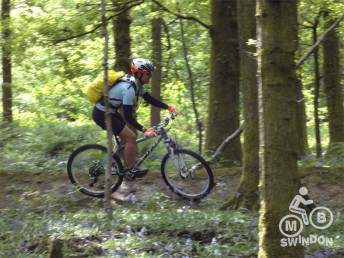 On returning to the Cafe, the car parks were overflowing and riders of all ages, shapes and sizes were out enjoying themselves on their bikes, which was a great thing to see. Due to demand, there was a barbeque set up serving what looked like great burgers to the hungry riders.
Thanks for a good ride everyone; I hope you all enjoyed it as much as I did. Also, a big thanks to Katherine for providing some delicious cake at the end of the ride, much appreciated!
See you all on the trails again soon!