Words and pictures by Tom Scott
A fine morning beckoned which brought out riders in their droves. Twenty-four of us (eventually) set off from Coate Water at 10.15. The first casualty of the day was the long-suffering Mrs Scott whose recently-fitted chain was too long, leading to gear selection problems (it was me who cocked up).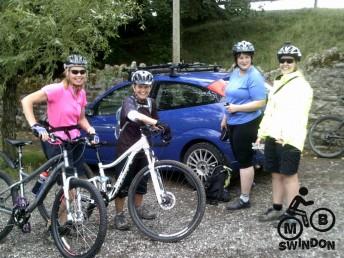 We then piled through Chiseldon and down the old railway towards Marlborough, all the way to the Cattery (which was unfortunate because I had meant to turn right about a mile before there). After a swift change of direction, which came as a surprise to the people towards the back of the group who saw us approaching from the opposite direction, we were back on track!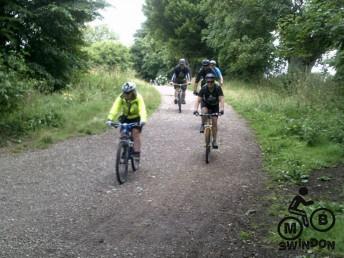 After a nice weedy, nettly ascent towards Barbury, Graham got a puncture, which was very surprising considering he runs Conti Mountain Kings and never gets punctures. Then back down the hill to the shooting school, and a bumpity field crossing and a short road section later we were back on the Old Ridgeway.  We hooned a bit over the stile, which is the point at which the batteries in my camera gave up so no action pics I'm afraid.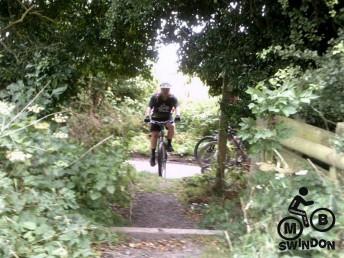 Then across the field to Hodson at a remarkably quick pace. Four people decided to do ladder lane and turned left; the rest of us turned right, after a quick briefing on road safety. I was encouraged along the road with shouts of "Get a move on!" so I selected the highest gear I had, assumed the tuck position and got pedalling. I was overtaken by Paul "Fignon" Allum and Graham "Wiggo" Burgess, racing towards Chizzy like billyo. Then back on route 45 down the tarmac descent, and no-one crashed, which was nice.
A small group of us went off and did a lap of Croft, which is standing up to the weather very well, thanks to the hard work of volunteers, so hats off to them!
In summary, an enjoyable local Sunday ride, well attended by veterans and newbies. We'll do it all again soon!