Words and pictures by Tom Scott
[This ride has been renamed.  The original "Turn to Stone" E.L.O. reference is no longer apt, as when we got to the Avebury turn we went left instead.  The ride name has been changed to "Blinded by the Light" (Manfred Mann) for reasons which will become clear.]
This was a ride of two halves.  We set off from Barbury and it was very cold, with a massive headwind, horizontal rain and a puncture before we got to the castle!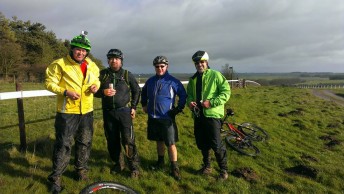 We descended gingerly down the grassy slope and battled our way up towards Hackpen Hill.  The wind on the top was a wet mass of howling evil, and the muddy, rutty bit was worse than I can ever remember in the five years I have been riding the Ridgeway.
Then, as if by magic, three things happened at once: [1] We came to the end of the ruts, [2] the sun shone and we were literally blinded by the light, and [3] we turned left towards Fyfield, so the wind was right behind us…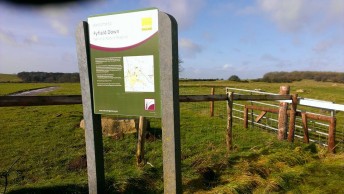 This was more like it: nice firm grass, a whopping tail wind in our sails; we were cruising. This was proper XC riding, with a bit of descent, all the way to Rockley!
We had a quick hoon on the single track then headed along the road to the bottom of Four Mile Clump.  The weather held until we got back up to Barbury, where there was a bit of hilarity to be had at that massive puddle (see Mike's video).  In summary: not the longest ride, but a tough one. Well done to the four lads who attended.