Ride report from Gary Palmer 
All those days my neighbours had been wondering what I was doing in the back yard had paid off, the sun dance had worked. Although a bit chilly it was going to be a nice day, it had been dry for over a week so I knew the trails would be running great, this ride in the wet is a total different game.
8 of us in the Stratford park car park, nice to see a couple of new faces with Alex & Richard a quick briefing of what was to come, quickly brushing over that there was an 8 mile climb to get us warmed up, I don't think anybody believed me so that was alright. I had no back marker today so I made sure I stayed at the back on this climb.  🙂
First part of this ride takes us up through the slad valley and the Woolpack pub, which is famous for being a hangout of Laurie Lee the author of Cider with Rosie. Should of called in, maybe a bit early for rough scrumpy.
Just after the pub we take a right which puts us into a delightful climb up through Tom George's race horse stables and across the gallops, pick up a bridle way through some woods that takes us past a scrap yard that is in the middle of nowhere, proper redneck country this, wonder what the real purpose of the scrap yard is.
Back out on to the main road for a couple of miles up to Birdlip. Finally we're at the top, everyone looks fresh, I didn't have a mirror to look at myself, I'm guessing I wasn't looking that fresh (bloody hills).
This is where the fun starts, there is some great single track in these woods and most of it is heading in the right direction, there is a great bomb hole down this track so we decided to give it a go, looks worse than it really is, promise. Hats of to Richard that was the closest to coming off and sticking with it I've seen I a fair while, fair play.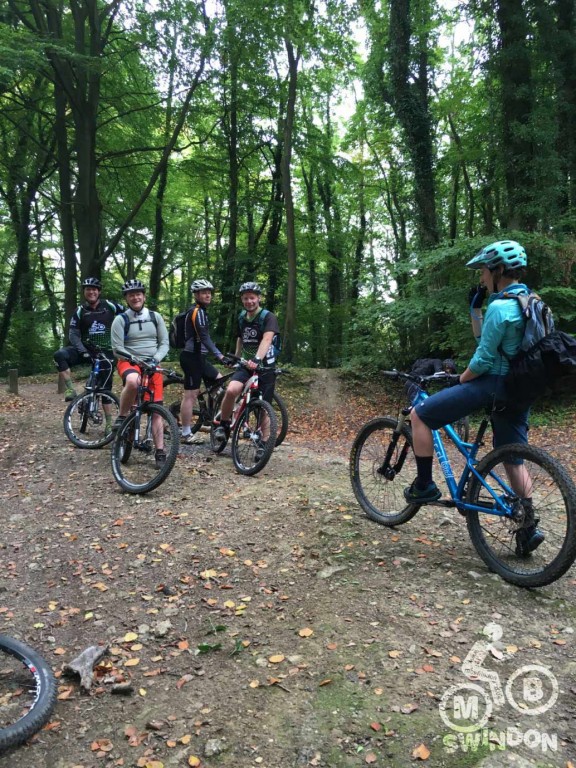 After a few goes at this we moved on, the next bit is nice and fast, you need to do it a few times to get the feel of it, you could scare yourself quite easily down there.
We all shot out on to the track, the last time we did this ride we went right and rode over to coopers hill, this time I decided to go left and try out Cranham woods, let's see if we could get lost in there, nearly succeeded, the leafs are starting to fall and you can soon miss the track, came across the first hill climb trial of the day which Paul succeeded in doing with plenty of grunting,
More twisty single track and then we crossed the road to make our way up to the famous track called the wall, so called because it crosses a wall several times (clever that).
The last time we did this with the club the senior Allum brother had a close encounter with a tree, you'll be glad to hear Paul that it has been removed, all safely down
We made our way across the A46 to the Painswick side of the woods, hill climb test No 2 coming up, starts off steady then gets steep and at the worst bit it's full of roots and rocks (special), nobody made it this time.
By the time I got to the top food was being had, had to break the news that we were going back down, had to do this loop it's got a great fast decent which if you don't watch it when you go up the other side you'll get air and miss the turn, brilliant. Only trouble we had to do the gnarly climb again, several close attempts this time. Graham must have had three goes at it, bloody close, no doubt on a revisit this will not defeat him 🙂 Now it was time for food.
Another great decent coming up, everybody made the sharp left turn, which is a big climb back up if you don't, picked up some g force on a bomb hole like track crossing and then down the steep, rooty decent on to the bottom track, fair play, everyone made it, which doesn't always happen 🙂
Double track for a bit now, taking in the quagmire horse track (pleasant) and a couple of miles on road to take us back to the village of Edge. Back into the woods to climb up one of my favourite descents in the area, beats riding on the road though, this eventually took us back to Haresfield beacon car park; we missed the ice cream truck and carried on.
Another good bit of single track, plenty of roots to keep you awake and trees to hug if you should get it wrong, around about this time Richard developed a bit of the old cyclists pleasure called cramp, or not quite cramp but bloody near, after a quick talk we decided to leave him where we were and promised to come back round and pick him up in about twenty minutes, brave man for agreeing to that, you never know what comes out of them there woods, off we went. After a bit of climbing we picked up another single track decent, blooming brilliant, twisty, sketchy, a 6 inch tree to jump which makes you feel like you're ace at jumping and a steep exit on to a track, this track can be a right tasty climb, half way up we stopped in the quarry for the crazy gang to have a bit of fun on the drop ins, I decided to not take part (for obvious reasons), bit more mucking about at the top and then we made our way back to pick up Richard, nothing had eaten him, amazing!!
All downhill now back to where we came from, a walk through a church yard, a squeeze through some stone stiles (literally), down a stony track, down some long steps and up a bit of a hill to the car park in Stratford Park.
I certainly enjoyed myself I hope you all did to.
Cheers all
Gary