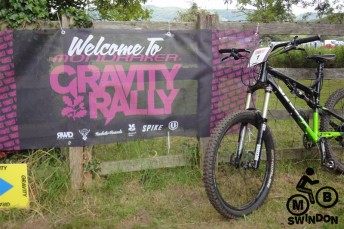 MB Swindon Gravity Team, along with a load of MB Swindon club members, recently had an absolute blast down in Exmoor at the 2014 Mondraker Gravity Rally. Here's Gravity Team rider Phil Allum's review of the weekend. Grab a beverage of your choice, put your feet up and drift on down to Somerset with us…
The Mondraker Gravity Rally 2013 was the event that got me into Enduro racing. So this year, I was properly excited to be going back. I decided I would join the majority of the guys & gals racing and make a full weekend of it, and promptly set off on the Friday afternoon. Trundling down the A39 with a perfect blue sky overhead, I managed to pass the cider farm without stopping. I may have had just a little giggle reminiscing about the year before.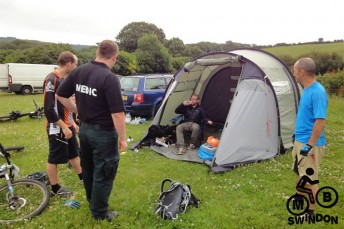 I arrived at the Holnicote Estate in Exmoor, where the event was based, to be greeted by Chris Hopkinson (who did stop at the cider farm) tucking into fish & chips. Also there was Iain Shelley looking every bit the happy camper; all set up and basking in the sunshine. The 3 of us quickly turned into 5 with the arrival of Sarah Carrigan & Ben Mitchell.
The tents and gazebos flew up in minutes, bikes were unloaded and the afternoon turned into the evening as we sat outside in the gloriously fading sun, hitting bikes with hammers and drinking beer & cider. By now the tent village that surrounded the MB Swindon gazebo had grown considerably. James Scott and Hannah Escott arriving with a football provided the entertainment; it turns out that I still can't kick a ball properly.
Nik Wadge, Gary Palmer, Lee Vater, Gary Lee & Jerome Crametz all arrived and joined in the Friday night social of sitting in a field full of cow pats. Leon Cardy-Stewart & Ania Zielnik dragged their families down for the weekend. They had heard rumours of Gary Palmer's snoring so had booked into Burrowhayes Farm over the road, which had ridiculously extravagant things such as flushing toilets and hot showers.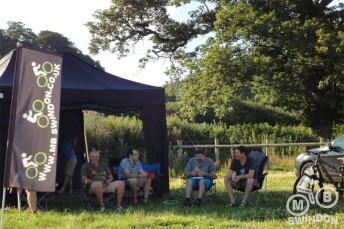 Waking up on Saturday morning to the smell of Gary Lee cooking a full English meant only one thing – the first trip of many to visit Ian in the Luff Cafe. The famous Luff Bus is being refitted at the moment. Suitably stuffed with the breakfast of elite athletes (bacon & egg baps, if you didn't know), it was time for practice. Mike Brazier pulled up, bleary eyed after being sat up till the early hours bike building. Pawel Kotowski arrived without a rear skewer (must be a distant relative of Graham Burgess) so he declined practice in favour of finding a replacement.
Saturday's format was 2 stages, with practice open at 10am, racing from 12. Only one timed run was allowed on each stage.
We set off in two groups, me being in the first group of excitable little kiddies who couldn't possibly wait any longer, leaving the rest to faff about a bit more. Practice was straight forward. Ride along at a good pace, stop every now and again, and push back up a bit a few times. Scratch my head a bit, watch other riders for cheeky little lines, that sort of thing. The length of the climb meant there was only enough time for one practice run down each stage.
Heading back to the camp to refill the water bladder and stuff a load of High5 energy gels in the backpack, a last minute decision was made to swap the High Roller on the front for a Magic Mary.
Climbing back to the top of stage 1, we were informed that there had been a bad crash and the stage was currently shut. Little did we know at this point that it was in fact James Scott lying on the deck.
Stage 1 was a 'grande cojones' competition. Loose, rocky with plenty of roots thrown in for good measure. It was all about who could stay off the brakes and stay on the bike! I love that kind thing! Some tasty stage taping meant that extra corners were added to disrupt the flow of those with the local knowledge. Stage 1 was completed with no major dramas; I kept it clean and, most importantly, stayed on the bike.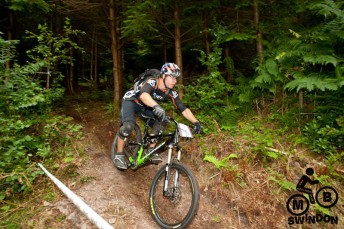 Stage 2 was in the woods, lots of new fresh cut trails in lush loamy soil. Two uphill fire road sprints, the first being about 500m long, sorted out who had the legs. Totally different from stage 1, it was great dodging tree stumps before getting a bit steeper and trying to get a drift on.
Returning to camp we were greeted with the sight of James being tended to by the medics. He had taken a massive hit to the pelvis/hip area in the crash. He was hurt so badly that it took a couple of hours for him to attempt to walk, and even then he shuffled around like a 90 year old with his Y-fronts full of brown matter. In stepped superhero Lee Carter, donning his nurse's uniform, bundling him into his ambulance (read white van) and carting him off to Taunton for X-rays.  Poor Mike had missed the racing to help get James safely off the hill, so ended up with a DNF for his efforts.
A little pedal down into Porlock to visit the watering holes and chip shop was in order, and we started swapping stories of the day's racing. It turns out James wasn't the only one who had an 'off', with most having unplanned sit downs at some point or another. Iain won the 'lump that looks like an egg' competition, whilst Ben took 1st for 'most skin lost from the legs'.
Pawel finally reappeared nearly 10 hours after setting off, with stories of woe trying to find a suitable skewer. Driving to Minehead then Bridgewater before biting the bullet and driving back to Swindon to collect his from his garage! I bet he won't forget that again.
The stage times and standings were printed out in the marquee for all to see, with most being happy to have survived, let alone get a time. I was in 11th, but really wanted to break the top ten. This made me determined to push hard the following day.
But now it was the evening, so we embraced the Mondraker Gravity Rally spirit fully, had a dance to the band (the Mavericks) and a bit of flag waving Glastonbury style. Leon scooped a great EVOC backpack in the raffle, whilst others pick up smaller prizes like socks and a beanie for Chris. MB Swindon once again missed out the top prize of a new Mondraker frame. Maybe next year, eh?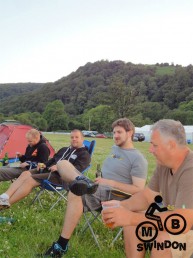 Sunday arrived far too quickly for some, with the sun quickly coming up, poking through the clouds. Dazed faces and fuzzy heads appeared from tents, mumbling 'good mornings' to each other over a cup of coffee. Our spirits rose when James arrived back from Lee's love nest, with news that nothing was broken, just lots of serious bruising. Unfortunately Sarah & Ben had both sustained wrist injuries on Saturday so were out of the day's racing. Mike had to attend a family event so he did a disappearing act, leaving the rest of us to get on with it.
I quickly packed my bag, opting for plenty of High5 Energy bBars, Energy Gels and Energy sSource+ in the bladder. I waved a spanner at the bike in a menacing way, kicked the tyres a few times and was ready for the climb up to stage 3.
On the climb up, I had a word with myself, knowing that this stage was rough – technically challenging but fast, straight and, at 2 miles long, played to all my strengths (i.e. a steamroller with legs). Blasting out of the gate singing Foo Fighters, me and the bike were at one. Bashing my way through the stage, I think most of the rocks moved out the way to let me past. Quickly passing two riders, I felt invincible, until I hit one too many rocks and that horrendous sound of air escaping filled my ears. Game over.
Ripping the sidewall in the middle of the stage was never the plan. Stopping to put a tube in, I realised that I hadn't packed a single one! What a fool. The 5 odd minute jog of shame to the finish was as bad as expected. Iain Shelley stepped in as my knight in shining armour, saved me from impending doom and gave me his only tube. At a meeting with James on the transition between 3 and 4 and I gained a spare.
Stage 4 was back into the forest, more new loamy trails, plenty of tree stumps, tight, twisty and fairly short by comparison.  James was now doing his best Cadburys parrot impression, popping up all over the place shouting encouragement! I think it was encouragement anyway.
Stage 5 was also in the forest, lots of steep technical parts which were great fun. I was really enjoying myself until that strangely familiar hissing noise started again. I was having too much fun to stop so just carried on, rim on the deck, full on sideways action for the next minute or so, to the finish. There was no way I was pushing my bike to the finish of the 2014 Mondraker Gravity Rally.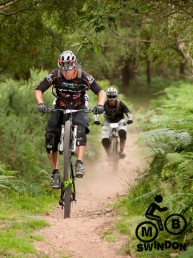 So there it was, the 2014 Mondraker Gravity Rally was an absolute hoot. The gravity Team didn't fare too well: James & Mike DNF due to the accident and I finished up in 111th due to my tyre wrecking abilities. The rest of the club had their fair share of ups and downs but happy with their positions. Special mention goes to Leon Cardy-Stewart finishing in a fantastic 31st on his Mondraker at the Mondraker!
Shred should be very proud of organising an event which continues to be one of MB Swindon's calendar highlights, especially so this year, as the timing was spot on. As with all these things, a lot of the enjoyment comes down to the company you keep. So I'd like to thank everyone who attended for making it such a great weekend of racing & giggling. Also thanks to High5 for keeping us moving, Fibrax for making sure we can stop, Drift riding, Red Kite Events & Hargroves Swindon for their continued support and keeping us riding. Without their support, none of this would be possible.
Next stop will be X-Fusion/Enduro1 at Grogley Woods Bodmin on Sunday 20th July, followed by what is shaping up to be the event of the year, Red Kite events/Empire cycles enduro round 2 on 26th & 27th July up at Llanwrtyd Wells in mid Wales! Hope to see you there!
Thank you for managing to read this far.