Words and photos by Phil Allum
Gingerly trundling down the motorway engulfed in some of the worst weather I've had the pleasure of driving in, I convinced myself that nobody – not one person! –  would bother to turn up in this monsoon. If I wasn't leading it myself, I would have turned around before Bristol.
Fast forward a couple of hours: arriving at Glyncorrwg, Afan (now blowing a gale as well as the driving rain) I instantly spotted Richard Rowe and Dippy getting their bikes ready. Looked like we had a ride then! Getting myself ready, I spotted Dave Bates riding around the car park on his hired Santa Cruz, getting a feel for it. Next to join us was Alex Hopkins, who we later found out to be as fit as a butcher's dog. Fair play to these guys for driving all this way in such horrific weather.
I won't lie, the climb up Whites level was a bit damp and breezy. After all the logging a few years ago, it all felt very exposed; we felt as if we were just waiting for a gust to blow us off the side. The climb up Whites is a bit like marmite: I'm very much in the 'love it' brigade and so, it appears, were the rest of the group. It's a good technical climb. Yes, you gain a fair amount of altitude pretty quickly, but there are enough rocky steps and other goings-on to keep you busy.
By the time we got all the way up, the rain had stopped and the wind had died right down. The timing was impeccable as we now had some fun bits to get on with, the black option providing the first adrenaline rush of the day. Shortly afterwards, Pete Ratcliffe's prediction came good, with Dippy having to put some fresh brake pads in the rear.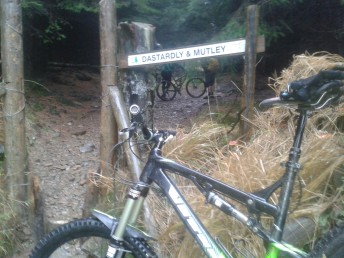 The last time I was at Afan was about 2 years ago and I had forgotten just how good this place is: great singletrack, well maintained but still with a rugged wild feel to it. Soon I was coming down the various sections of the Wall, hollering and whooping like a madman (not just me, I should add), having a right jolly old time! Then there was a crunch as my chain device ripped itself apart. 1×10 quickly became 1×8 as, if I dropped down to the two smallest gears, the chain kept dropping. I'm running a clutched Zee mech and a narrow wide up front, just in case you were wondering.
Not much further down the trail I had to stop to figure out what the rubbing noise was. It soon became apparent that the rear brake was to blame – half the spring had gone and one pad was down to the metal. No worries, I had listened to Pete's warning and packed spare pads… except I seemed to have left them in the car! Contemplating what to do, I decided I only needed a front brake anyway, so the pads were removed and I spun the lever right round so I couldn't reach it, even in an emergency. Problem solved.
At this point we were alongside the river, meaning we had finished coming down the Wall, so we had a fair bit of climbing to do. For those not in the know, W2 is a combination of 2 trails: Whites level & The Wall. Whites starts from the newer Glyncorrwg visitor centre whilst The Wall starts a few miles down the road at the Afan Forest visitor centre. There is a high level link between the two, so you can start at either centre and combine them together. We started at Glyncorrwg, so we rode up Whites, down the Wall descent, about to go up the Wall climb then down Whites descent to finish.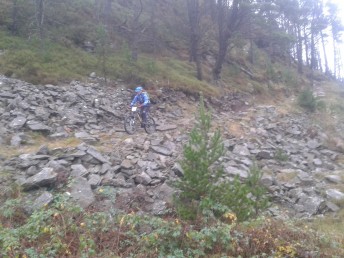 Climbing up the Wall, which has a fair bit of fire road climbing in it, meant that there was plenty of time for chatting. And for realising that none of us had the climbing prowess of Alex – he is seriously fit! By now my mechanical issues were long forgotten so it was time for Dave to snap the chain on the hire bike. Must be all that training with Chris Hoy.
Coming back across the high level link past the wind farm, we were blessed with some amazing views with even a hint of blue sky to top it off. I tried to take some photos but it appears the driving rain at the start had drowned the camera.
Everybody loved coming down Whites level descent, lots of good rock steps and drops, glorious views and the promise of good coffee back at the café! I was even getting used to riding with one brake, although I wouldn't recommend it.
Big thanks to Rich, Dippy, Alex and Dave for grasping their adventurous sides and coming all this way in awful conditions to join me for a loop round W2. I do believe we all had a cracking day! Cheers!