Words and Photos by Debbie Davies
By 10am, beside the lake at Coate Water, we had amassed 9 ladies ready to set off and tackle a rather wet, muddy Ridgeway ride . I was very impressed that so many had made the effort, as it hadn't been the best biking weather lately .
We set off towards Chiseldon with even a hint of sun which somehow makes everything seem better, even the mud, perhaps?
Having tackled the first few upward bits and changed a part of the route from plough to road, we reached the Ridgeway in all its pot-holed glory. Huge puddles filled the trail but it was rather fun weaving our way around some and picking the shallow margins of others as we made our way to the road hill leading to Barbury Castle. I never see that particular hill as a ride highlight – for me its usually a walk anyway, so full marks to those ladies that made it partially or totally to the top, still riding. I think I'm going to have practise more!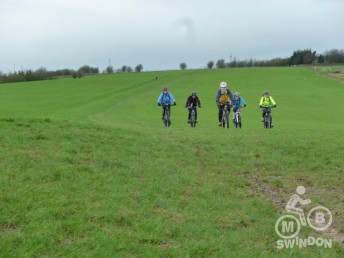 After a regroup and a quick refuel, we made our way to Smeathe's Ridge. It was a beautiful day to be there, with long distance views and very few walkers. It was not the usual spin from top to bottom, however, as the last month's rain had made the going quite slow and slippery in places. Everyone coped brilliantly with some seriously slip-slidey stuff, but it was slow progress and the next part was going be much more challenging: a single track bridleway was reassessed and the road route won the vote.
From here it was an easy but sloppy trip down the old railway line and back to Chiseldon and the planned coffee stop at the farm shop .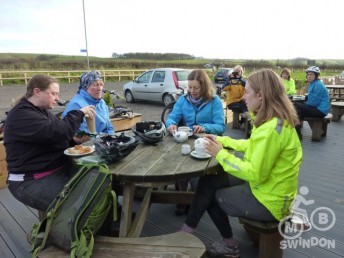 We had been blessed with sufficiently good weather to take our places outside for cake and refreshments (the looks our fellow diners gave our muddy shoes played a part in this decision, too!).
The last stretch home saw the sun leave us and a real chill take over. By this point, I think we most of us were a bit cold and happy that there were only a couple more miles back to the start point, where bikes were packed and farewells said. Those who continued their rides home did so under increasingly dark skies. It rained with intent as I drove through my gates – how lucky was that?
Many thanks to Jen, Sharon, Jane, Denise, Gabriella, Claire, Caroline and Hazel for their company and making it such a nice social ride.