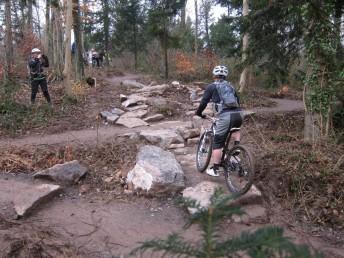 This is Ashton Court with a twist. Gary Palmer has arranged for a local guide to lead us around the trails near the Ashton Court trail centre.
This ride will give people the chance to experience what the trails will be like at Oktoberfest if they've never been before, most of it is novice friendly but in the wet the roots in 50 acre wood can be treacherous.
Gary estimates that the ride is going to be around the 10 to 12 mile mark and will take 2 hrs tops, this will all be depending on the conditions and whether people want to do some red loops on the day.
There is a cafe at the golf/cycle centre, parking here can be a bit tight, we will be starting the ride at North road which is just outside Ashton court, nearest postcode we can find is BS8 3PL.
If you have any issues on the day, you can call Gary on 07881 507207, although when he was down there the other night there was no phone signal in North road, so it may or may not work.
Meet at North Road off the A369 at 10.00am
If you don't mind trail centres you will be fine
Pace could be reasonable, apart from me being there to slow things up
If you're parking at the golf/bike center there is a small parking fee.