If you ride the trail regularly you should have spotted that the raised woodwork section within the triangle section has had to be closed due to instability of the supporting wooden frame. For those of you not part of our Facebook group you will not have seen the photos and discussion about the extent of the deterioration of the wood used to build the structure.
Below are some of the key extracts from these discussions (to read the full conversation the linked dates will take you to the Facebook posts within the closed group):
Steffan James
15 January
If you go down to the woods today… don't use the woodwork section! As you can see, there is a pretty big broken section, making it unusable. I have nailed a sign to the start of the raised section and blocked off the entrance with logs. If you go down there and see that anyone has removed these, please let one of the committee know.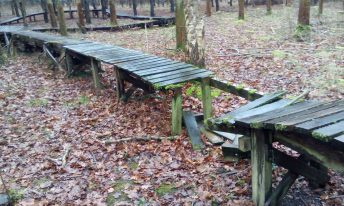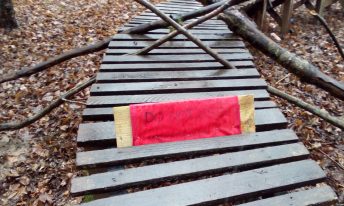 The majority of this was repaired by Jason and Pete on a wet 21 January, with it reopening the following week.
---
Jason Rodger
16 March
Tomorrow Morning (Saturday 17th March.) I will be doing some work to repair and replace sections of one of the bridges at Croft. It's in a poor state and close to failure. Please take heed of any diversion notices you see – once I start work the bridge will be impassable for a time. Hopefully I will be done by 11 and normal service will be resumed.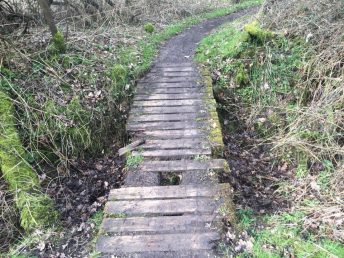 ---
Gabriel Gray
23 May
Saw this at the start of the wooden pump track. Don't know if you guys were aware of it?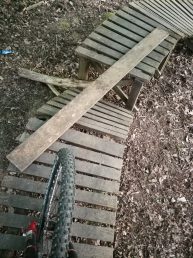 Initial plan to look at it ahead of the Hargoves demo day on Sunday 27 May 2018
---
Jason Rodger
27 May
Sad day I am afraid, after several reports of broken sections and a couple of inspections I have had no choice but to close the triangle woodwork section. Parts of it are now very rotten and some parts have actually broken. I have cut away the entry ramp, but please don't attempt to ride any part of it. Discussions are underway with several people/groups to decide the future of this feature.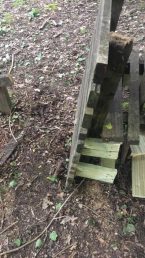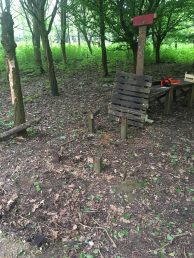 As can be seen from this post on the day of the demo day, the amount of repairs required were too great to do in a couple of hours so the decision was made to close it indefinitely while a plan was made of how best to repair and replace.
---
Justin Wilkinson
9 June
Just an FYI, I'm going down to the Croft trail in a few mins to do a walk of it and take some notes down of any issues. Want to get a list of problems so that we can start to work through them in a planned way on each maintenance day.
Just in case anyone comes across me and wonders what on earth I'm doing with a clipboard and pen!
---
Justin Wilkinson
9 June
Just so everyone is aware, people have been making their own bodge repairs to the woodwork section and then riding it in reverse. All the signs and blocks that were in place are nowhere to be seen.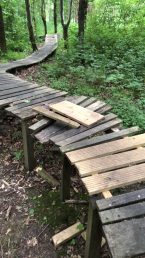 ---
Jason Rodger
12 June
Woodwork Update.
It may seem like things have gone quiet, but in the background we have been working hard to get things moving. First priority has been to gather materials – there is little point in getting a build day together if we have nothing to use. Wood from the diy stores doesn't seem to last long so I have been looking at reclaimed wood, which as well as being cheaper is much better quality. We are well on the way to having everything we need. Thanks to Justin Wilkinson, Dave Bates and Jez, the original builder of the feature for your help so far. The wood is taking up valuable space in my garage, so I am keen to keep things moving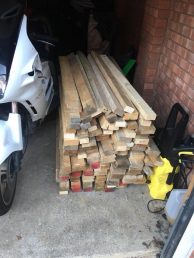 ---
In response to most of these posts lots of comments were received, some with offers of help and others with suggestions of how to get it sorted as quickly as possible. There also seemed to be some level of frustration about why the work was taking so long to happen. To help people understand why there appeared to be delays the following statement was made:
Kat Ratcliffe
3 July
Across a couple of posts, I have seen people asking why their offers of help and support to repair/replace the woodwork have not been taken up. Whilst we try to run the club and maintenance of the trail in as simplistic a way as possible unfortunately sometimes things take time to happen. In this instance there are various reasons why there doesn't appear to be much progress. Firstly we are all volunteers that have demanding day jobs, secondly we have personal lives that also take priority over the club and thirdly the maintenance tasks need to be planned out and prioritised. These plans have been started and some of the materials required have been purchased.
Those people that have been in touch offering their time and skills have been noted and once we have a more defined plan we will be in touch. We will then advertise the build days so that all who want to help will know when they are happening.
– – – – – – – – – – – – – – – – – – – – – – – – – – – – – – – – – – – – – – – – – –
Please also be aware that as a Committee we are down 2 people as no-one stood for the Chair or Women's Officer positions. Jason has been standing in as Chair but this is not sustainable and I would ask you to consider whether you can help support the club moving forwards by offering your help on the Committee. Further details of all the Committee positions are available on the website http://www.mbswindon.co.uk/club/constitution/
If you have any questions, please do not hesitate to contact me via private message or email kat@mbswindon.co.uk