Tom writes: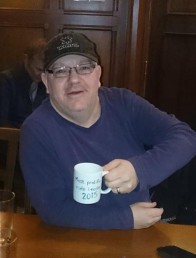 I decided to become a ride leader in 2013 and my first ride was from Foxhill to Wantage out and back, a repeat of a ride led by Nigel Gregson which I had enjoyed. To celebrate four years of ride leading, and over 100 led rides, I decided to go back to where it all started. Rather than pinching someone else's route I decided to make up a brand new one.
Thirteen of us gathered at Foxhill for a 10 am departure, and rather than go up we went down, across the Moto X track to Hinton Parva. We kept going north and joined a bridleway across a farm yard and on to the village of Bourton. A bit of road and then another bridleway took us over the railway through to Shrivenham where we made for Highworth, turning left onto a byway which took us back to the main A420 road. We crossed over safely and proceeded down a track to Shrivenham Park Golf Course, and then back into the village where we turned left.
We came across a railway bridge with steps both sides, which most of us cleared without dabbing then briefly joined the B4000 followed by a very sharp left onto the bridleway to Compton Beauchamp. If you have ever ridden south from Compton Beauchamp you can't help but notice the rise in the road. Basically, the road rises 120 metres in about 1200 metres which makes it a steady 1 in 10, or 10% these days. Once atop the hill it is a short ride to the Ridgeway, then a straight shot back to Foxhill.
A good time was had by all and the weather was glorious!