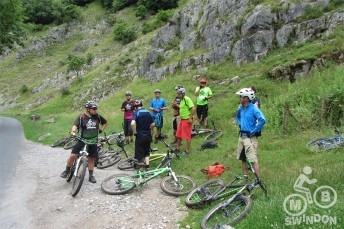 You ask, we deliver! The Cheddar ride must have been a hit last year as people have been asking when will we be going back. Well, we are pleased to announce that we are indeed going back! The fantastic people at the Swan Inn, Rowberrow are letting us use their car park again. The food is amazing and is just the ticket after a good ride. The vast selection of isotonic beer and cider is always a hit too! You can check out their menu and have a little virtual look around here: http://www.swan.butcombe.com/ The pub really is in a great location as the riding is great right from the door.
The ride will cover some fun rocky descents, long climbs, open grass hills and will be mainly on bridleways, with just the odd bit of road to link it all up. The road up the Gorge from the Village of Cheddar being one of them. But the combination of the distance, terrain and amount of climbing involved this ride cannot be classed as novice friendly unfortunately. But for the fitter amongst you, this is a great ride which takes in lots of view points, including riding along the top of the Cheddar Gorge. The views from Beacon Batch are not to be sniffed at either. Just check out the photos on last year's ride: http://www.mbswindon.co.uk/ride-report-the-making-of-the-mendips/
Sounds like your sort of ride? Good! Then I hope to see you there!