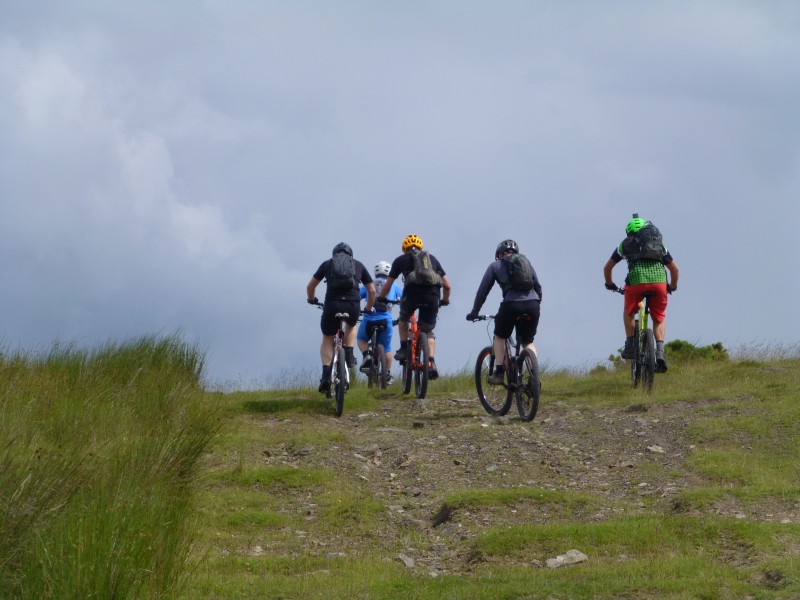 After a successful first effort in 2014, a recce of a much longer route and a false start last year – it was time to revisit Blaenafon and get The Full Ponty underway.
As per usual the week leading up to a ride in Wales the weather was always going to be a factor, but it looked like we might just catch a lucky break and the magnificent 7 set off from a car park in Pontypool right on schedule at 10am.
Within 2 mins and before we could even appoint a back marker for the day, we realised that we had left someone behind. Matt had done a loop of his car and found an open window and we had disappeared around the corner.  A quick about face and we were together again and off past the rugby ground ("They'll never believe it in Pontypool!"), through Pontypool Park and beginning our epic journey.
The plan was a gentle start to warm us up with around 15km of very novice friendly canal and cycle track. At the first "hurdle" ie negotiating a left turn up a little bank we had a broken chain. This could become a long day but Jonathan fixed it and off we sped. Oh yes I said "sped". The gentle cycle track start turned in a bit of a race – with the likes of Michael Duller and Graham Burgess in our party there was only going to be one pace for this section.

After winding our way not so slowly up the valley, gaining a steady bit of height, we left the safety of the cycle track and began our mountain bike ride proper.  Parts of the route were a little vague and over grown since my last visit so we found ourselves on a short hike a bike until we eventually found ourselves admiring our first view of the day from Mynnyd Farteg Fach, looking bck down the valley we had ridden and with fantastic visibility all the way across the River Severn. Perfect.
If the cycle track (Sustrans Route 492 for those interested) was tame in terms of skill required the Coity Mountain track was going to require some patience, balance and poise in order to navigate the puddles and ruts.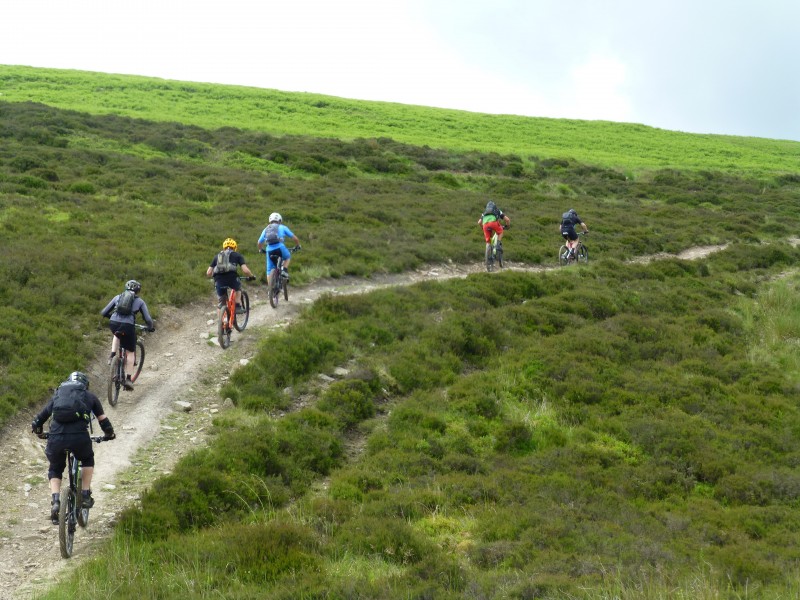 After a rather bumpy traverse for around 5km, the rain showing its face and a few short descents we had passed Big Pit and were heading up the Dyne Steel Incline.  This was a steam-powered tramroad that carried tram loads of cast iron up and over the hill between the Blaenavon Ironworks and Pwll Du.  Today it served as  grassy climb, to our lunch stop before our second "mechanical" by way of a puncture, and before we headed through the tip spoils and towards The Keepers Pond.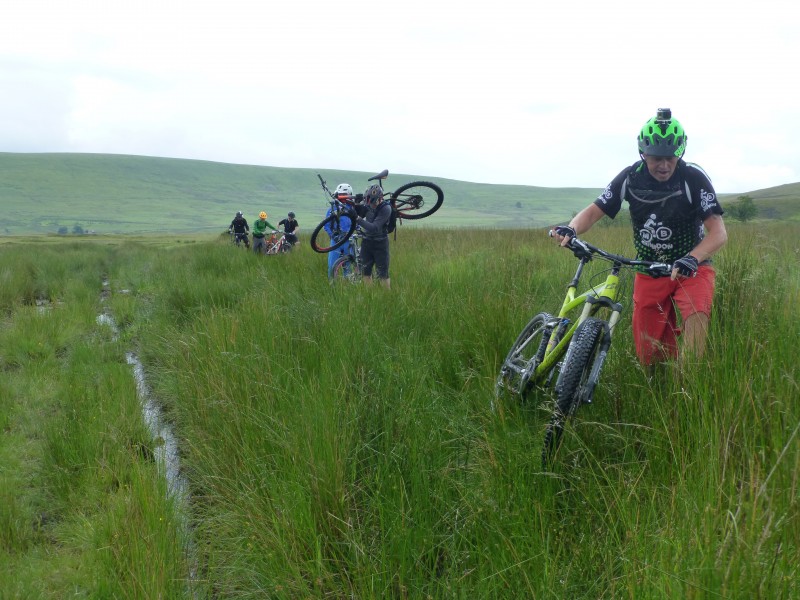 After a brief explanation of the history of the Keepers Pond (this was where you might find your missing stolen car 20-30 years), the gang headed onto the Blorenge. The Blorenge mountain is just so much fun!  Starting with some small rock gardens, we made our way to the fun descent that eventually leads us down to the Punchbowl.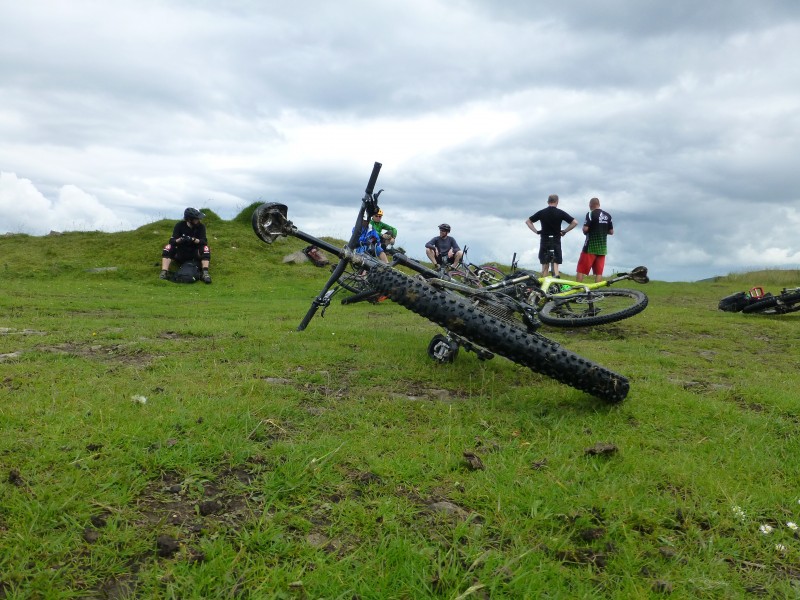 This downhill is a real treat and a highlight from the last trip to the area, this time the ferns were not as high and it was slightly easier to navigate. Though it is impossible to remember the location of all the rocks and it keeps you on your toes all the way to the bottom.  From here it was a simple matter of following the trail around the mountain to the next, slightly steeper descent to the Punchbowl.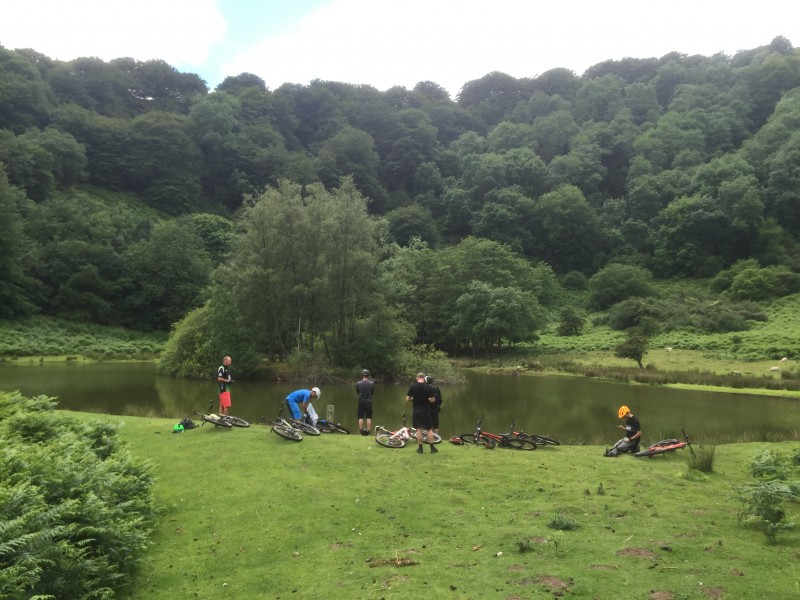 At some point along this section yours truly caught a pedal on a rock and was thrown off the bike, neatly landing with my knee on a soft bed of thistle that was to make my knee tingle for the rest of the day. No real harm done though, so I caught my breath and we set off again to find that my pedal was now a little wobbly as I had bent the spindle hitting the rock.
I have been to the Punch Bowl many times and it never rains for me when I am there. Its like a sun trap or some sort of oasis smelling only a little bit of sheep poo. Its a lovely spot and don't worry we'll go back again soon.
After climbing (literally) back out and making our way up to the masts above Blaenafon, we had past our halfway mark and were heading for fun-ville! Time for some action among the tip spoils – one of my favourite parts of the ride we did in 2014, but also the spot were we broke a rider who ended up in hospital with a broken shoulder.  So a quick "be careful" briefing was followed by grins and skids as we twisted our way through the waste land to Balls Pond and for a lap of the BMX track. What a great day we were having!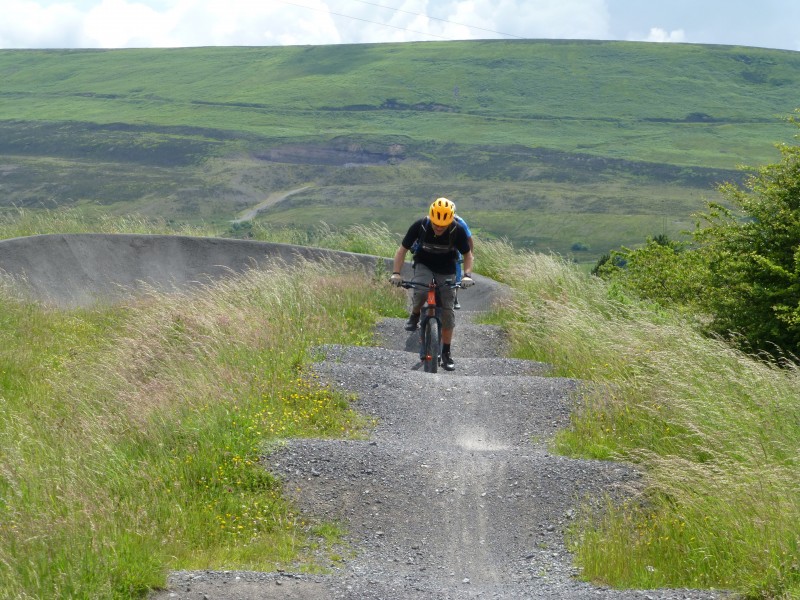 After topping up with some snacks and water at a garage we then continued on the journey back to Pontypool via the moorland above Cwmavon Woods and onto Mynydd Garn-wen.  A recently maintained mountain bridle way was our route for the next few miles.  Some drainage treatment and a few token piles of stones to ease the boggy bits, made it passable and fun.
The skies were clearing of clouds and we could see clearly the route we had traversed along the along the other side of the valley and we could now see Pontypool as we were getting close to the start.  The Folly Tower in Trevethin was a welcome sight as I knew this marked the top of our final descent. The views from here are stunning and the smiles on our faces grew as we headed off down hill towards Pontypool Park and the twisty downhill runs by the ski slope.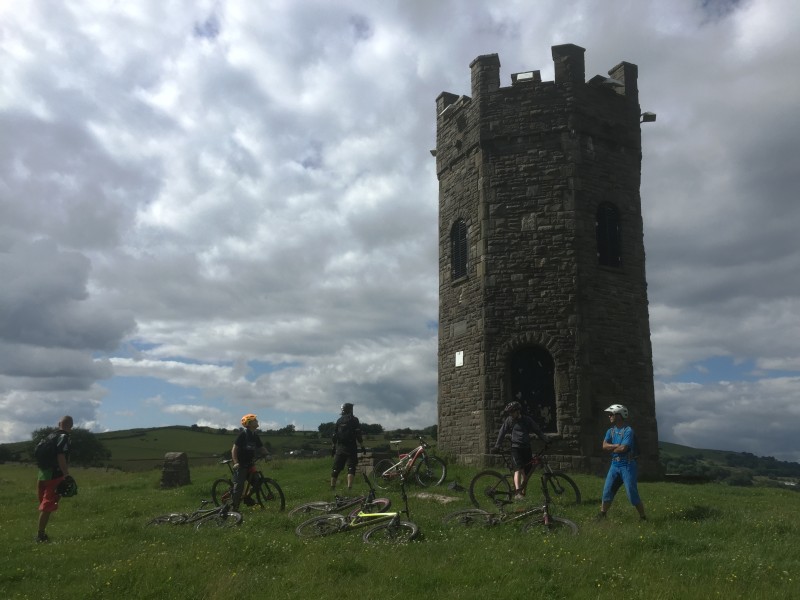 The trails are a scruffy criss cross of berms and jumps through dark woods making it both exciting and tricky to follow. Still we had a great time and all arrived back safely at the car park.
I'd like to thank Jonathan, Graham, Gary, Matt, Michael and Chris for coming along and making it such a good day out. A good proper mountain bike ride which I believe had just about everything we could have wished for, especially some sun shine!