Words and pictures by Debbie Davies 
Stunning views should have been the order of the day for Jo's ride; the wet morning and low cloud suggested otherwise.
I pulled into the car park at the golf club on Stinchcombe Hill having spotted some familiar cars and bikes being unloaded. Hazel and Sarah had already arrived and bikes were being prepped. Several more of the riders followed and as we debated whether we were in the right car park out of a choice of two, our ride leader Jo arrived and told us we weren't! We repacked and followed her up the hill to the correct meeting point and started again.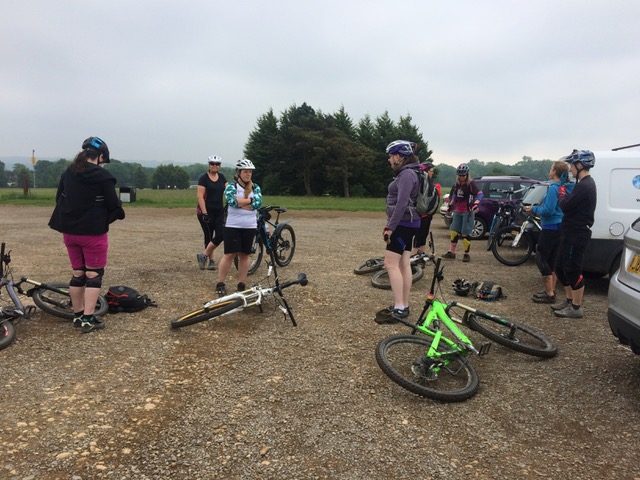 It was the Bank Holiday weekend and Jo had been held up on the motorway due to the traffic. From our high vantage point, we could look down on a continuous snake of vehicles that a little earlier she had been caught up in. We waited for one more rider, Jen, to join us – she had messaged through earlier so we chatted and tried to keep warm as we got ourselves together. The previous day had been lovely and most of us had come expecting more of the same. We were cold; it was very breezy but it was now dry. From the top of Stinchcombe Hill we had to imagine what the views would be like as they still weren't ready to reveal themselves.
An hour later we were ready to ride. We set off around the perimeter of the Golf Course on a grassy, mown track that soon turned into the most gorgeous length of single track, just as Jo had promised. We snaked our way around blind corners that turned into open stretches and then into woodland. One by one we followed each other with each turn bringing new features.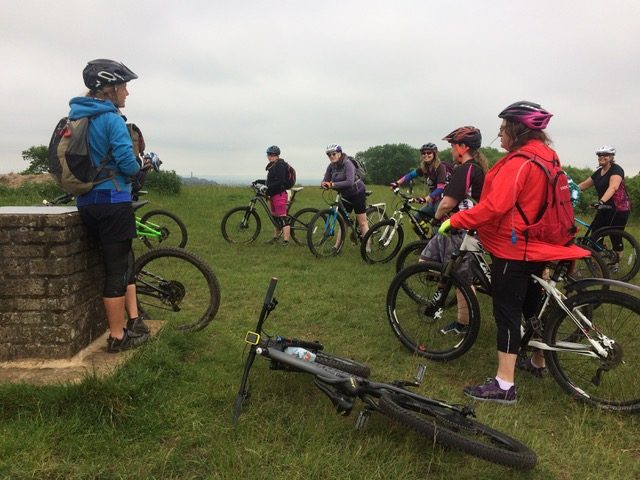 We stopped to regroup after a few short little hills and let everyone appreciate the now-emerging scenery… it really was stunning. Jo gave us a little briefing at this point: we were going to meet a slightly more technical point of the trail, a slightly rocky, steep but short descent. A few of us went to have a look at it before we rode it and some of our group decided to walk down instead. Jo stayed at the top to photograph us as we went, while her fellow Malvern riding buddy (also called Jo) took the front of the snake to lead us on to the next trail.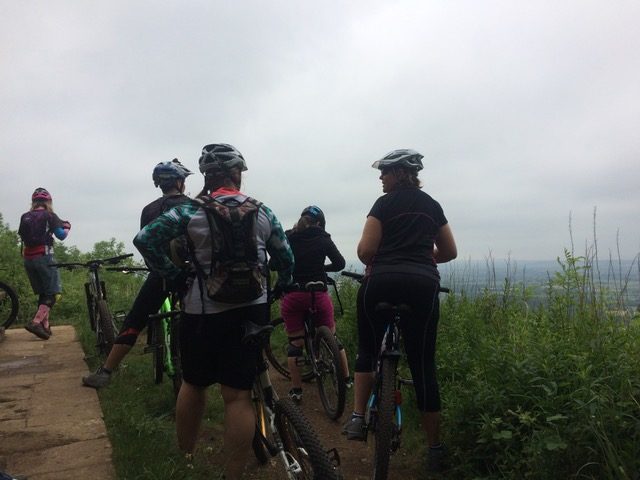 With a small stretch of road to navigate, we came to our café stop. A fascinating ridge of Silver Birch saplings on bare rock gave this area a unique feel; take the trees away and it could be a moonscape. The 'café' was a coffee machine, a mini freezer full of ice creams and an honesty box. Drinks and ice creams paid for, the Ladies settled down for the usual break and chat synonymous with Ladies rides. This soon became a bike-trying session, though, as one of our group was in the process of choosing a new bike and had a few test rides as we finished our ice creams.
We set off again through the moonscape and another small section of road, returning all-to-soon to Stinchcombe Hill and the long tarmac road that dissected the now very active Golf Course. As we returned to our cars, the low cloud still veiled the best of the views but didn't spoil the enjoyment of a very unique area or a very social ride.
Many thanks to Jo for showing us this lovely area that many of us will be exploring again, I'm sure. Thanks too, to Jen, Sarah, Jo, Andrea, Nikki, Holly, Hazel and Amanda for joining us.