Words & Pictures – Kate Davidson
Riding up through Savernake Forest on Saturday morning through a fairly thick mist, it was with trepidation that I headed on up to Postern Hill Campsite. Winter seems to have lasted forever this year, with endless rain and cold, and parts of the forest were still looking pretty muddy.
However, when I arrived, the sun was trying its hardest to poke through the cloud and when the first ladies Jane, Hazel and Sarah arrived, the campsite was starting to brighten up – and by the time everyone else arrived, we were bathed in warm spring sunshine. Eleven ladies in all turned up (special praise goes to Hazel, Sarah, Debbie, Sharon, Hilda-May and Trudy, all of whom rode from Swindon to Marlborough, Hazel all the way from Lyneham!) – a great turnout and a real boost to me leading my first ride. 
Heading out of the campsite down to the Grand Avenue, we crossed over the Avenue and picked up some lovely, mostly dry singletrack through the woods. Coming out at Amity Drive, we whizzed along the fire road for a mile or so, then had to negotiate our way around a fallen tree and plough through some pretty boggy bridleway leading to the next section of fire road, and then onto a lovely long tarmac track which gave some of the ladies a chance to build up a bit of speed, taking us to the far end of the Grand Avenue.
From here we headed back into the forest to make our way towards the Column. The latter part of this track was particularly soupy, some of us just about managing to get through it, and others simply having to give in to the relentless mud. Footings were lost, feet got muddy, wheels were spinning, and much swearing was heard as we inched our way forwards.
Eventually we emerged at Column Ride, and shortly after stopped for a bite to eat and to admire the beautiful Ailesbury Column, built in the 1760s to celebrate the recovery from illness of King George III. It was here that Sharon was treated to the arresting sight of my bare bottom, after I headed into the woods for a quick wee without noticing her. I did say I'd treat the ladies to new sights on this ride!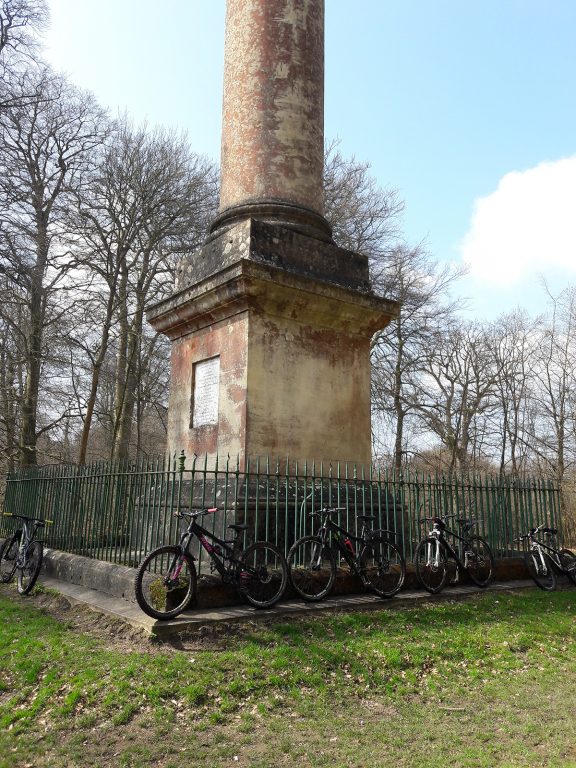 After our quick pitstop we rode up the charmingly named Lover's Lane, and down through Durley to the Kennet & Avon Canal towpath. After stopping to look at the beautiful inscribed 19th century and modern replacement stone plaques, carved by Lloyd of Bedwyn, on the east portal of the Bruce Tunnel, we rode along the towpath (in places pretty off-camber which could catch you out) to the Grade I listed Crofton Beam Engines – the oldest working Beam Engines in the world – where we stopped for a well-deserved lunch and a spot of sunbathing. Hilda-May got horizontal; cake, sandwiches, coffee and tea were ordered and after a seemingly endless wait, we eventually got our lunch.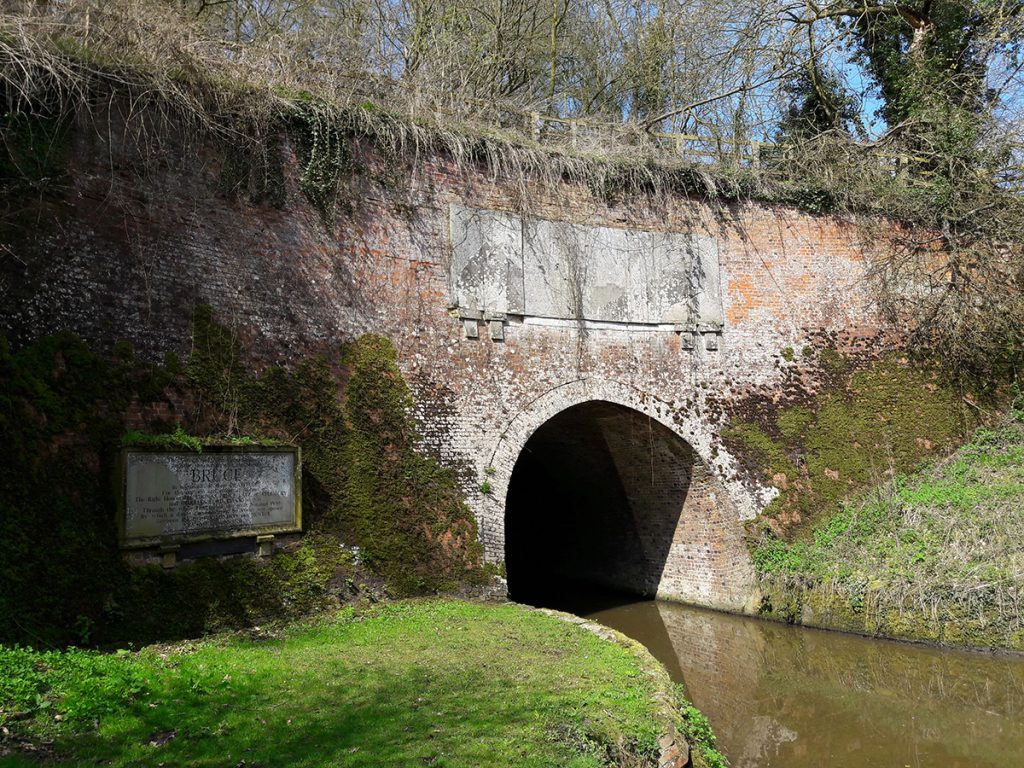 It would have been easy to stay all afternoon in the sun, but we made our way back and rode up through Crofton Farm, after which came the muddiest part of the ride – huge, deep tractor-wheel sized ruts filled with thick, gloopy water, and the only option was to get off and push. Eventually we made it through and rode on to St Katharine's, stopping to look at the church, before riding a short way along the road back to the Grand Avenue.
At the start of the Avenue, we turned left onto the Gallops Track, a nice, sweeping piece of old tarmac trail, then turned off at eight walks, riding past the old Christmas tree nursery and arboretum. From here we bounced down a muddy, rooty little chute that spat us out at a grassy clearing, and made our way back to the campsite. 
The blissfully sunny weather helped to make the ride special, but I was thrilled that so many ladies made the effort to attend my first led ride – I hope they enjoyed it as much as I did.