Words & Photos by Debbie Davies
With the Met Office sending warnings about Storm Angus a few days prior to our ladies ride, I was not hopeful of a large turnout
The night before was torrential rain and early morning bought strong winds, too. I set off to our meeting place, with the most rugged, mud plugging bike I owned attached to the back of my car and waited hopefully for someone's arrival.
I was sure this was a 'Billy No Mates' day – but had decided I would ride the route anyway – when a car pulled up behind me. Sharon Yeates had left her place of sanctuary and swelled the turnout to two.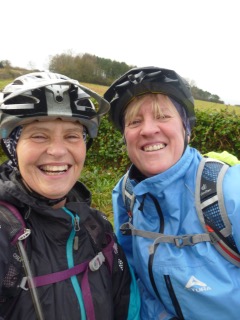 We left Bibury and almost instantly the rain I had just driven through stopped and the winds were settling. We climbed up a road hill to the first of the byways named Saltway. This was now a puddle-fest and we picked our way around most, having no idea how deep they were after the overnight rain. It continued in this vein, following the farm tracks out to a country lane that was a little less soggy.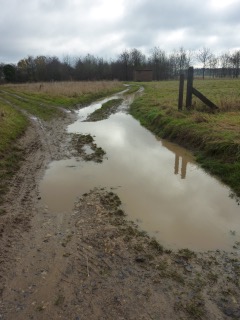 We then picked up a bridleway with stunning, far-reaching views and, best of all, firm grass underneath our wheels. Heading down a lovely pedal-free slope and straight into a slippery pedalling climb meant the first walk of the day as neither of our wheels got traction. The firm grass was short lived.
The special thing about this ride is how it opens up a new vista at each change of direction; the area is simply beautiful with no development anywhere near to interrupt the farmland. We meandered our way along old drovers' tracks and an empty country road until we got to the brilliantly named 'Potlickers Lane'. I have yet to find out why it is so named, but it is a grassy byway cutting through the cultivated farmland and is home to many a Pheasant and Partridge that ran ahead of us before darting into the hedgerows for refuge.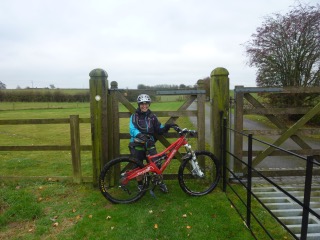 The village of Winson is the treat to see at the end of this green lane and some ancient grazing fields carved into tiers. There was plenty of cattle evidence along here but luckily no actual beasts. I'm not very brave around our bovine residents but retracing our steps would not have been a hardship as 'Potlickers Lane' is rather special.
After negotiating a steep hillside track, some bog land and a cattle-wrecked gateway, we were back on firm ground again and heading towards Bibury once more. The restful fields and far reaching views took us to the tricky end to the route – a concrete drive between mellow Cotswold stone houses. I knew this was tricky as I had fallen off here the week before, so we rolled slowly down the slippery track with the utmost respect until finally reaching Bibury High Street and our final destination, the Trout Farm Café and shop.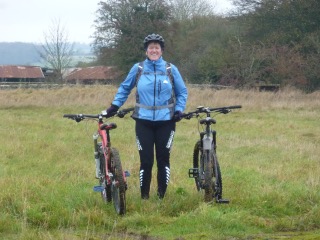 Even in the middle of November, Bibury was full coaches, cars and their cargo of tourists but none had ventured onto the bridleways and byways that had been ours alone for the last twelve miles.
Many thanks to Sharon for joining me on what promised to be the worst weather in an age… and that actually turned out to be a very peaceful and fulfilling ride.