No amount of my sun dancing was going to fix the weather for this ride. The picture below was taken on a recce the week before; what a difference a week makes.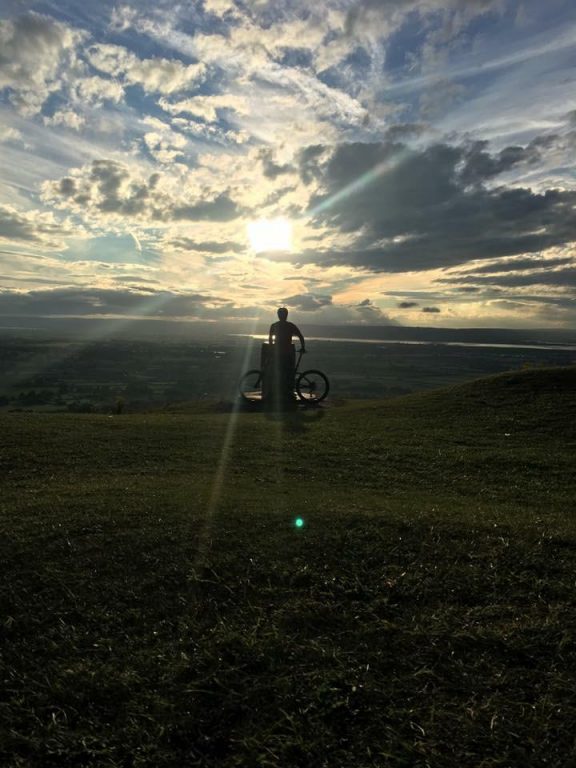 Still, ain't seen a rusty man yet!
There was a bit of confusion on the car parking, but – faffing done – six of us set off. There was a bit of a road climb to start with, out of Nailsworth and up to Horsley, then down through Horsley woods. This year must have been perfect growing conditions for everything, because the trails were disappearing into a jungle of nettles, brambles and anything else that can wake you up.
Then it was out into a grassy valley which was full of sheep. These sheep had done a great job of fertilizing these fields, and we duly picked lots of it up on our bikes to spread out further along the trail. Nic! There was a bit of a climb out of this valley, so I stayed at the back to make sure everyone got out safely.
Another short road section over to Uley woods, and my chainring bolts decided to come out, so a bit of trail side maintenance was needed. Thanks, Sean, for the allen key.
We must have had a bit of wind during the week because there was a dirty great big tree blown down across the gate. This made things a bit tricky but we got through.
There are some great bits of single track through Uley woods down to Dursley. To be fair, the tracks were reasonably dry considering the amount of rain we had had, although I did lead a few of the others through a rather deep, claggy puddle (you don't have to follow me all the time!)
The next set of tracks was the famous switchbacks at Breakheart quarry. I rode this the week before and it was just a dust bowl, and was pretty sketchy getting down (ask Rich). The rain we had made it just right, and there were plenty of smiles, as the pictures prove.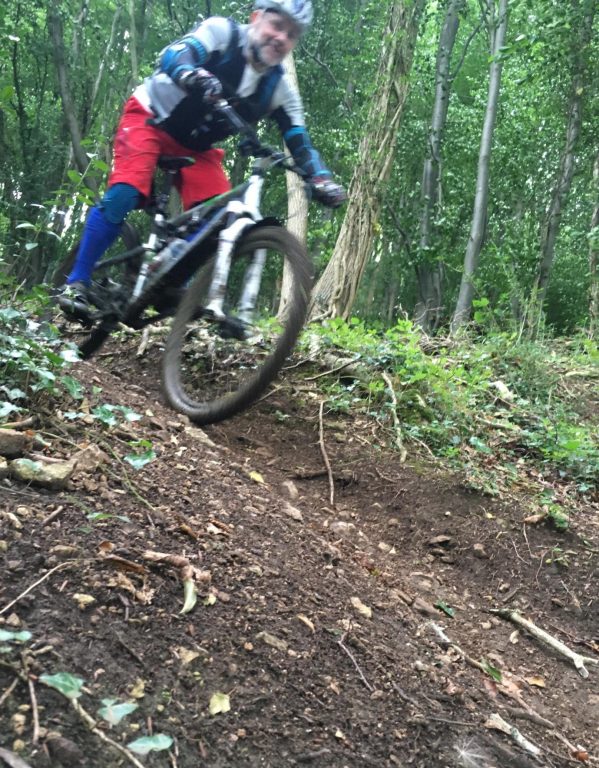 The only trouble with coming down that great downhill is that you've got to go up the other side, which is a nice switchback climb which brings you back out into Breakheart quarry. There is a small log cabin-type thing here which has vending machines in, which is quite handy if you're ever riding around here and fancy a coffee, cold drink or ice cream.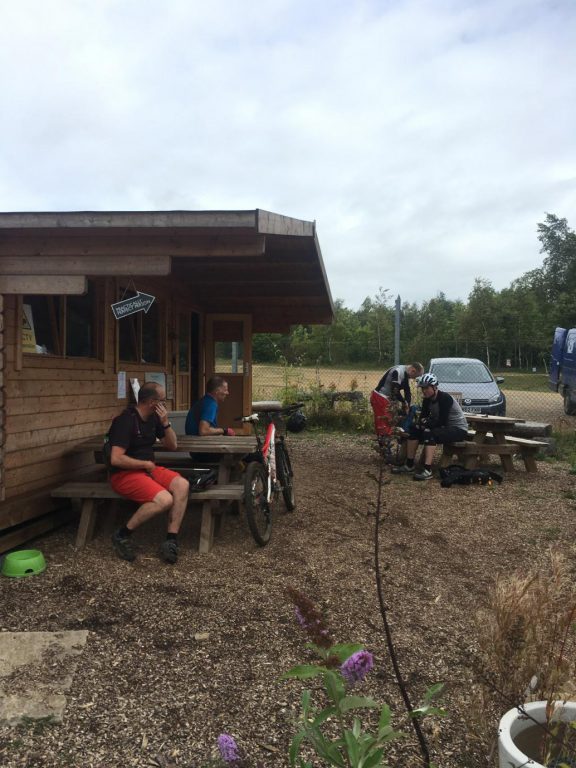 After our break we set off again, back into the woods to single track it over to stinchcombe golf club. If you're that way inclined, there are some great jumps in these woods, most of them with a lot of fresh air inbetween them.
We skirted round the edge of the golf club and then I struggled to find the entry into the woods. It was a bit like going into a secret garden, a bit more ducking and weaving through the trees and then the steep gulley down into Dursley: there were KOMs had by all… well, not quite all, just one of us.
A quick ride through Dursley prepared us for the climb of the century up Cam Long Down; blooming Henry, that sure makes you blow!
During a quick stop at the top for a sandwich, there was a 'Shall I put my coat on or not?' debate. The rain started to do it's best and the wind was blowing a hooley. I mentioned to the lads that there was a decent sized drop-off halfway down the descent. It's in a grassy field, so you can struggle to see it if you're going full tilt. Luckily, I fell off just before it, so a good marker was put down; much fun was had by all.
I had told everyone that the next two climbs were almost unachievable, which well and truly threw the gauntlet down. Fair play to those boys: Graham made it to the top of the first climb (I think the needle was in the red though) and Stephen wasn't far behind him. By the time I had pushed my bike to the top, they had all found a great spot for a breather. Shame about the weather on this ride as one of the best things about it are the great views over the Severn river, looking across to Wales.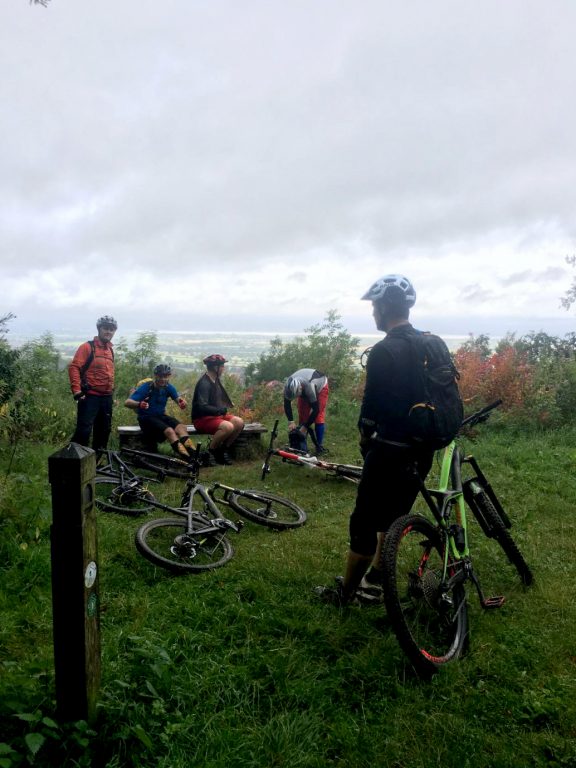 After a bit more downhill/flat sort of riding we came to the last big climb of the day: straight up, this one, no mercy! This bought us out on to the top of Frocester hill, which is quite famous with the road riders around here. A bit of walking down some steep steps and we made our way over to Coaly viewpoint, where Rich told us he goes paragliding from (bloody nutter!)
The next bit of single track, I think, is some of the best in the area. It did suffer, this time, from being a bit slick on the roots and there were a few comedy moments, but good times were had by all. This chucked us out on Selsy common, and it was all down hill now: a bit of a blast across the common, down the road to Woodchester, onto the old railway line and finally the road back to Nailsworth, where we had a well deserved pint and a bit to eat.
Cheers  Rich, Graham, Andrew, Stephen & Sean – it was a good old ride!