The challenge for me was to put on a ride to the historic market town of Marlborough and make sure some sections of the route were new and interesting to those who come along for the ride; quite a difficult task when, firstly, you don't know who's actually turning up and, secondly, I wouldn't have a clue as to where they have actually cycled in the past. The recce had been done 6 days before when the weather wasn't that great and the ground conditions were quite wet and muddy, but I did find some interesting sections to ride which not only would be fun but – fingers crossed – new to the group.
As I turned up at Coate Water just before 9:45, it was great to see a  group of mountain bikers all ready and waiting by the diving board. The line-up was as follows: Bin Man Gary, Sonny, Nathan and his best mate Nathan and his best mates Adrian and Craig, followed by Graham and his mate Howard, Gary Y and Clive.
We began the ride through Coate Water and up to through the hamlet of Hodson. Following on from the two hills of Hodson, I decided to take the easier option along the road to Alexandra Park and the bridleway up to the lower Ridgeway path. This bridleway is a great alternative to get to the ridgeway but the last 150 yards is a bit of a slog at this time of year.
After taking a breather at the lower Ridgeway path we then made the steady climb along the track to Hackpen Hill. On reaching Hackpen car park Nathan got his first puncture on his new bike. This enabled us to regroup and gave us time to catch our breaths.
The next descent is one of my favourite local descents and I was glad to see that it had dried up quite a bit over the last six days. Graham took full advantage of this and rode down it like a man possessed. The climb up to Totterdown woods has some great views that are easily missed; what we didn't miss was the mud through the woods! Staying upright is quite a challenge this time of year and I could not believe only Craig got a booty.
With most of the climbing and the mud done, we made the descent along the bridleway to Manton Car park and the descent down to the A4.The next bit was a section that I was sure would be my piece-de-resistance, taking us along a quiet lane out through Manton village, along the river Avon and into Marlborough for coffee and cake.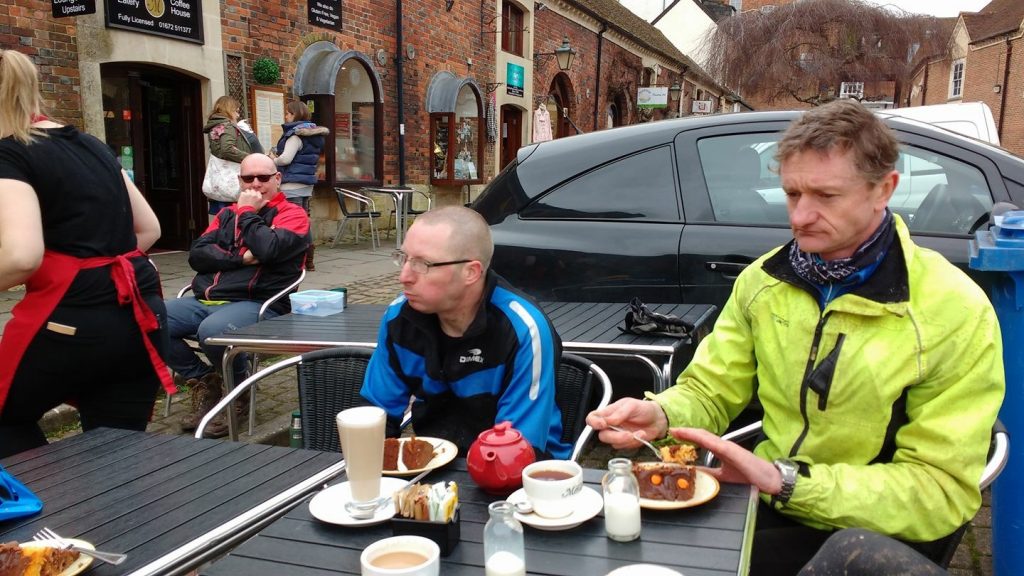 As nobody challenged me on my challenge, I can only assume I had done a good job and got the group to Marlborough on some bits that were new to them. After a coffee and huge piece of homemade chocolate and orange marble cake, we set off for the return leg of the Journey back to Coate water. To make the return a bit more exciting, we climbed out of Marlborough along the road to Mildenhall and made the climb up towards the Ridgeway. The road climb out of Mildenhall is a long old climb with a nice false summit that makes you think you have  got to the top only to discover that there is a bit more… and a bit more.
By this time I think there were a few that were feeling it, but luckily we had one final descent down what is known as the speed ramps. Graham and Nathan flew down first and we all got down safely with plenty of smiles at the bottom.
With just a few miles of Old railway line to Chisledon, our ride was virtually done. We arrived back at Coate Water not too dirty – the weather had been  kind, we travelled along some new routes, had just one puncture and no injuries, and a good time was had by all!