Words and photos by Michael Duller
Leading up to the Aldbourne Café Ride, the weather forecast was not only changing daily but sometimes hourly: it went from full sun, to snow, to rain, back to sun, and finally ended on cloudy and dull. The only thing that never really changed was the temperature; it was going to be cold, which was what I was hoping for, as the planned route had a variety of surfaces, some of which would have benefited from a good hard ground frost. So when I woke up and looked out to see a frost I was pleased.
As I rode through the Coate Water car park, I  passed a large group of mountain bikers who I didn't recognise. As they were not in the usual meeting place, I thought there must be some other group having a ride out, and I thought, "That's lucky – I'm only used to about six people turning up!"
As I rode up to the meeting place I saw a keen bunch of riders who I recognised; ten had  put their names down and there were about six already waiting so it was a good start. Then, to my surprise, the group that where in the car park made their way up to the meeting point too. That made 16, which was a record for me. Over three quarters of the group I had not met before so it was great to see so many new faces.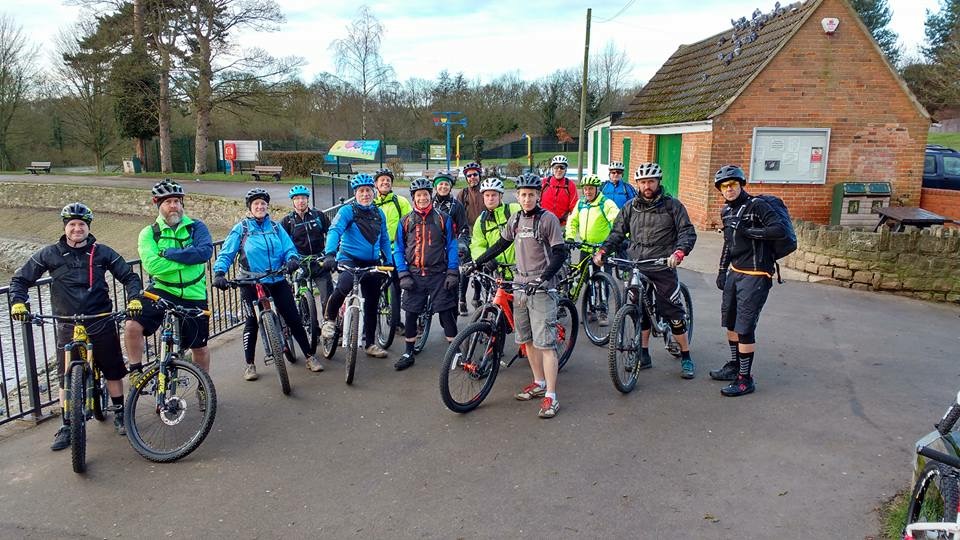 After a quick briefing, and introducing the group to Gary Yeates (who volunteered to be back marker), we headed out of Coate water to join Day House Lane, which made for a nice warm up before we hit some of the bigger climbs. Looking back down the road  to see such a large group of mountain bikers in different coloured shirts all making the effort to come out was very pleasing.
The first real climb of the day  was the hill off Ham road. It's a long climb, but once at the top the view of Liddington Hill and the surrounding area is a cracking one. The group did well on this climb and, after having a short breather, we make our way to Foxhill to join the Ridgeway.
The climb out of Foxhill car park is quite steep and the cobbled surface makes for a quite a hard climb but the rewards on the other side are worth it. The long descent always makes people smile – it's not technical and the surface is generally good, which makes for a nice half-mile or so where you don't need to pedal.
The ride over the downs was always going to be a challenge. The ground was frozen in places, which made it a bit slippery, and in other places it had thawed so it was just  muddy. Then there were the bits in between which where both slippery and muddy. I never said we wouldn't get dirty.
Picking up the farmer's track and then onto the road out of Russley Park gave us the opportunity to lose some of the mud from the tyres. I always like a bit of tarmac after a slog just to rest the legs for a bit and get the breathing back to normal (though some might not agree as we climbed the road to join the bridleway for the descent down to Aldbourne.) This bridleway is a favourite of mine. It's about 1.5 miles down, and you don't really need to pick a line as there are no deep ruts, just the odd hole and tractor tracks with a few bends chucked in to keep you on your toes and (as we encountered!) the odd dog walker.
Stopping in Aldbourne for a coffee, we came across a cake sale organised  by the Aldbourne Youth Council, who supplied us with tea, coffee and huge amounts of cake. Just what was needed when we still had a few more climbs ahead.
The climb out of Aldbourne starts off on the road then takes quite a long climb back up a bridleway onto the downs. With snow still visible on parts of the ground and the mud starting to soften, this climb was quite a challenge for some. The views from the top made the climb worth it and the rolling descent down for a mile or so was great, fast fun, though  the short steep climb at the end soon slowed everybody down.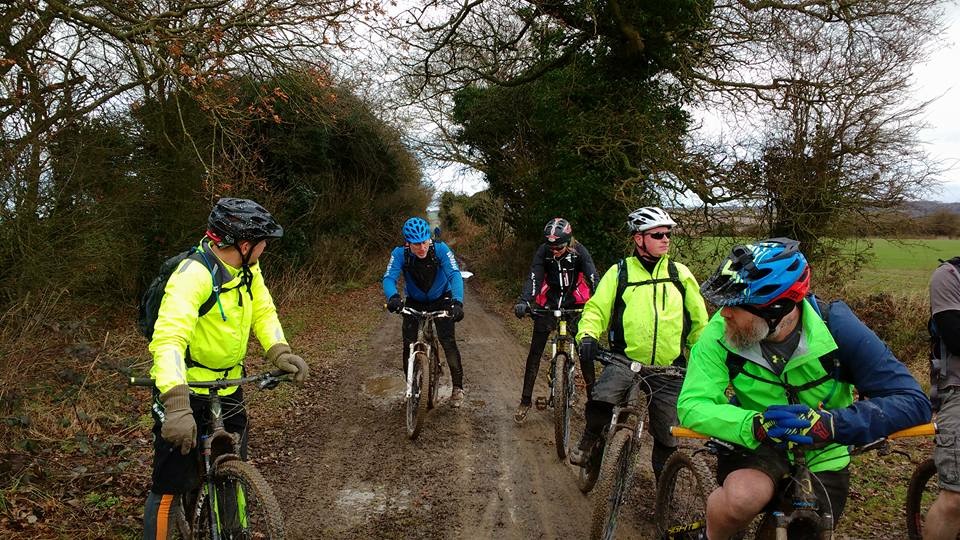 After taking a breather, we headed out onto a country lane as we made our way towards the ridgeway. The steep road descent followed by a sharp turn up a short steep road was something most were not expecting but everyone rode up without any problems. As we waited at the top for a tyre to be inflated, I told the group that we only had one more hill. I don't think they believed me, but it was true (albeit the last hill was going to be a tough one, especially if it was muddy).
We descended down a slightly rutted bridleway to be greeted by a nice wide frozen puddle. As ride leader, I thought it was only fair that I break the ice and test the depth but Nathan kindly rode through it first. He came out the other side unscathed so I followed, as did everyone else.
We were now on the track to the last hill and luckily it was dry but still a long climb. As we regrouped everyone looked surprisingly chuffed that they had got up the last climb (or was it the thought of it being the last climb? I guess I will never know).
We had one final descent down past the radio mast but first we had to negotiate a massive puddle at the top. Everyone managed to get through without falling off, though there were plenty of wet feet and laughs. The ride down past the mast is on tarmac and it can be very fast with brilliant views. We finished off the ride down the final section of the railway line and picked up the route back through Chisledon and down to Coate Water.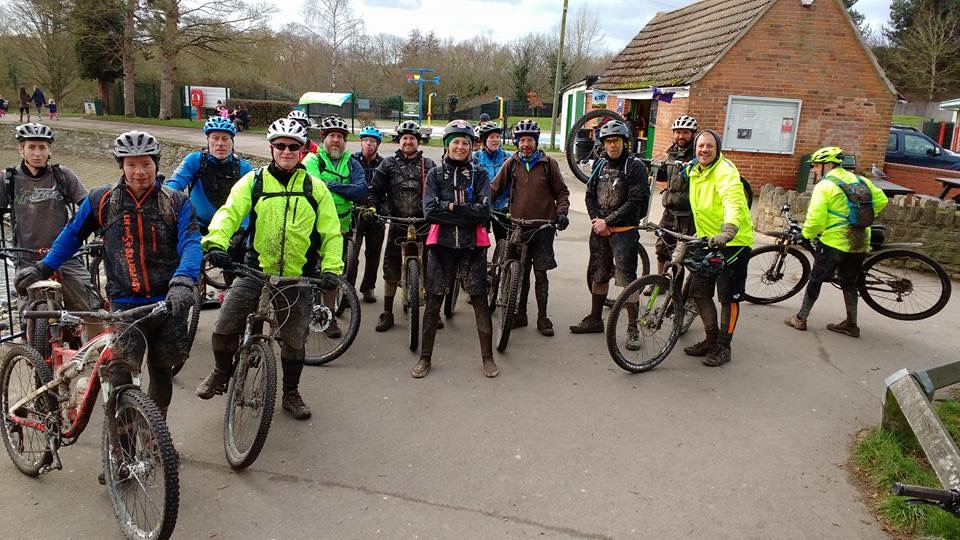 Seventeen of us started the route and all 17 finished. We completed 25 miles of riding with approximately 1900 ft. of climbing. The weather was kind and the riding conditions, considering its winter, were not too bad. The stop at the Aldbourne Youth Council's cake sale was brilliant. We had some hills to go up and we had some to come down, with a mixture of country roads, bridleways, farm tracks and railway line. We did get a bit wet riding through the puddles and got a bit muddy up on the ridgeway, but there were plenty of smiles and laughs. We may have been a bit tired at the end but it was a good day's riding.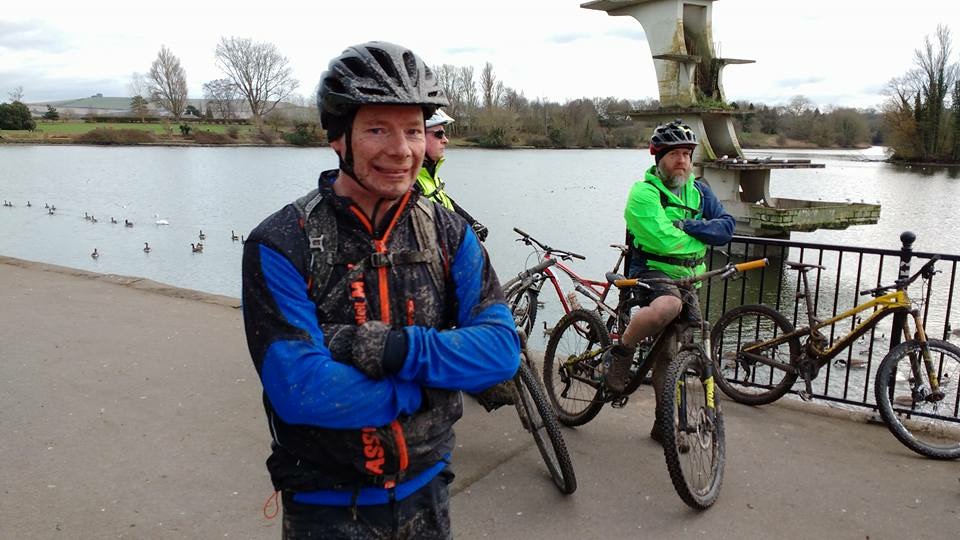 Well done and thanks to all those who came out.