Words by Debbie Davies 
As my alarm went off at 7.00 am, the underlying noise was torrential rain. The weather forecast had assured us the rain was moving northwards and we would have sunny spells and some showers.
Waterproof shorts and coats were already packed and I was trying to persuade myself that mountain biking in the rain was fun. Not the easiest thing to run with as we had just had the most amazing two months of fine weather with virtually no rain.
I headed back and forth, packing the car with excessive amounts of clothing. By the time I had finally finished with loading the bike itself, the weather had already had time to improve. With the promise of a dry spell and even a glimpse of blue sky, could we hope for another dry ladies ride?
We were meeting in the Upper Castle Combe car park. Kristian, our ride leader, had very kindly offered to lead this popular route, which had been on the calendar in various guises on two other occasions. We were very lucky to have it as a Ladies only event and there was the promise of Kristian's very own baking at the end.
In fairly quick succession, we all arrived. It was lovely to see three ladies who were new to our group: Kerry, Anna and Alison, all of whom had faith in the weather improving, it seemed.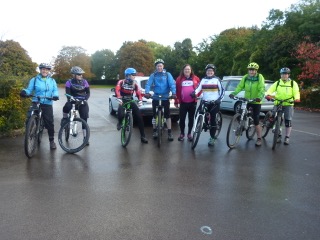 After a quick photo of our group and a briefing from Kristian, we set off along a short road section before hitting a lovely byway, broad and easy to pedal. Already the sky was clear and the sun was starting to warm things up. As we stopped at a road junction it became disrobing time, as a number of us were now totally overdressed for the beautiful autumn morning.
We carried along through several hamlets, interlaced with the most wonderful bridleways and byways, the vistas changing with each turn of the road. Kristian warned us at the top of one track that it was muddy, bolder strewn and rooty. It turned out to be a wonderful descent, with each lady taking it at their own pace and all arriving safely at the bottom. The natural rock steps on this particular descent were the final encore to the trail. Some walked them, others rode, but incident free we carried on to the next section.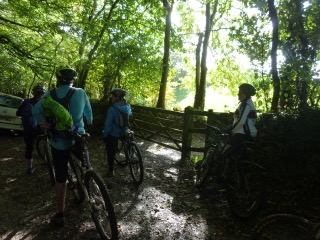 A bit more road with lovely field views gave way to a planted field with a bridleway through the centre. The overnight rain had made this a bit of a slog and it was nice to clear our tyres with a road section at the other end. There were a few uphill road sections that spread us out as a group but each entrance to a new bridleway became a regroup point and a useful breather for those of us (me) that weren't quite as fit.
We reached another trail with another briefing from Kristian. Another rock strewn descent with stone walls that had collapsed in places, and some low branches. It sounded like a route of booby-traps for the unwary. However, it turned out to be a huge amount of fun, and was safely dispatched by all of us. Kristian had promised us a river crossing at some point and this long descent bought us to a beautiful secluded river with an old slab packhorse-type bridge to the side. After all the heavy rain overnight, sense prevailed and we all took the bridge. Maybe someone will demonstrate the river crossing in the warmer summer months.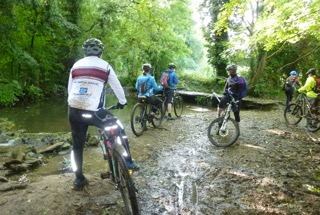 The previous descent that we had spun down so merrily now turned into another muddy, rock-strewn climb up the other side. Walk or ride, we all carried on up and met an open track with a wonderful tree-lined valley. Here we were able to push the pace along. That soon changed as we hit the biggest of the road climbs, the group spreading out once more as we slowly filtered our way into a gateway and a nettle filled descent. The brave long-trousered riders amongst us were sent ahead to clear a path for the less well-attired in shorts. Harsh but sensible! The nettles gave way to a grass descent that was almost dry despite the nights rain.
It was at the bottom of the field, where it met the road, that one of our other riders, Nikki, came to meet us. She was going to complete her first off road section in many months after an early spring injury which left her unable to ride. We had one more valley to ride, followed, of course, by another root-peppered climb. This led to an off camber stretch of singletrack that ran near the Castle Combe race track. As we met the road one last time, the majority of the group left us to complete the last couple of miles of byway while Nikki and I took the more direct route back to the car park.
Within a few minutes of us arriving back, the rest of the ladies pulled into the car park, too. Bikes were packed away, muddy kit changed and Kristian's famed baking made its appearance. There is always cake on a ladies' ride and Kristian had done us proud.
Many thanks to Kristian for leading such an enjoyable and scenic route and to Sarah, Nikki, Jill, Clare, Anna, Alison and Kerry for joining us. The weather couldn't have been better after the unpromising start. Lets hope we have more days in the sun as we head into winter.