Pete Ratcliffe gives us the history of one of Croft's trickiest features.
I'm just back from building the 4th iteration of Pete's Steps and whilst I get warm and dry I thought I'd jot down a bit of history and explain what I was originally hoping to achieve back then, and hopefully we've continued that with what we've done today.
One of the reasons MB Swindon was formed in 2010 was as a way of generating funds for the development of Croft Trail which at the time was focused both on optimising the layout in a few key places (making best use of the little height we have at the motorway sections and Pipers Hill for example) and to comprehensively surface the trail to help it survive boggy winters.
Around this time I and many of the other early MB Swindoners, were riding the Welsh trail centres quite regularly, particularly Twrch at Cwmcarn. I absolutely loved the challenge of the really technical climbing sections at Cwmcarn and wanted to see if we could include something like that at Croft (despite not really having any hills) and our major rework of the Pipers Hill area gave us a great spot for including the technical challenge as an option line – Pete's Steps were thus conceived.
I wanted the optional line to be virtually impossible.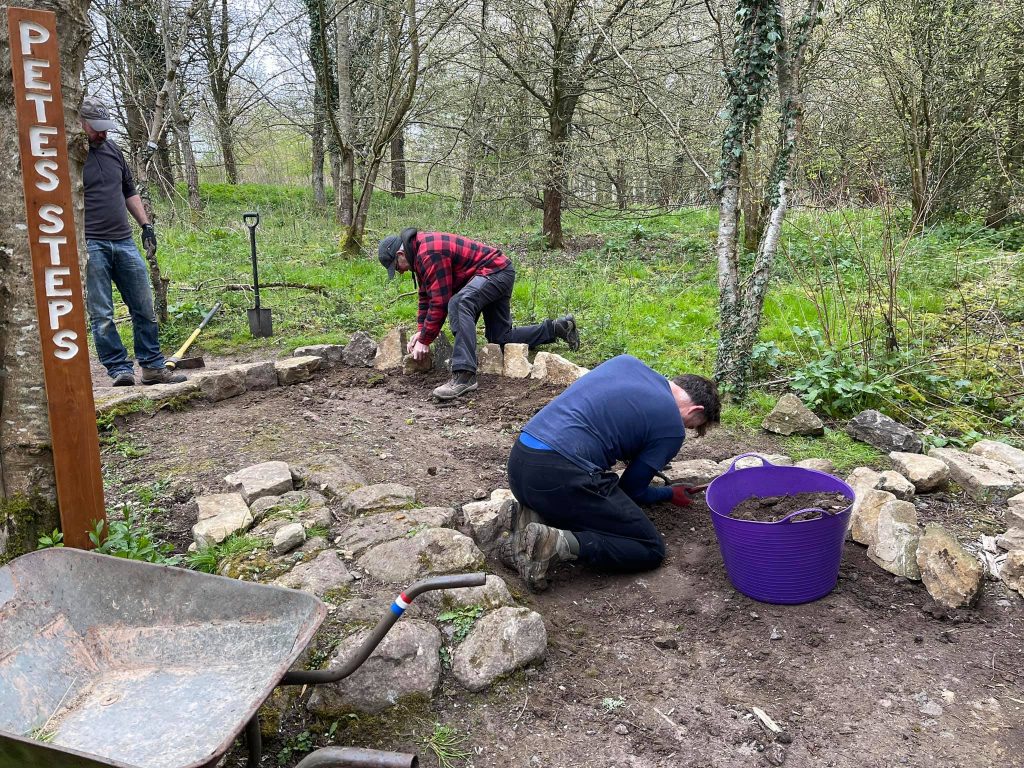 If it was easy then it wouldn't be any use as a training feature on which to hone technique ahead of trips to big technical climbs (like on Twrch trail). So that's what I set about to build, a feature that would test me every time I attempted it.
The first step is deliberately built at an awkward angle to approach, because it's hard.
The second step is deliberately just barely a bike's length beyond the first, because it's hard.
The second step is steep, deliberately, because it's hard.
The third, fourth and fifth follow in quick succession deliberately to punish complacency, because it's hard.
After building the first version of Pete's Steps I attempted it myself five times…and cleared it on three of the five times. Only 3 of 5 meant it was tough but not tough enough! So I built it again, version 2, this time I knew it was going to be tougher so it got my full attention…and as a result I cleared it 4 out of 5. I was ok with that because my mindset when riding it had changed. I had to be on my A-game to get up it, any nonchalance or distraction and I wouldn't make it.
So that's been the basis of Pete's Steps for the last 10years (ish). [Incidentally, version 3 followed shortly after as part of the wider re-routing of the trail in the area. Originally the trail, and the top three steps, curved off to the right – version 3 re-directed them to the left as they are now]
Those who have been on the Trail Skills course with me will know that I openly take great pleasure in people failing to clear those steps, because it's supposed to be difficult! What I don't say aloud is that actually I really like it when riders at least give it a go, even when they know that they are unlikely to make it. And I love it when they keep wanting 'just one more go' because they were so close the time before. It is not impossible, but don't expect it to be easy.
Which brings us up to date, and to version 4 which, with a lot of help, was finished today (10/4/21).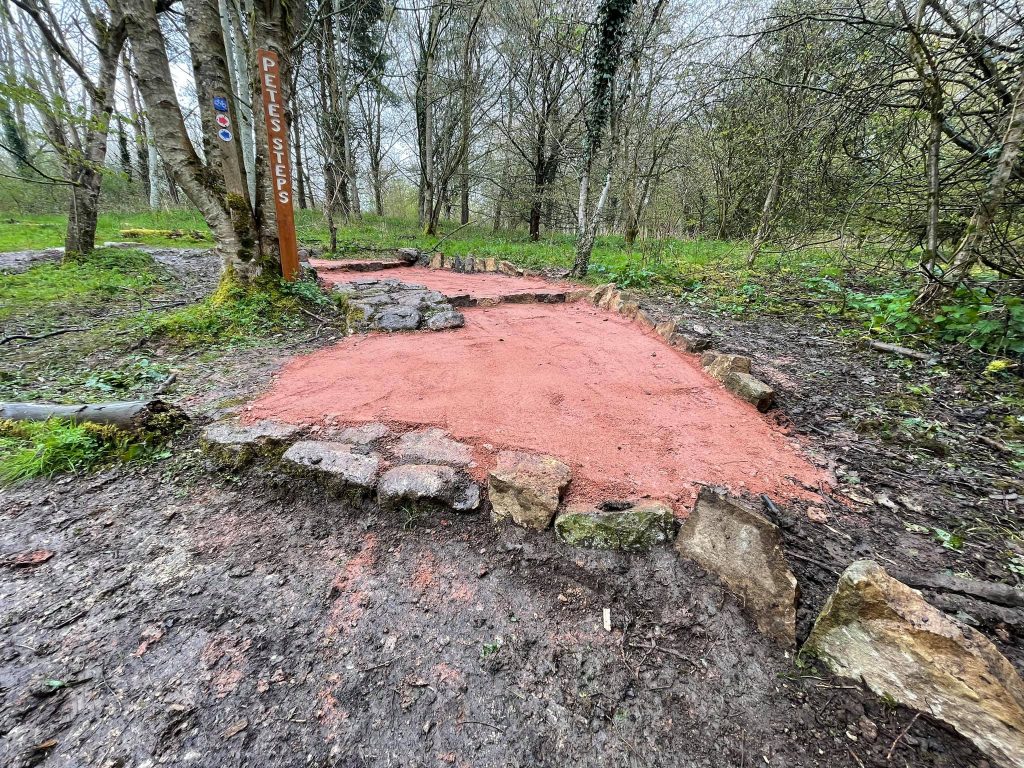 A really lazy 'cheat line' has developed over the last few years round the outside of all of the steps, which frankly folks I find quite dull. Particularly at the top where the steps are not all that challenging and yet riders are still trying to avoid them! Come on, at least give it a go!
There are lots of places around Croft Trail where you could decide to take a short cut or avoid an obstacle but what's the point in that? You may as well ride up and down the street outside your house. It's the same with Pete's Steps, yes it is a shorter route round the trail but that should be a reward for good technique, that was always the intent.
So in version 4 the 'cheat line' is no more. In its place we have generously provided an easier (but not easy) line alongside the original line. The first step is still on an awkward angle but there is much more room to get yourself ready for the second. So give it a go, there's a shorter route round the trail to be had if you apply some good technique, and once you've nailed the new line, try the original.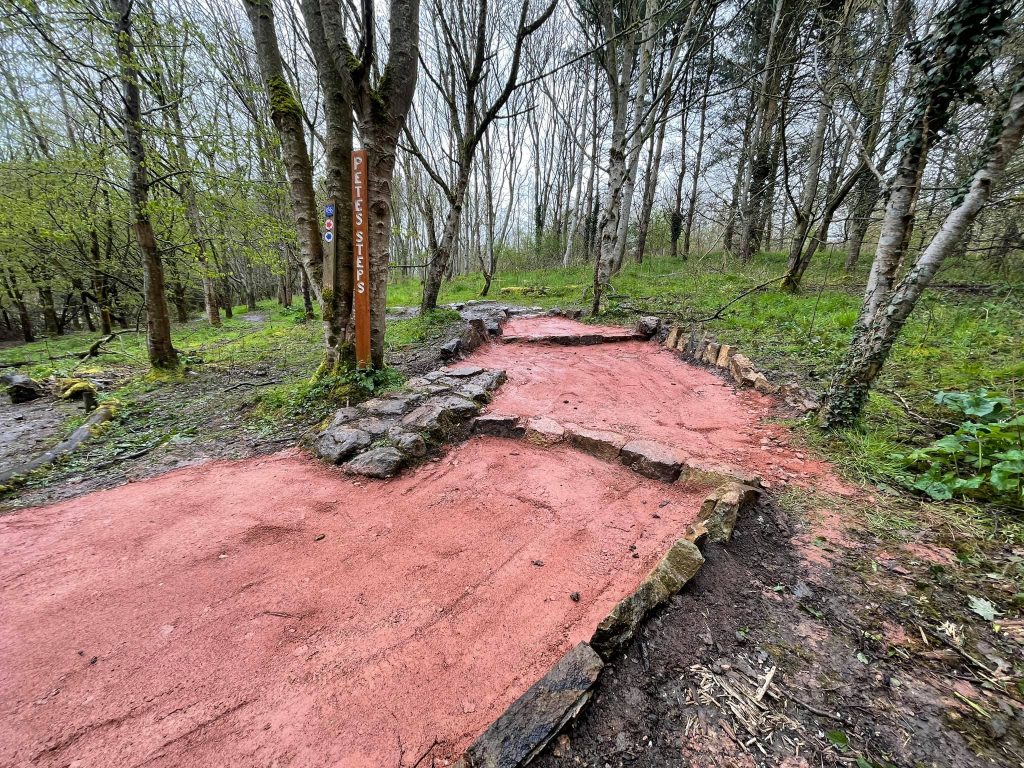 The way to approach both lines but particularly the original one is a) with your full attention and b) with really clean climbing technique to maintain your forward momentum. You want a relatively low gear – low enough to give good power but not so low that you don't move forward with a peddle stroke. Approach the first step with good momentum then you need a clean front wheel lift (this is vital), then once the front wheel is up use your body weight to unweight the rear wheel and pop it over the step. Then you are immediately into another big front wheel lift, followed again by unweighting the rear and pulling it through using a pedal stroke or two to help.
I've heard people say that you can get up the steps by hitting them hard at speed and using some brute force, but what if you're out on a trail somewhere and the steps are 2 inches bigger? That approach isn't going to work, but clean climbing technique might. So practice it at Croft and you'll be ready for anything.
Good luck!