Graham Burgess will be leading a ride from Weymouth Seafront along the old railway line to Wyke Regis, over the Ferry Bridge and across Chesil Bank to Isle of Portland.
We will climb up to the 'high end' of the Island and take a look at the Vern Prison before setting off along the cliff edge path to Portland Bill Lighthouse (a cracking descent here!). There will be an opportunity for 'replenishments' at the cafe (brilliant fresh crab sandwiches, if that floats yer boat) or nearby pub.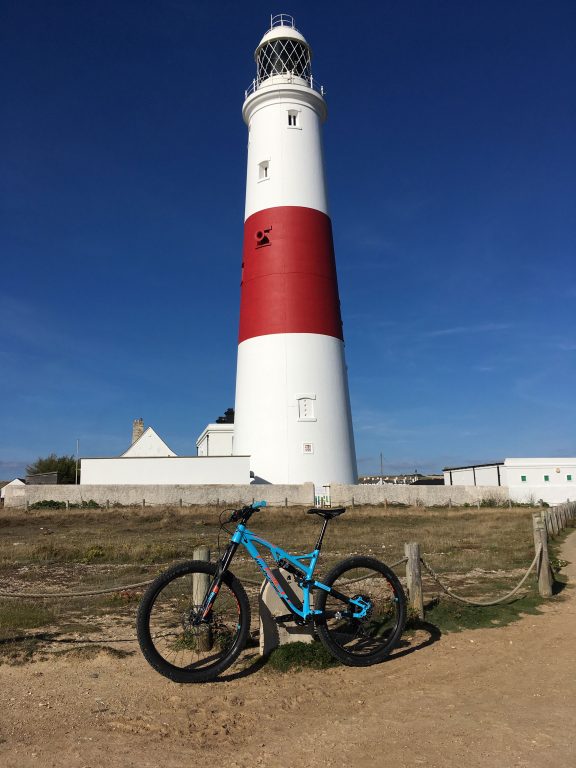 Once refreshed, we will head off up the island again on the Western-side coast path, back to the 'high end'. There are stunning views from here, including the chance to see the Olympic Rings from the 2012 Olympics (sailing events were held in Portland Harbour/Bay). A fast descent back down to the old Navy Base and we'll retrace our steps back with an optional pub stop near Ferry Bridge. There's the possibility of an end-of-ride swim on the beach too 🙂
A number of us are making a weekend of it in Weymouth, staying over both Friday and Saturday nights and doing the 'Lulworth Off Roader 2019' event on the Sunday (highly recommend this one as an event – great cliff top views, nothing scary and an amazing food stop) – places still available via British Cycling website. You'll need to sort out your own digs – camp, B&B, hotel, sleep on the beach, whatever you fancy… all welcome! There may be a beer or two on the Friday night – last year ended with a kebab and a stagger back to digs about 4:30am!!!
Plenty of parking at Lodmoor Country Park Carpark DT4 7SX (or nearby street parking). We will set off from the Pier Bandstand at the end of the seafront (DT4 7RN) at 10:30am.
Nothing overly technical on this ride so suitable for anyone capable of around 26 miles and a reasonable bit of climbing. Bring working bike, snacks/drinks, suitable clothing for weather conditions and some pocket money (swimwear and towel optional).
Please indicate on Facebook if you are intending coming so we know to look out for you.