The Wilts and Berks canal trust are working on an ambitious project to restore the Wilts and Berks canal (more info on Wikipedia). This waterway connects the Kennet and Avon canal at Melksham with the river Thames at Abingdon.
The project has two phases:
The towpath project. A multi use path that follows the approximate line of the canal. This will be in place by August 2012.
A new canal section. The time scale for this is 2017-2022.
The original route is shown clearly on this historic map of Swindon – occupying what is now regarded as the town centre.
The maps page on the Wilts and Berks website shows the overall restoration route. Clicking on the section to the south of Swindon brings up the detailed map which shows the canal taking a line through the Croft country park.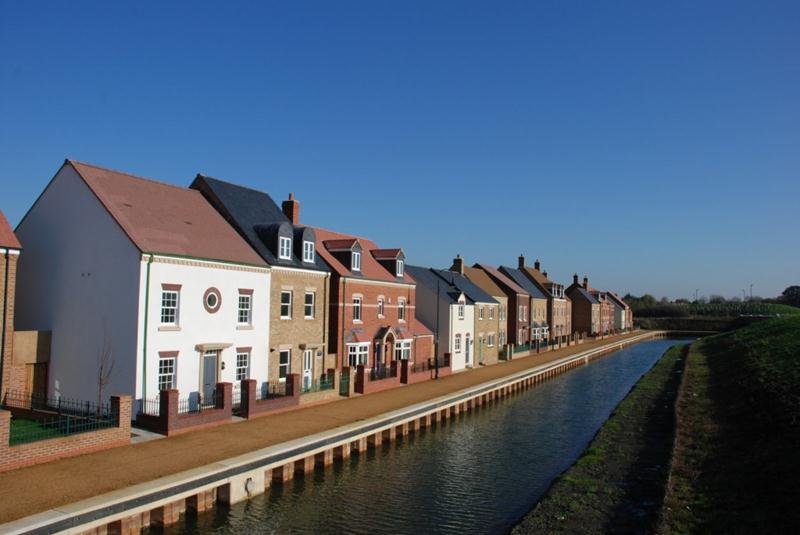 At first sight this would appear to be a threat to the existence of the Croft Trail. However, MBSwindon are working with the canal trust and Swindon Borough Council to develop plans that ensure the trail remains and if anything ends up being better for it. It's early stages at the moment but it is expected that bridges will be built to cross the canal plus the contractors will be able to shift large rocks and material in order to enhance the trail. The logical line through the area already misses the best sections of trail, so we're not too bothered if we lose a few bits as long as the replacements make the trail better. Bridges across the canal will also reduce the number of pedestrian crossing points as well as providing some extra elevation change.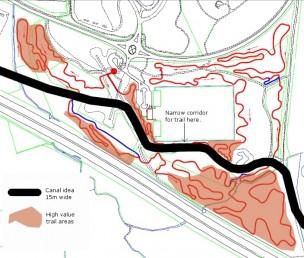 We have no intenion of opposing the plans – the trail is a guest on the council land, they are promoting the canal restoration and they are also supporters of the trail. The Nationwide Building Society are also supporting the restoration since their local HQ are opposite the park and their sports field is in the park. The challenge for us is to come up with a really interesting and innovative route that works round the requirements.
You can help us by joining the Wilts and Berks canal trust and subscribing to their newsletter. As a member you can also represent our collective interests at the various meetings to ensure that our point of view is fairly represented. Keep an eye on the Swindon Branch calendar for events.
The map on the right shows a potential route with a 15m wide canal corridor. The canal originally had a lock width of 7 feet, aka 2.1m according to this link and this link. So double that and add a bit. Tow paths will take some more space and possibly access tracks for grass cutting etc.