We still have some Club shirts for sale.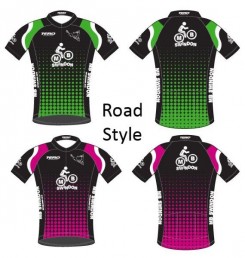 They are available in a range of sizes, in 2 styles and 2 colours. Choose between road style (tight fitting with 3 pockets on the rear and a full-length front zip) or MTB style (looser fitting without the pockets and a 1/3 front zip).
The pink and green colours are identical to the previous colours so no need to worry about the new ones not matching the rest of your wardrobe/bike/shoes/goggles 😉
PLEASE NOTE: Due to a supplier change the sizes are very different to the old shirts so PLEASE take a look at the size charts below before ordering.
Shirts are £15 each, and you'll need to transfer the money to the club's bank account before we can make the shirt available to collect. Our bank details are: 08-92-99, 65384004, MB Swindon
Order Form
If you would like to order more than one shirt please use the above form again
We are approaching the end of our stock and some size/style/colour combinations may be unavailable. Get in touch if you have any questions.