Our new range of MB Swindon branded shirts are (finally) here. We've given them a bit of a refresh for 2015 to reflect the clubs 5th anniversary.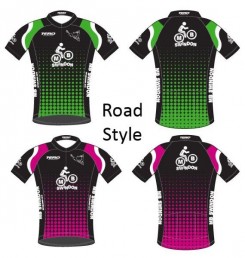 The jerseys are available in a range of sizes, in 2 styles and 2 colours. Choose between road style (tight fitting with 3 pockets on the rear and a full-length front zip) or MTB style (looser fitting without the pockets and a 1/3 front zip).
Please note that long sleeve jerseys are no longer available, but we are looking into a light-weight winter jacket option.
The pink and green colours are identical to the previous colours so no need to worry about the new ones not matching the rest of your wardrobe/bike/shoes/goggles 😉
PLEASE NOTE: Due to a supplier change the sizes are very different to the old shirts so PLEASE take a look at the size charts below before ordering.
Shirts are £35 each, and you'll need to transfer the money to the club's bank account before we can make the shirt available to collect. Our bank details are: 08-92-99, 65384004, MB Swindon
Order Form
If you would like to order more than one shirt please use the above form again
We have the following shirts in stock in Swindon:
Both colours in all sizes
Please be aware that non-stocked shirts are custom ordered, and have to be ordered from the supplier in a minimum quantity. If we do not have the shirt you require in stock then we will order it for you. Shirts can take up to 6 weeks to arrive from the date we order them from the supplier. The order will only be placed when a sufficient quantity has been reached, which may cause extra delay to your order.