Mountain bike accidents – part 2
by Chris Killer
In addition to Tom's article of my crash, I wanted to tell the same story from the point of view of the victim.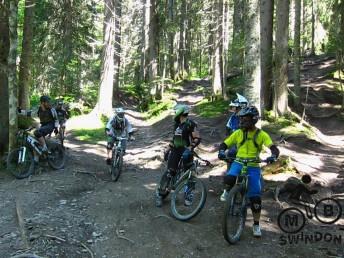 After buying a 160mm travel bike I found all my local trails rather unchallenging so was interested to hear on the Dorset Rough Riders Facebook wall that MB Swindon were doing a trip to the alps. After months of deliberation I chose to go for it and bring my bike to a foreign land with a bunch of strangers.
On the long journey up I heard stories of how many accidents there are out there including one about how a guy in a similar position to me broke his jawbone on day 1 of last year's trip. I decided to start off cautiously and build up my confidence slowly.
I soon realised that alpine mtbing was a very different sport from mtbing in the uk. I'd experienced berms before but hadn't really mastered them, and I'd experienced ultra steep slopes before, but not ones that descend hundreds of metres.
The first couple of days my confidence increased considerably, ending with my favourite run of the holiday Le Canyon, which was far steeper and rootier than anything I'd ever done before. Unfortunately I ended up going over the bars right at the end and buckling a wheel. I landed on some grass and was totally fine.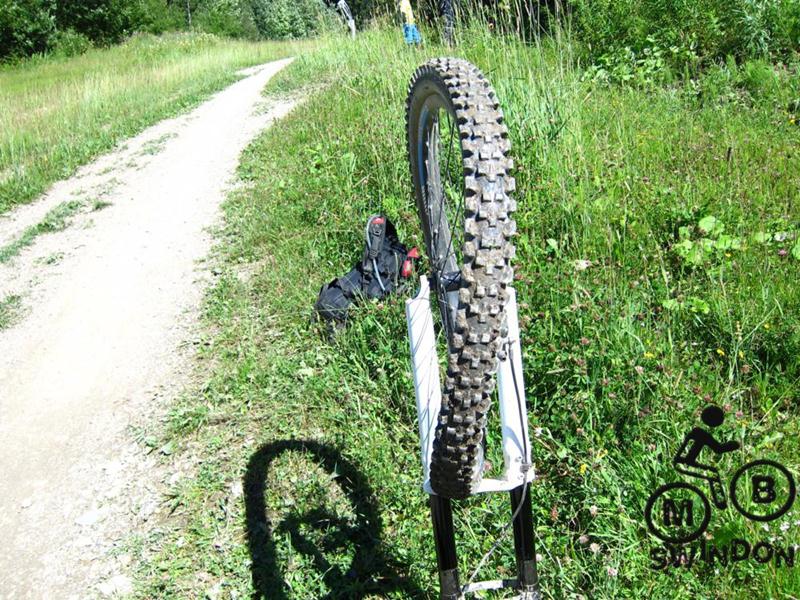 Day three I did a load of black runs with some more serious downhillers. I was proud to have completed all of them without stacking it, although by the end of the day I was completely exhausted.
The next day I felt the need to do something a bit less strenuous and more in the saddle so I joined Tom, Gary and Jerome on their "Pass'portes Lite" ride. Coming out of Les Lindarets there was an uphill section, so while the others extended their dropper posts I got off to increase my saddle height to maximise pedalling efficiency and soon caught them up. I overtook them on a slight downhill and built up some speed and remember feeling that ideally my saddle would be lower but seeing as there was more climbing to do I'd leave it. I went round a corner and saw a descent into a rocky section. It was pretty tame compared to some of the stuff I had been doing the previous few days but with my centre of gravity so high and forward (I also have unusually short arms,) I didn't feel comfortable just pointing down the fall line and letting the suspension deal with it. I braked as I entered the rocky patch but the front wheel lost traction and before I knew it I was lying in pain on the ground.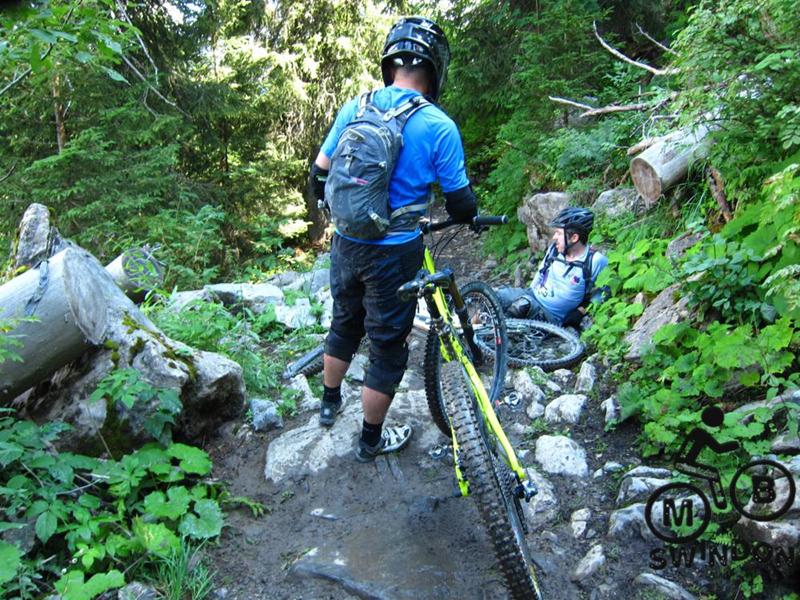 I estimate that the moment my front wheel slipped I was travelling at 15mph and within a second I was stationary. All that kinetic energy was halted by a rock hitting my pelvis. My first thought as I felt the pain in my side was "that was a really big hit". The others soon arrived as I was still coming to terms with it all and I tried to move into a more comfortable position but any change to my posture was complete agony. I looked towards the painful area and saw lots of blood pouring out "I think this is a bit more serious than I thought" I said. Fortunately, Tom had a bandage and a passer by had some antiseptic spray and a painkiller. "I'm afraid that I may have broken my pelvis" I added.
I assessed the situation: I knew I wouldn't be riding home and I knew the others wouldn't be able to carry me either, not even to a place where I could be picked up by an ambulance. I would have to be rescued. I then started to worry about how on earth I could describe where we are, I didn't even know what country we were in as we were near the French/Swiss border! To my delight I saw Gary and Jerome (who speaks french) holding a map and on the phone. This was quite a key moment as I realised that all the extrinsic problems I had were being solved in a far better way than I could deal with them and I just had to focus on looking after myself.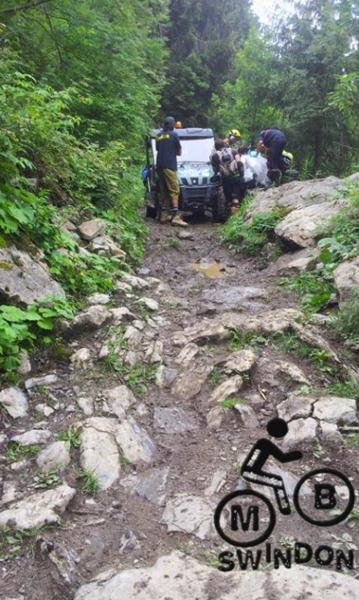 They suggested I sit on a nearby rock and carried me to it. It was a bit higher than ideal and sloping so I had to support myself on it with my right hand. I asked Tom to sit on my left so I could hold on to him and reduce the pressure on the right side of my pelvis. A few minutes passed and I grew colder. I asked Tom how long it would take for support to arrive, "about 20 minutes" he said. It was a fair amount of time but I knew I could handle it. A quad bike soon turned up with some Frenchmen on it. I used the quad as a footrest but it still wasn't an ideal position. They asked me to remove the glove on my supporting hand so they could measure my pulse on my finger. They then cut off a section of my shirt, removed Tom's bandage and put a new one on. It transpired that the quad wouldn't be suitable for evacuating me, presumably due to all the bumps, so a rescue helicopter had been contacted.
We waited for a lot longer. With my bare hand on the cold rock and being semi-shirted, together with all the blood loss I was actually pretty cold now. Tom's body heat was a huge benefit. I just focussed on keeping on going, it wasn't absolute agony but I was just looking forward so much to the moment I could relax and be on the way to a hospital.
I heard the sound of a helicopter and some paramedics arrived shortly. One asked how bad my pain was on a scale of one to ten and I felt it was probably an 8.5. The others went through a complicated procedure of preparing for winching me up. It seemed a bit long and tedious but I realised wasn't in that much pain. I remarked to Jerome "It's actually not hurting that much." "Thats because you've been injected with morphine" he said. They got a stretcher on to the rock, put me on it, strapped me on then moved me to a place down the path that the helicopter could easily lift me from. This was nice as I could fully relax. They covered me up in a fairly stiff enclosure with just a small hole to look out of. As I got winched up I was starting to quite enjoy the whole experience and was a bit disappointed I couldn't turn and wave to my friends below.
I felt really sleepy in the helicopter ride and the cool-looking paramedic dude kept stroking my face to keep me awake. They soon transferred me to an ambulance and we headed for Annecy hospital. There they did all the necessary tests, scans and x-rays to establish that I had broken my pelvis. Just as I thought. I was told it would be 45 days until I would walk again. I knew I would have a lot of time to reflect on the incident so started thinking about it.
Causation
Factors leading to the crash include (in order of significance)
High and forward centre of gravity (saddle too high)

After the exhausting day before I was generally not as focussed and alert as usual

Unfamiliarity with trail (relatively fast smooth section followed by unexpected relatively rocky section round the corner)

Slippery rocks on a dry day
I have never really seen a dropper post as a safety device before but it certainly is. If I ever return to the alps I will be sure to have one. The fact I didn't meant that I would have to ride high-seated to not get left behind. The high saddle of course means that I could not use my legs as the main shock absorbers. (As a general rule I think that anything that increases my control of the bike is more important than damage limitation. e.g. tyre choice and pressure are more important than what protection I wear.) The other factors I will just bear in mind a bit more in the future. To be honest I knew I was being a little risky the hundred metres or so prior to the point I first saw the rocks but I think I just valued my momentum too much to kill it for no obvious reason.
How the incident was managed
I have to say Tom was an absolute hero from start to finish. He was fully equipped for dealing with an incident such as this, which meant I could just relax and be taken care of very early on in the proceedings. The only thing I would recommend doing differently would be to allow the casualty to lie down – it is a position easy to cover up and keep warm and of course it doesn't take any effort to maintain it.
Summary
If you want to go down a black dh run, on a xc bike, in the middle nowhere, with no map, with no helmet or pads, in the rain, at night, with a headtorch with a dodgy battery, just make sure you go with Tom Stickland and you'll be fine.