By Jodie West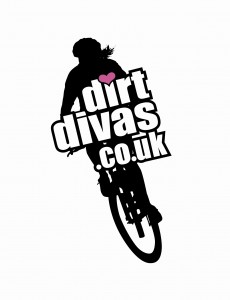 I'd been considering for quite some time whether I wanted to partake in Dirt Divas, a female only rider training course based near Bracknell. My husband Alan and I had travelled to Swinley Forest the previous summer, and upon assembly of my bike I realised I had lost a brake pad – not good! A very helpful lady in the Look Out centre pointed me in the direction of the local bike shop, so off I trekked. I made it to Cycle Zone where a massively helpful chap not only had the pads in stock but also offered to help out this damsel in distress, me, and fit them – brilliant. Whilst I was in the shop I saw the advert for Dirt Divas which started the cogs turning.
Always ride with the guys? – check.
Always ride at the back/get left behind? – check.
Want to hone your mountain biking skills in a testosterone free environment and meet up with other like-minded women? – check.
So why did it take me so long to sign up? Quite frankly because I'm a chicken !!! But in May this year I decided, out of the blue, "I'm going to treat myself for my birthday" so I did (and then my husband offered to pay for it as a birthday present – result!!). I made a call to Dirt Divas and was greeted by a very helpful lady, Jacqueline, who offered some really good advice and put my mind at rest.
So it was going to be on Sunday May 23rd and I was doing the Jumps and Drops course! Then the panic set in. What if I'm not good enough? What if I'm the slowest? What if I keep on bottling a jump? All these worries were put at ease when I met Jess, our instructor, and the other ladies in my group (there were 5 of us riding that day with a further 2-3 groups riding on the single track and back to basics courses).
We all grouped together after registration and a cup of tea. After a little chat we introduced ourselves and each explained our previous biking experience and what we would like to get out of the course. Personally I wanted to not land every single little drop on the nose of my bike and be able to lift the front wheel more efficiently. Once we had checked our bikes and equipment it was off for a small ride on the road to the local woods.
Our first challenge was to learn how to manual, this is the technique of pulling a wheelie/lifting the front wheel without pedalling. Jess led us to a nice quiet fire road and found a rather well placed log for us to ride over. After a few demonstrations and a good explanation of the technique we all had a go. What I liked was that everyone was given time to play and become more confident with the technique. We were all given individual feedback and everyone was making lovely progress. So on we went.
Next we were to put our manual practice into action. We were led to a small drop over a tree root. Again we were given the time to try it out until we felt improvement and our confidence started to build. Our morning continued and we covered more drops, jumps and rooty sections and to my surprise Jess even managed to teach us to pull a wheelie! Not because "It looks cool" but because it is a really useful skill to be able to ride up rocky and rooty sections whilst on the trails. At this point we all had a discussion as to why all your local paper boys could ride along the street pulling a wheelie without a thought and, at first, we were finding it rather difficult. We decided it was because back in our day boys were always given the bikes for their birthdays and the girls were given dolls and prams! Just simply not fair!
All the groups met for lunch and we were treated to some awesome hints and tips from each of the instructors. Jacqueline provided some very intimate, bottom management, advice please ask if you would like me to share this with you ladies. The guys carried up some much needed water so we could top up our camelbaks and we were soon refuelled and ready to roll again for the afternoon session.
We spent the afternoon putting our new skills into action and trying out a few of the local single track trails. To top off a superb day our last 30 minutes of riding were spent having a session in a really fun bomb hole. The Divas official photographer took loads of shots, and to my surprise these are available for all participants to upload as high resolution images free of charge in just a few days time. Fair play to Dirt Divas this is a really nice touch.
Upon arriving back at the meeting point all groups were given feedback and debriefing from their instructors and everyone received a very well stocked goody bag. The whole experience from booking the course, the information received beforehand and the day itself were all a fun and enjoyable experience and one that I would recommend to any lady rider. The coaches are very patient and knowledgeable and provide useful feedback at all times. Whether you are a complete beginner and never ridden a mountain bike trail before or someone looking to improve and learn new skills, Dirt Divas has a course for you.
For more information look up http://www.dirtdivas.co.uk or speak to Jodie West of MB Swindon at Croft Trail