by Tom Stickland
Biking in the Alps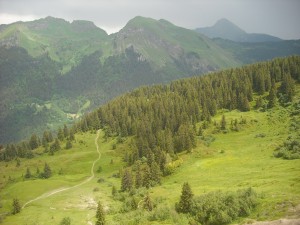 If you enjoy cross country or downhill mountain biking then chances are that you'll also like biking in the French alps. They call it vtt (velo tout terrain, i.e.: all terrain biking). Almost a decade ago the more enterprising ski resorts realised that they could generate summer trade. They had mountains, they had lifts and they had sunshine. Morzine in France is regarded as one of the pioneers. The town is part of the Portes Du Soleil ski area which also includes Les Gets and Chatel in France and Morgins and Champery in Switzerland.
Both Morzine and Les Gets have routes down both sides of the valley. These are easy to find and can easily keep you occupied for several days. It is possible to cycle the entire length of the ski region by linking lifts together with descents between.
More recently the adjoining resort of Grands Massif has developed its mountain biking trails. This ski area consists of Samoens, Sixt, Morillon,Flaine and Les Carroz. There are 69 graded trails giving 350km of routes.
Lifts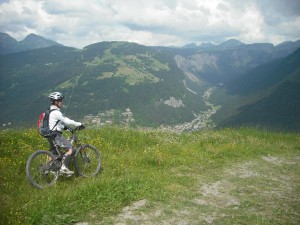 The resorts have modified ski lifts to carry bikes up as well as passengers. The methods used vary – some lifts have hangers, some specially developed push on bike racks. The loading is done by lift staff and I've never seen a bike fall off.
Lifts normally have a caisse at the base where you can buy passes. You can buy passes online but you normally get a better exchange rate if you pay using cash. See the moneysavingexpert travel money guide for details.
Each lift normally has a range of colour coded trails down from the top. These are well organised and most Black runs are on a par with the downhill route at Cwm Carn, with some more difficult optional lines. There is also a network of paths, tracks and lanes that can be ridden.
If you like epic cross country routes where you ride up a mountain and back down it then there are plenty of all mountain routes. The tour of Sixt-fer-a-Cheval is a classic. For this sort of route it can be a great idea to use a guide with local knowledge.
Where to stay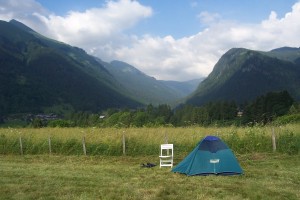 In Morzine I've stayed at Les Marmottes camp site. As is normal for France, there are very clean facilities. It's easy to reach the lifts in a 10 minute ride. Google map link
If you'd prefer to stay in a chalet then I can recommend Bike-Alp. I've stayed there in the winter when skiing. They also provide guiding and will take you on cross country trails, downhill or all mountain depending on what you want to do. We've got a MBSwindon club discount offer: if one member of the group is an MBSwindon member then the whole party will receive a 5% discount for a group of four or fewer. If there are more than four you'll get a 10% discount. Just mention MBSwindon when you make a booking enquiry. http://www.bike-alp.com/
Food and drink
The French know how to do food properly. There's a large range of restaurants and snack bars in the various resorts. They also have top notch patisseries that sell pizza slices and an amazing range of cakes. A cheap option is to buy bread, cheese and tomatoes and make your own sandwiches out on the hills.
Bike shops
The towns are well served with bike shops so obtaining spares is not a problem. Most also offer bike hire.
Bike preparation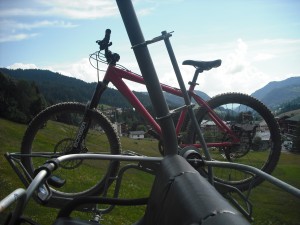 If you're going to use the downhill tracks a lot it's well worth fitting downhill tubes and tyres. These are heavy so will slow you down on climbs, but they will withstand rocks and hard landings a lot better.It's also worth checking out whether your brakes are considered up to the job of long Alpine descents. I use Shimano Saints and they are fine.
Getting there
You can take a bike on the aeroplane. This can be a bit of a faff; you're best off packing it in bits into a bike bag. I did this once and reassambled the bike outside Geneva airport, much to amusement of the waiting cab drivers. In my case I then pedalled to the French railway station at Annemasse and caught the train to Cluses. At Cluses I cycled up a selection of back roads, via Taninges and on up to Les Gets. It is possible to cycle all the way from Geneva to the resorts – it's about 50 miles along a valley.
Easyjet offer cheap flights to Geneva.
The easiest way of getting there is to drive. Norfolk Line regularly offer £15 tickets, sometimes they're as low as £11. That's for one leg of the trip, so you're looking at around £30 total for car and passengers. It's around 550 miles from Calais/Dunkirk to Samoens and all can be done via Autoroutes except for the last 15 miles or so. The legal limit in the dry is 120km/h which is 75mph, so you can cruise all the way at 80 indicated. Allowing for a few stops you'll find that it'll take about 10 hours. I've driven it on my own several times and it's not bad at all. Traffic levels are low and the French like to get on with things.
The toll roads mainly have automated debit card readers now. The total toll cost can be checked at http://www.viamichelin.com/ and is currently around 63 Euros. Assuming 40mpg and £1.20/litre it's around £65 of fuel on the French side each way.
If you fancy less of an epic consider a camp site or hotel half way.
Another idea is to turn up and hire a bike. There are several bike shops in each resort. I did this one year, but it cost me around £60 per day to hire a decent bike.
Passportes Event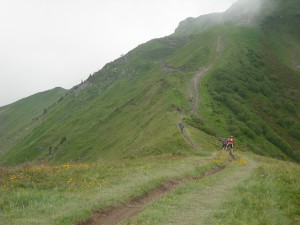 The Passportes is an annual riding event. Several hundred riders take part each day and try to complete a long, mainly downhill circuit of the mountains. There's free food and drink at several stops round the route. It is possible to complete the whole route if you get on with it. I've done the event four times and recommend it.
Other areas
There's riding further up the valley around Chamonix. Going South, The Three Valleys (Meribel, Courcheval, Val Thorens) has trails. Even further South Alpe D'Huez hosts the Mega Avalanche race each year. The opposite side of the valley has trails at Les Deux Alpes.
Photo albums on Flickr:
2007
2008
2009
2010 (Mega Avalanche)