by Rafe Aldridge
Intro
If you're going to ride off-road at night (and you really should as it's great fun) then you're obviously going to need a light. But not the sort of light you get from Halfords for £9.99 or even £39.99. Oh no! You're going to need proper off-road, retina-burning, oncoming-cars-flash-you, nocturnal-beast-confusing, don't-cross-the-beams, batman-logo-in-the-sky lights.
As you'd imagine there are lots of big names – Hope, Exposure, Lumicycle, Lupine etc. – that will happily take many hundreds of your hard-earned pounds in exchange for such lights. However, many of the MBSwindon riders have found that this is one area of mountain biking where cheap doesn't necessarily mean rubbish.
Technologies & Types
A few years ago this would have taken several pages, but LEDs are now so bright and so energy efficient they really are the only light source worth considering. It's a similar story with batteries where lithium-ion (Li-Ion) are the norm and for very good reasons.
There are typically two places you can mount a light – on the bars or on the helmet. With advantages and disadvantages to both, the best set-up is definitely one of each. A wider, more floody, beam on the handlebars, lighting up the trail directly in front of you, and a more focused spot beam on the helmet, lighting up further on and following where you're looking, gives a perfect match of near & far illumination.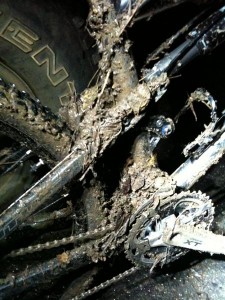 Magicshine MJ808
This light burst onto the scene in 2009 and shares more than a passing resemblance to some of the lights from the big names. However, it's a fraction of the price for comparable performance and a firm favourite with MBSwindon riders.
With a wide, crisp white light that's extremely bright (you really don't want to look directly into one), it's more than adequate for rides round the Croft MTB trail. Add in the fact you don't need to sell a kidney to fund one and you'll soon understand why there's so many of them on our regular Friday night rides during the darker months.
You can source these lights direct from the Far East (as many of us had to do) but there is now a UK distributor, Magicshine UK, offering same day posting, a full range of spares, avoidance of any custom duties, no exposure to exchange rate fluctuations, a warranty and excellent customer service. Although slightly more expensive than buying direct, we think the advantages are worth it. Magicshine MJ808 on Magicshine UK website
Helmet Lights
Perhaps the simplest and easiest helmet light, that's also extremely effective, is achieved by using one or two ultra-bright LED torches.
Believe it or not, a number of us use torches sourced from Tesco for a mere £8 each! Sadly though Tesco have replaced this with a lesser model, but similar units are easily sourced from ebay for less than £20. Add some cable ties, a bit of velcro or get creative with your old Meccano set and you'll have something that in any other form would cost you a small fortune.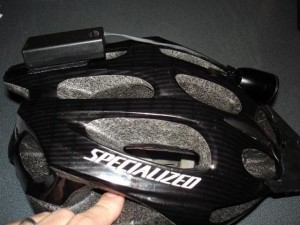 Summary
In short, night riding is fantastic fun and our Friday night rides down at the croft will continue to run throughout the winter. So our current advice is to grab yourself a Magicshine MJ808 (for the handlebars) and an LED torch (for the helmet) and come join us!