Last year we started a programme of Friday night build sessions throughout the summer. They worked really well and we got a lot done with a small team, so much so we decide to do the same this year.
Those of you that are regular visitors to the trail will have noticed the new optional red line that connects the blue to the red over by the motorway. We built a 'double' and went further down the hill banking round at the bottom with a new berm. This meant that there might be some conflict between lines so to reduce this we installed a stepped up rock garden on the existing red line to reduce rider speed where the two lines meet.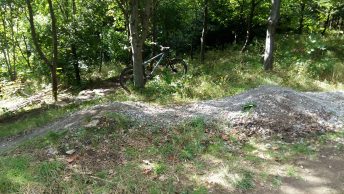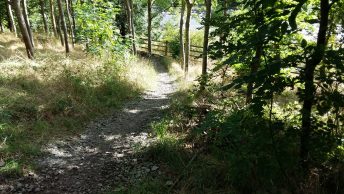 Remember those rocks that were dropped off on site back in March? We moved them over to the same area and installed a new rock garden which now gives us multiple ride options on that section, the theory being that you can now ride 4 or 5 laps whithout riding the same lap twice. To keep the existing red line interesting we've also built another, slightly smaller double.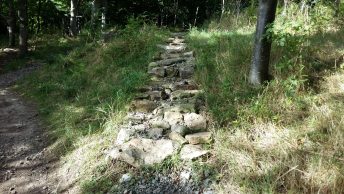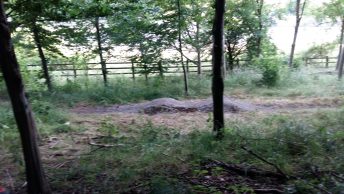 Back in March we removed the first woodwork section at the lowest part of the trail as it had become dangerous. We'd long since grown frustrated with the line down to that section as it had never worked quite as well as we'd hoped. We spent a lot of time walking the area looking for an alternative and eventually settled on a plan. This would entail a change of direction at the blue/red split, a new berm and hopefully swooping the line in and out of the ditch at the bottom. We made a start on this in April, building the back of the berm in timber so as to reduce the amount of dirt needing to be shifted. An exploratory bit of line cutting gave us a bit of a problem in that we couldn't take the line through the ditch where we'd wanted to. A quick re think saw us come up with an alternative line and after digging and test riding it we think it works really well.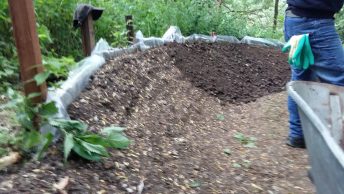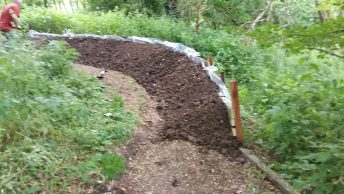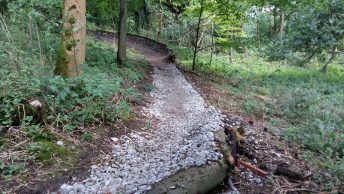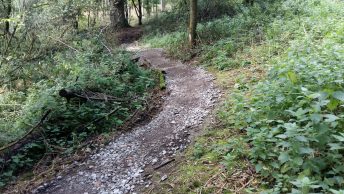 We're currently surfacing this section and hope to have it officially open within the next month.
Kudos to Jez, Gary, and John for regularly turning up for the Friday night dig sessions and to Jason and Guy for turning up when they could.
Our Friday night sessions will continue until the end of October, these aren't every week though so keep an eye on Facebook for announcements if you want to get involved. We'll also be having a more traditional Weekend build day soon so look out for that too.